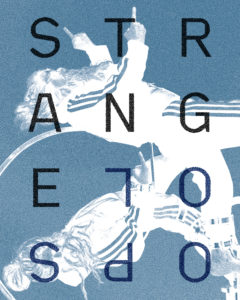 Strange Loops
$20 + tax
Artspace presents Strange Loops, a group exhibition which explores psychological affect and the human condition expressed through instruments, systems, and objects of human design. Catalogue design by Henk Van Assen of HVA Design with an essay by critic Dan Cameron.
Exhibition Dates: December 14, 2019 – February 29, 2020. Artspace New Haven.
---
50,000 Beds by Chris Doyle
$7.00
Curator Chris Doyle has gathered forty-five artists to create short videos, each set in a different Connecticut hotel, motel, or inn. Ranching from documentary to fiction, each short work presents a hotel room as a fascinating backdrop for the artist's imagination. 50,000 Beds offers a unique opportunity to experience the creativity and culture that Connecticut has to offer. This exhibition marks the first collaboration between Artspace, Real Art Ways in Hartford, and the Aldrich Contemporary Art Museum in Ridgefield.
Exhibition Dates: July 20 to September 15, 2007 – Artspace New Haven. Book designed by Default Company. More information at https://artspacenewhaven.org/exhibitions/50000-beds/
---
Circling the Square Newspaper
$3.00
Designed by Anastasiya Osipova & Matthew Whitley. Archive of Maidan, protest of Russia in Ukraine.
---
CT (un)Bound Exhibition Booklet
$10.00
Works by Connecticut artists paired with altered books form the Allan Chasanoff Book Art Collection at the Yale University Art Gallery, gathered from the 1960s to the present, alongside eight new commissions conceived and produced in 2014 for the galleries at Artspace. Exhibition Cataloge was designed by Yotam Hadar, and ran from November 7, 2014 to January 31, 2015 at Artspace New Haven. More information can be found at https://artspacenewhaven.org/exhibitions/ct-unbound/
---
On Your Mark Exhibition Catalog
$5.00
Solo exhibition of new and recent paintings by Patrick Chamberlain. Deeply interested in the techniques of his craft, Chamberlain paints abstract pictures that present viewers with multiple points of entry into his alluring worlds. Curated by Liza Statton, the exhibition ran from March 23 to June 26, 2010 at Artspace New Haven, catalog design by John Brent. More information can be found at https://artspacenewhaven.org/exhibitions/on-your-mark/
---
Polychromasia: Selected Paintings by Ficre Ghebreyesus
$15.00
This retrospective exhibition celebrated the work and life of the late Eritrean-born artist. While his paintings and photographs are in many private collections, this was the first solo exhibition drawn from his vast body of work. Polychromasia, or multicolored, aptly describes Ghebreyesus's work, which burstsat the seams with chromatic energy, kinetic form, and optical intensity. This exhibition was curated by Key Jo Lee and ran from March 30 to April 24, 2013 at Artspace New Haven, book design by Megan Magnum. More information can be found at https://artspacenewhaven.org/exhibitions/ficre-ghebreyesus-polychromasia/
---
Toonskin Booklet
$8.00
'Toonskin"attempts to perforate and expand limits by bringing together contemporary visual artists who reinterpret, recreate, and redefine Blackness—and otherness more generally—within an animated context. The artists featured in 'Toonskin" represent the ongoing exchange of influences that characterize the American cultural landscape. Catalogue designed by exhibition curator Kenya Robinson, and ran from May 11 to June 30, 2013 at Artspace New Haven. More information can be found at https://artspacenewhaven.org/exhibitions/toonskin/
---
Trvvffle Hovnds Vol 1
$5.00
Zine designed by JP Culligan and Derrick Spotts, number 6/45. Last one!
---
Vertical Reach Exhibition Booklet
$5.00
Vertical Reach was an exhibition that looked at the current political climate in Eastern Europe to explore how acts of protest and assembly operate when framed as artistic practice. Curated by Sarah Fritchey and Martha Willette Lewis, February 20 to May 2, 2015 at Artspace New Haven, exhibition catalog designed by Cayla Lockwood. More information can be found at  https://artspacenewhaven.org/exhibitions/vertical-reach-political-reach-and-the-militant-aesthetic-now/
---
A Barbarian in the Greenroom
$5.00
Vertical Reach was an exhibition that looked at the current political climate in Eastern Europe to explore how acts of protest and assembly operate when framed as artistic practice. Curated by Sarah Fritchey and Martha Willette Lewis from February 20 to May 2, 2015 at Artspace New Haven. Booklet designed by Anastasiya Osipova & Matthew Whitley. More information can be found at https://artspacenewhaven.org/exhibitions/vertical-reach-political-reach-and-the-militant-aesthetic-now/
---

Aliza Shvarts: Off Scene
$18.00
This solo exhibition of works by Aliza Shvarts spans the past ten years of the artist's performance-based practice, ranging from censored materials from Untitled [Senior Thesis]to a new site-specific work. Shvarts first came to national attention in 2008 as a student at Yale University for her undergraduate work Untitled [Senior Thesis], which consisted of a yearlong performance of self-induced miscarriages. Declared a fiction by the university and banned from public exhibition, this unfinished work marks queer and feminist areas of inquiry that she continues to explore: how the body means and matters, how the subject consents and dissents. This soft cover book features 13 full color images in 58 pages. Designed by Cayla Lockwood, featuring an introduction by Sarah Fritchey, and essays by Angelique Szymanek and Aliza Shvarts. Printed by GHP Media, Copyright Artspace, 2018. More information can be found at https://artspacenewhaven.org/exhibitions/aliza-shvarts-off-scene/
---