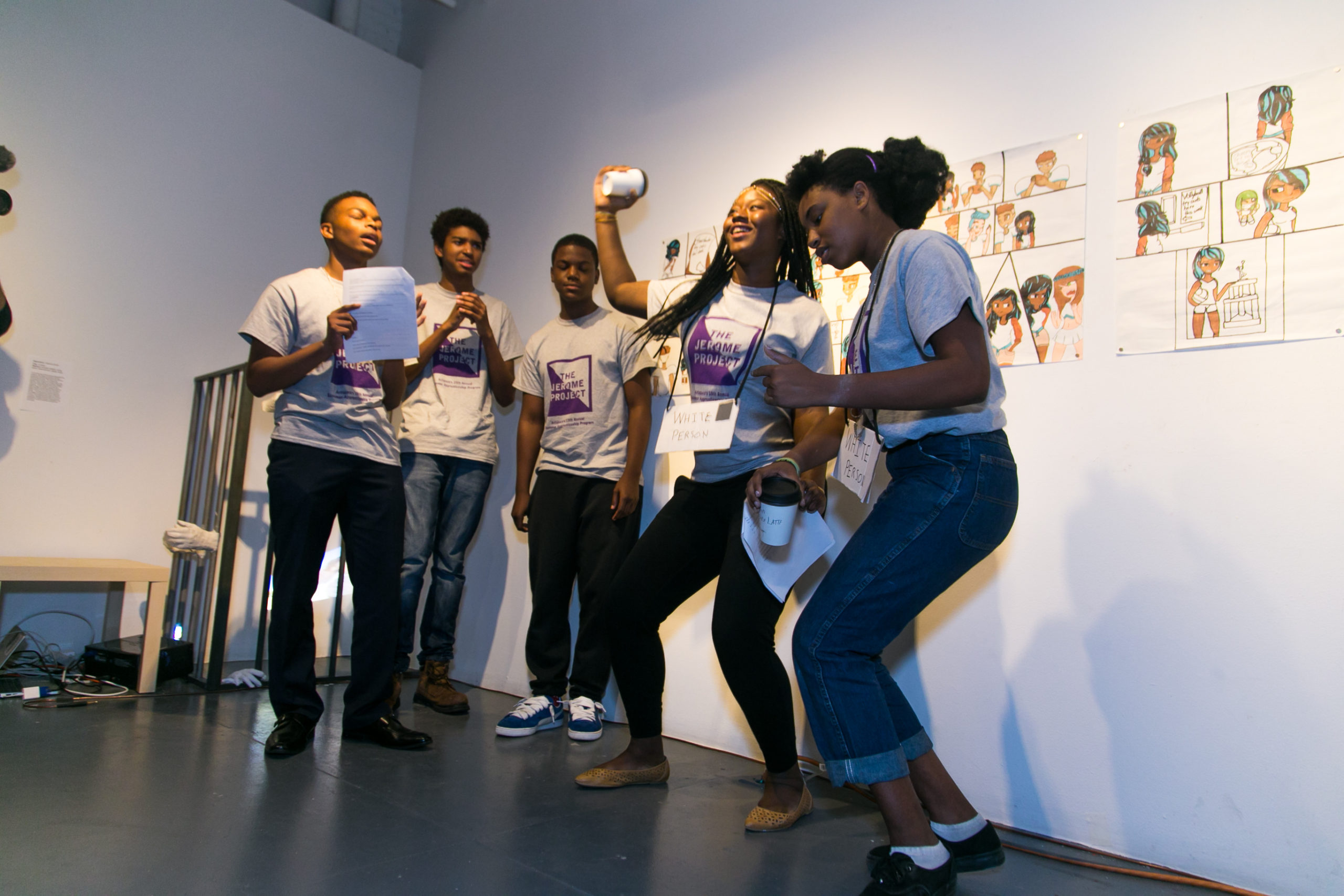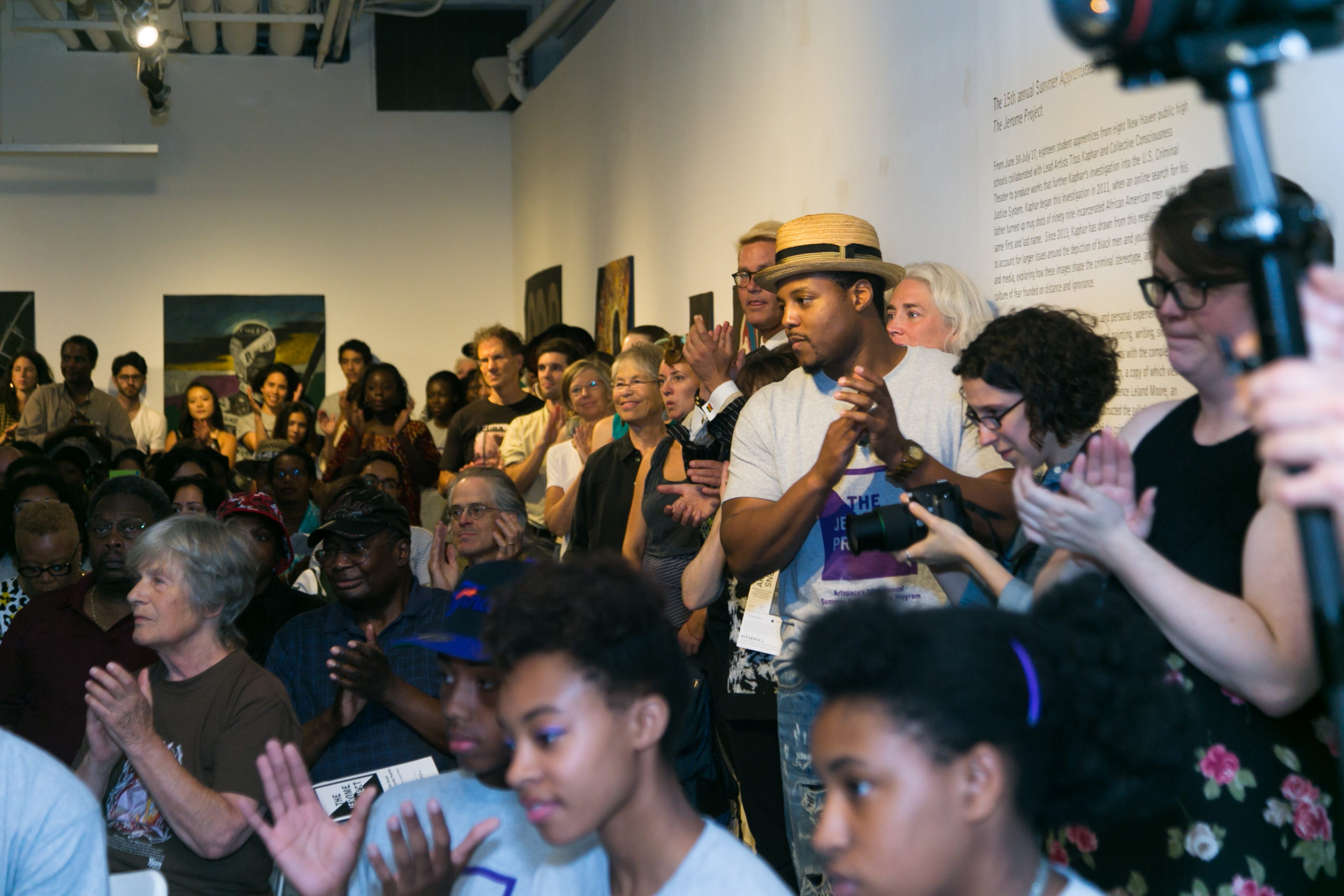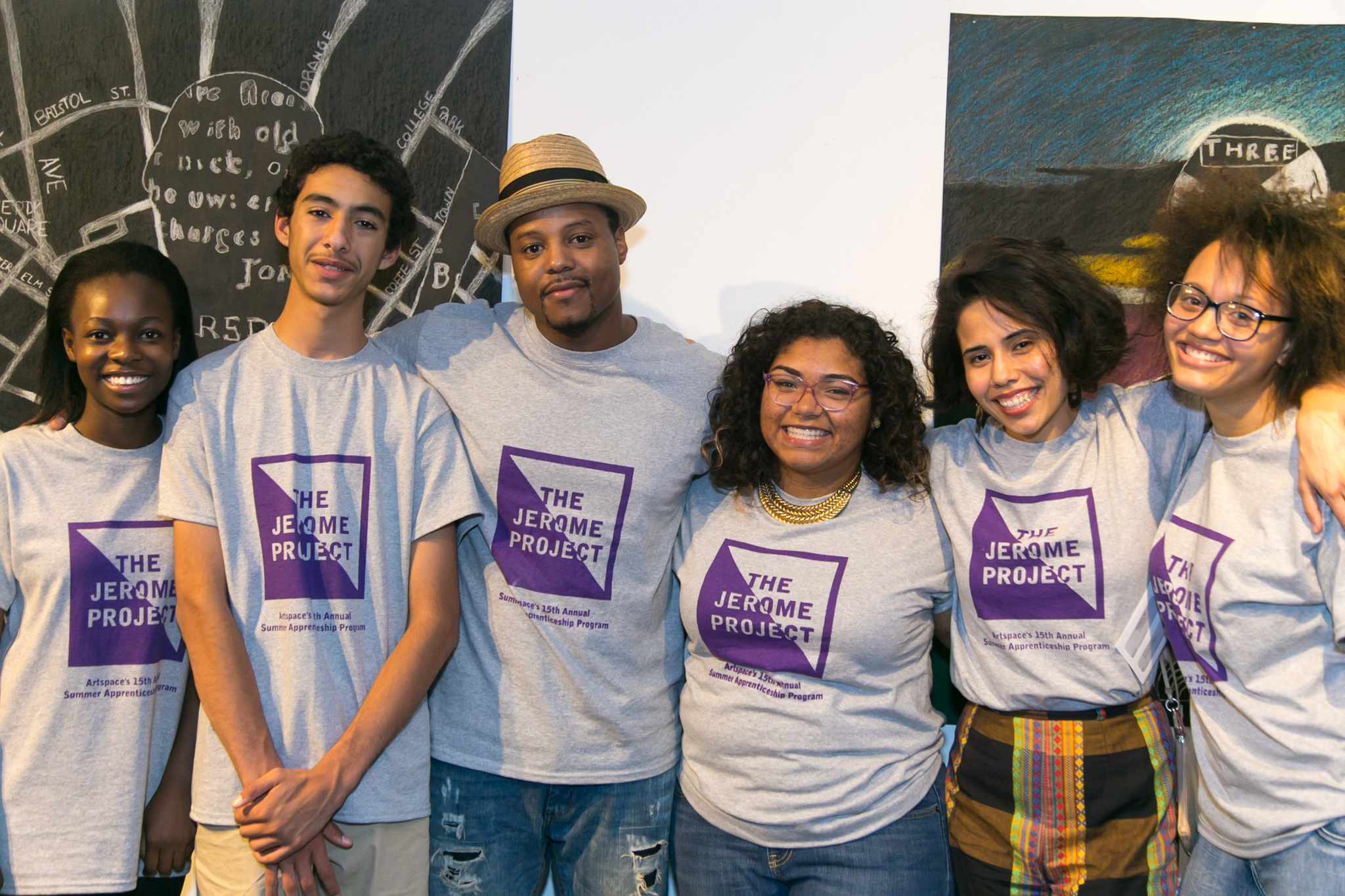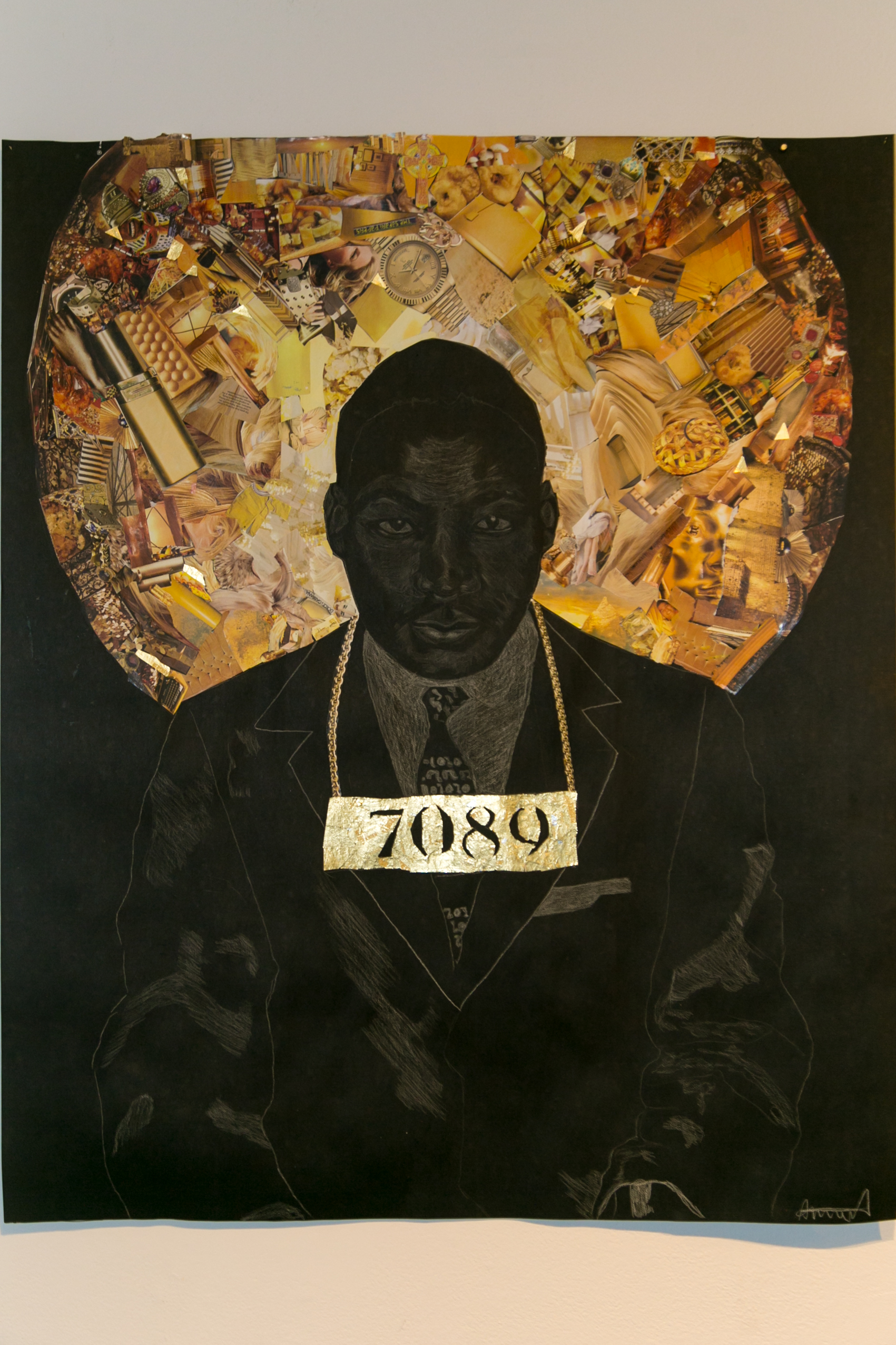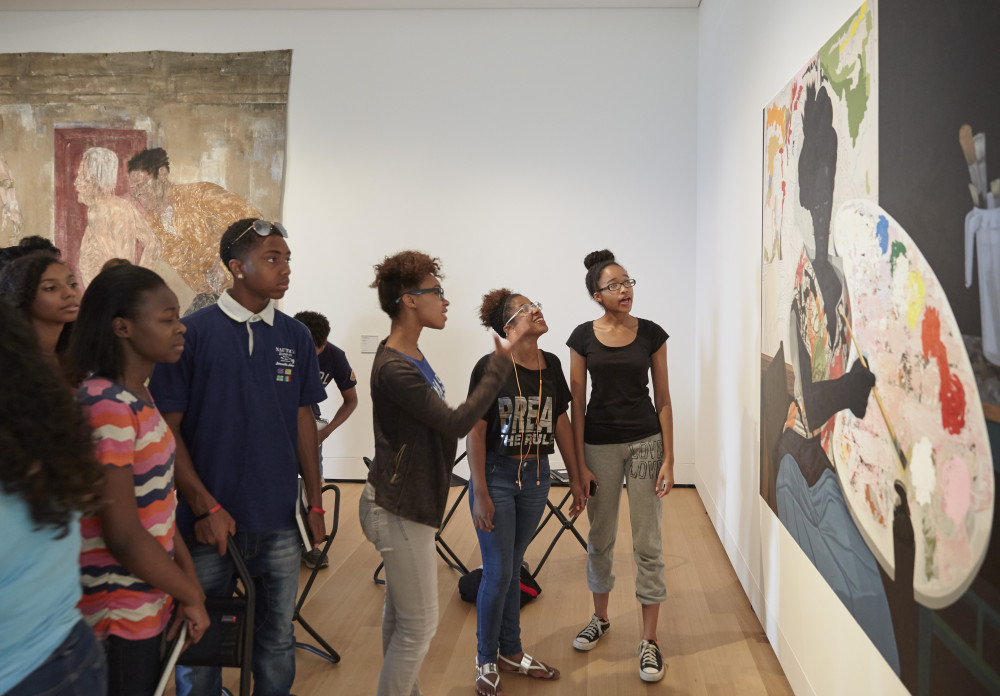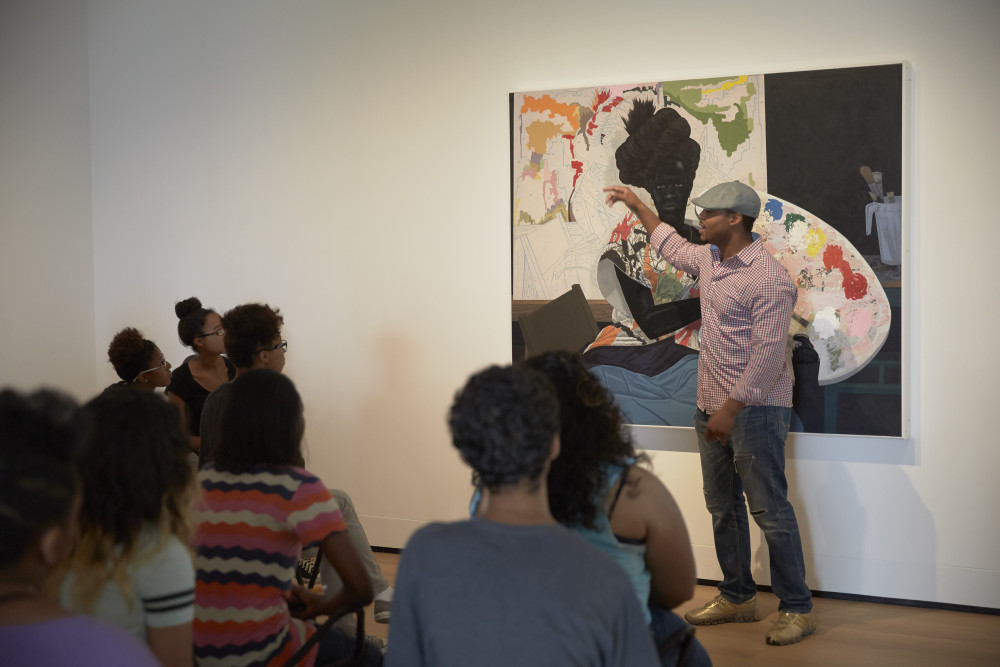 A companion exhibition to Arresting Patterns displays the work of 18 high school students from the New Haven Public School district who collaborated with Titus Kaphar and theater artists Aaron Jafferis and Dexter Singleton.  The students used Kaphar's trademark materials–tar paper, chalk, and mixed media–to create their own portraits of individuals unjustly sentenced and incarcerated.  As part of the program, students also visited a prison in Connecticut, met with formerly incarcerated individuals now in advocacy and leadership roles, and learned about reforms and challenges to the State's sentencing policies. This took The Jerome Project out of the "white cube" (it had previously been exhibited at The Studio Museum in Harlem), and rooted it in the community, where it could reflect the experiences of young people in New Haven.
A group of SAP students reconvened in the fall to rehearse and perform their at the Arresting Patterns Conference held September 10, 2015, at the Yale University Art Gallery.
Travis Carbonella captured the whole experience.
Featured Artists & SAP Staff
Titus Kaphar, Lead Artist
Titus Kaphar earned his MFA in Painting from Yale, and has shown his work in solo shows at the Studio Museum in Harlem, the Seattle Art Museum, and the Jack Shainman Gallery in NYC. He maintains his studio in New Haven.
Dexter Singleton, Collective Consciousness Theatre
Dexter Singleton's career began with the renowned Mosaic Youth Theatre of Detroit as an ensemble member. In 2001, he co-founded Collective Consciousness Theatre, a New Haven based multicultural theatre company dedicated to creating new American works that inspire social change.
Aaron Jafferis, Collective Consciousness Theatre
Aaron Jafferis is a hip-hop poet and playwright who received his MFA in Musical Theatre Writing from NYU. He teaches poetry and hip-hop theatre in schools, hospitals, health centers, community organizations, and detention centers in his hometown of New Haven, CT.
Leland J. Moore, Lead Research Advisor
Leland is a Research and Policy Associate at the Connecticut Sentencing Commission. He was admitted to the Connecticut Bar in November, 2014. Leland received his J.D. from Quinnipiac University School of Law cum laude with a certificate in Criminal Law and Advocacy. At Quinnipiac, he held numerous leadership roles in student government and served as 1st Circuit Governor in the Law Student Division of the American Bar Association. Leland received honors for service to the law school, excellence in clinical work, leadership and service, and superior classroom performance.
Shelli Stevens, Lead Facilitator
Shelli is the Gallery Associate and Artist Liaison at Artspace New Haven. She received her BA in French and Art History from Southern Connecticut State University. She grew up in New Haven County and has been working and volunteering for Artspace since she started college in 2009.
Camille Hoffman, 2015 SAP Facilitator
Hailing from Chicago, Camille graduates this spring with an MFA from Yale in Painting and Printmaking. Her work has been part of exhibitions in Oakland, CA, Scottsdale, AZ, and Brooklyn, NY. She has been a Summer Camp Director at the Beacon Center for Arts & Leadership and Community Student Fellow Teaching Artist at California College of the Arts, Oakland, CA.
Jerome Harris, 2015 SAP Facilitator
Born and raised in New Haven, Jerome Harris is a third year MFA student in the Graphic Design program at Yale School of Art, with a BA from Temple University. His design work has focused on the intersection of moving image, video and text working with clients in the fields of fashion, dance, and the arts. He loves choreographing and finding new music.
Arianna Alamo
Mya Baldwin
Katie Browe
Myles Davis
Dymin Ellis
Ruby Gonzalez
Emanuel Luck
Lisa Mwinja
Tyler Reid
Kayla Salters
Gaylord Salters
Domanique Severe
Azrael Severe
Anthony Simpson
Ivory Smith
Jasmine Smith
Mama Soumahoro
Mekaylah Stricklin