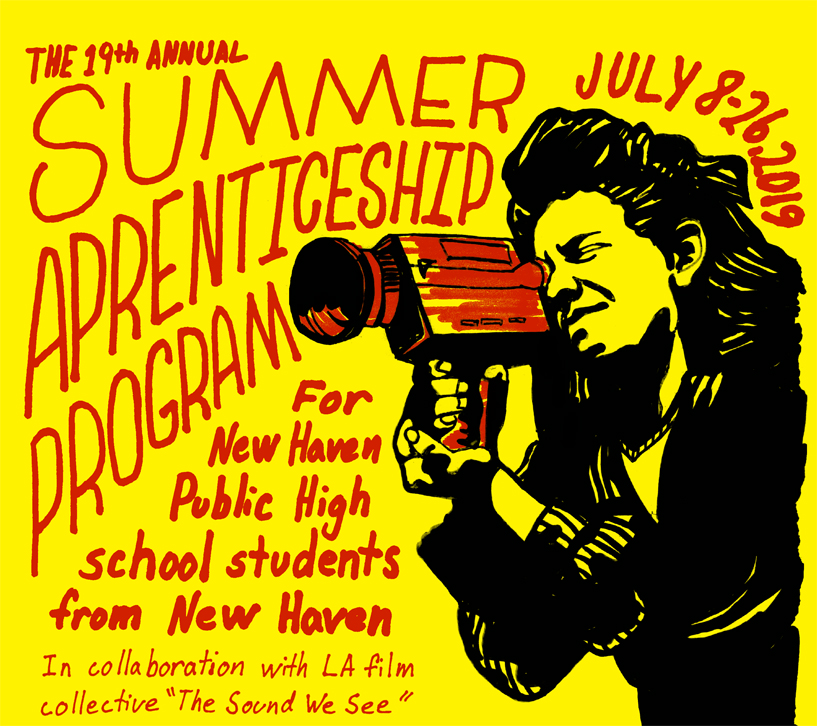 Submission deadline: Friday, May 31, 2019 at 5:00 PM
Calling all New Haven Public High School students!
Each year, Artspace brings New Haven high school students into its galleries for three weeks to work as apprentices with a Master Artist. Since its inception in 2001, Artspace's Summer Apprenticeship Program has given over 200 New Haven Public High School students the opportunity to work on their very own gallery show, learn about contemporary studio art practices, and build self-esteem while making a project relevant to their own lives.
Apply for the 19th Annual Summer Apprenticeship Program this summer. Program Dates are July 8 – 26, 2019. The program runs Mondays-Fridays, 1-4pm. All materials, snacks and $175 work stipends provided. Deadline to apply is May 31, 2019 at 5pm.
---
Summer Apprenticeship Program 2019 from Artspace New Haven on Vimeo.
Learn more about the 2019 program with our video above.
Guided by the visiting artist team, twenty New Haven high school students will experiment with 16mm cameras and analogue film and editing techniques to orchestrate a cinematic tribute to the city they call home.
Sprouted from LA-based Echo Park Film Center, "Sounds We See" is an ongoing cinematic conversation engaging young people where they are and encouraging place-based storytelling that is both imaginative and real, personal and collective.
For three weeks, you and your fellow apprentices will meet weekday afternoons to tap into undeveloped aspects of your craft, build relationships with working artists, and explore the surrounding urbanscape in creative and potentially challenging ways.
Bring your unique lens to a diverse creative community and help tell the story of a day in New Haven, your city.
---
How to Apply:
Online. Fill out our online form, HERE.
Print & Mail. Download and print our application forms and mail to Artspace, 50 Orange St, New Haven, CT 06510. English Application |  Spanish Application
Deadline to apply May 31, 2019.