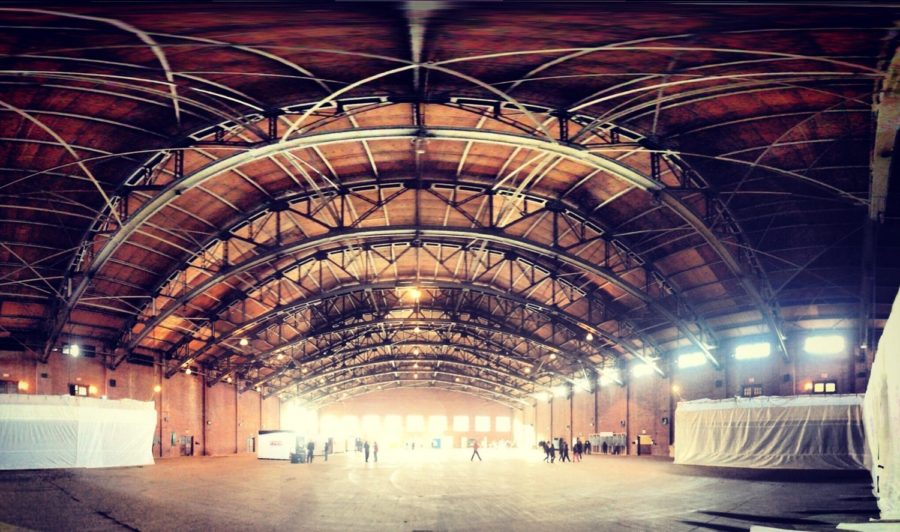 Submission deadline: Friday, Jul 7, 2017 at 11:59 PM
Full Time July –November
Working directly with Artspace's senior staff, the Producer shapes and helps organize a month long festival of 250-350+ visual artists in Greater New Haven. The festival includes a central exhibition at Artspace, with one small work by each artist, four consecutive weekends of open houses at studios and spaces across town, as well as a rich array of networking and creative activities and events for artists and their followers. In 2017, these special events may include some of the following activities: a festive, opening night block party, an outdoor artist-designed sound work, a networking event for curators and artists in speed dating format, bus, bike and curator-led tours, scheduled demonstrations of art-making techniques, an event with food vendors, an exhibition of artwork by New Haven Public School educators and students, and a closing reception for artists and volunteers. There will be some smaller, spontaneously organized participatory events (music performances, design competitions, calls for artists, audience surveys) and the launch of our rebranded event website. The Producer may also shape the design of the central exhibition and other audience interactions.
The Producer will coordinate his/her work closely with Artspace's 3 senior staff (PR, Administrative/Development, Curatorial) and will have regular interactions with hundreds of local artists. The Producer will also work with and be assisted by volunteers on special projects such as the bike tours.
The four organized weekends are: Westville (40 artists); Private studios scattered across town and accessed by self-guided and guided tours (40 artists); Open Studios at Erector Square (80 artists); and 150+ artists who will set up temporary installations at the Goffe St Armory.
---
Phase 1 July
Help Recruit Artists: Update copy for print and web and social media for artists call.
Call past participants, identify new ones.
Help organize Speed Networking, reaching out to 100+ curators from the region to recruit 20-25 who will be available to advise artists in person.
Help conceptualize programs and themes.
Apply for municipal street banners, assist ED with sponsor and advertiser recruitment.
Phase 2 August
Work with City of New Haven and CWOS' Technical Director to arrange permits and permissions for temporary access to space for October.
Working supported by Artspace staff and the event's graphic designer, help develop and distribute PR and Promo material for press and potential sponsors, including signage, billboard, advertisements etc.
Develop special festival events (e.g., artist demonstrations, talks, or networking) and work with Artspace staff to shape and promote them.
Assist artists with registration and other opportunities.
Phase 3 September
Coordinate the collection of artist information for publication in the Official CWOS Guide (printed and online).
Assist with ongoing PR and advocacy efforts by participating in presentations about CWOS to local businesses, neighborhood and special interest groups. Liaising with educators, community members, volunteers, and students;
Assist Curator in shepherding Commissioned Artists through the installation process.
Phase 4 October
Organize central exhibition of work at Artspace. Serve as exhibition designer or identify/collaborate with exhibition designer.
Oversee and work collaboratively with interns and volunteers September-October.
Ensure sufficient staff at the weekend Welcome Booths along via volunteer greeters.
Regularly communicate to, and support participating artists, serving as primary contact to the artists.
Assist with the logistics and site coordination once artists are ready to select their space and move in to determine the final allocation of space to all artists.
Oversee, serving as one of two primary contacts for the rehab of the space. This may entail meetings with the City's Chief of Administration, Fire Marshall, Police, The UI Co. etc.
Ensure that at the end of the event, an orderly exit of all artists and their work and materials takes place.
Oversee de-installation of central exhibition at Artspace and survey the artists and audiences for feedback.
Oversee exit surveys and event documentation.
Assist with a closing party or event
for artists.
Final Phase November
Creation of CWOS Operating Manual to include all forms, contracts, vendors, and contacts. Design and implement evaluation. Attend and help plan post-mortem with funders.
---
Qualifications
Applicants must have experience planning, producing, installing, and executing a successful public/celebratory event and working successfully with practicing artists. Artist Management, Gallery, Curatorial, Public Programs within the context of a cultural organization or Museum experience will be helpful. The successful candidate will be self-motivated, detail-oriented, energetic, and highly organized. Must be a team player and have outstanding writing, communication, interpersonal skills. The ability to prioritize and handle multiple projects are essential. Must be proficient in Microsoft Excel, Powerpoint, and Word. Experience in program development/management, theater production, set design, architecture, graphic design, urban studies, construction will be welcome.
Requirements
Must be available to work on all the Weekends late Sept –late Oct.
Access to a car
Job will require moving/lifting of objects, furniture
Artspace is an equal opportunity employer and considers applicants for all positions without regard to race, color, religion, creed, gender, national origin, age, disability, marital or veteran status, sexual orientation, or any other legally protected status.
To apply, submit cover letter and resume to: info@artspacenh.org with CWOS Producer in subject line. Please include the name, email and phone for 3 references and their relationship to you. Only those whose applications are being considered will be contacted. No phone calls please.