Contribute Artwork to Love Notes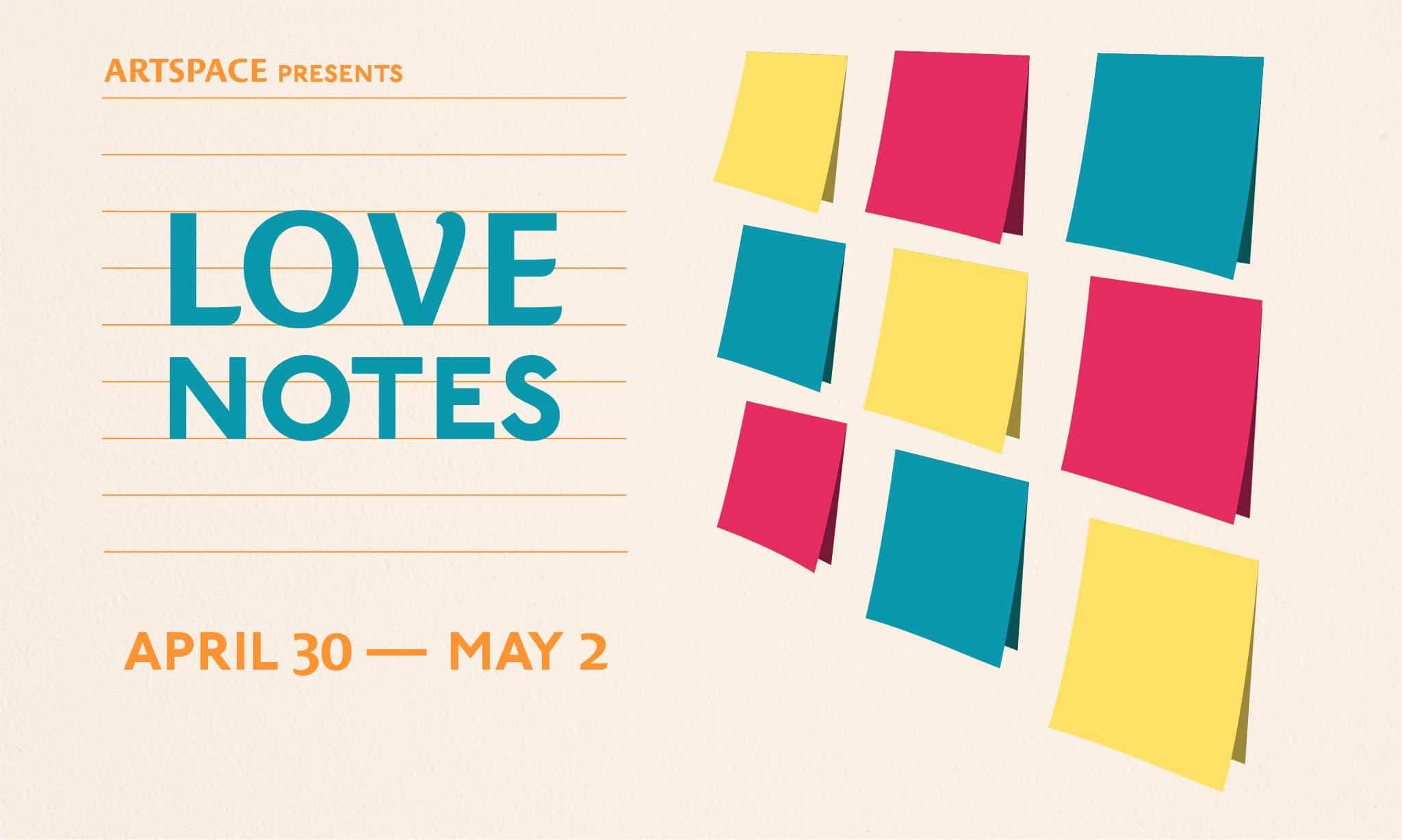 ---
Artspace invites artists to create one-of-a-kind works of art on paper to be sold for the benefit of Artspace. This new event, Love Notes, will become our annual community-based fundraising moment, providing critical support for our future exhibitions and programs.
Love Notes will take place April 30-May 2, 2021, with a VIP reception (online and in-person) on Thursday, April 29. Inspired by similar art events, we will install every submission we receive in our galleries salon-style, covering as many of our walls as possible from top to bottom. In addition, we will build a website to allow all guests to be able to participate in the event. All submissions will be note-sized (5 x 8") identified only by a number. We ask that artists not sign the front of their work. Collectors will make choices based solely on what artists make and will be given the artist's name only after purchase. Each "note" will be available for $95.
Artists work will be sold with the proceeds going to support our general operating costs and programs. Artist donations would help pay for exhibition installation costs, staff salaries, artist fees, educational initiatives, and public speaker honorariums. We are delighted to be able to celebrate the vibrant role of Artspace in our community.
Deadline for submissions is Saturday, April 24 at 5pm EST.
Thank you for donating to Artspace! We're excited to start our new community-based fundraising project with your support. This is an opportunity for you to show people what you care about most in the world, your artwork as a tribute to one of the things that you hold most dear. It will be different for all of us; a person, a place, or a favorite item. We imagine the result will be a gallery installation at Artspace that will help our community remember what they treasure most. We just have a few guidelines for your donation:
Artworks should be apx. 5×8" in size and can be in a range of artistic mediums including painting, drawing, photography, collage, and textile, among others.
Part of the fun of this event is that buyer's only know the name of the artist after purchase. All artworks will be displayed, at Artspace and online, without your name, but with information on title and medium. Every Love Note will be priced at $95 each. ONLY SIGN YOUR NAME ON THE BACK! Buyer's will learn your name only after purchase.
Artwork will be scanned and/or photographed in order to show details as clearly as possible. Additional notes are added in the artwork description, such as unusual dimensions, shapes, or materials when needed.
Items will be available for purchase online and in-person at Artspace. Artworks will disappear from the virtual "wall" after they are purchased, but this will not happen immediately. During busy sale times, you may see works that have already been purchased.
Purchased artworks will be mailed to the buyer after the sale, using the shipping address provided during check out. Due to COVID-19 restrictions, there may be a delay in mailing, but we will work to get the artwork shipped as quickly as possible.
REMEMBER, DON'T SIGN THE FRONT! Your name will appear in the buyer's email receipt, sent directly after the purchase is completed.
The deadline for your submission is Saturday, April 24.
You will be notified as to the status of their work, including the buyer's contact information, by May 31st. We encourage you to contact the buyer and stay in touch!
When you register, please include the email address that you check regularly, to ensure that you receive other important information after the event closes.
All artworks will be shipped Priority Mail and the cost of shipping will automatically be added to each order. This guideline is to help us keep COVID-19 safety precautions in place while also creating a streamlined post-event system to get everyone their artworks as quickly as possible. All sales are final.
That's it! If you have any questions, reach out to us at info@artspacenh.org and we'll get back to you as soon as possible. Enjoy yourself and thank you again for your support.
Saturday, April 24: Deadline for Submission
Thursday, April 29: VIP Reception
April 30-May 2: Love Notes Event

Monday, May 31: Artists notified as to the status of their work