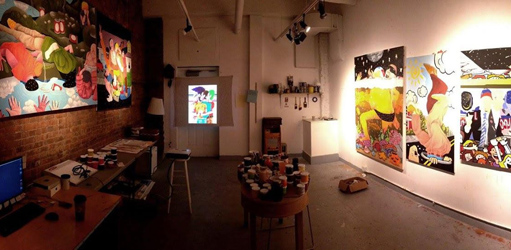 Submission deadline: Thursday, Mar 15, 2018 at 11:59 PM
Artspace invites emerging and mid-career artists from all fields to apply for our one year Artist-in-Residence program. The dates of the residency run from August 2018 through July 2019. During this time the Artist-in-Residence will have 24/7 access to a small private studio located in the back of Artspace. The studio is separate from our offices and exhibition space, but in close proximity to all that goes on at Artspace.  The AiR will be invited to partake in all opportunities offered to artists through Artspace, including but not limited to our annual Portfolio Review with 20 arts professionals, our City-Wide Open Studios call for new commissions, our invitation to join the Flatfile, the RideShare Series, and our open call for small installations in the Crown Street Window.  Upon arrival, our Artist-in-Residence will receive a welcome Meet-and-Great with the Artspace staff, past AiRs, the Curatorial Advisory Board, our Executive Board, and larger community.  Here, the AiR will be invited to share a presentation of past work, which will open up to feedback and questions from the audience.  The Curatorial Advisory Board will meet with the Artist-in-Residence midway through the Residency to maintain an active and supportive working relationship with the AiR.
Studio Amenities
The studio includes free wifi, access to Artspace's kitchen (refrigerator, stove, microwave, tea kettle), additional secure storage (in Artspace's large underground space). This is not a living space and we do not compensate room and board, though we can help you find a living space within the bustling community of working artists. The studio has a 14′ x 9′ plywood-backed sheetrock wall, track lights, slop sink and separate entrance. The second entrance is accessible by a private driveway where vehicles can unload large or heavy artworks, objects and equipment.
Download our Floorplan here.
Solo Exhibition and Exchange
The residency will culminate in a solo exhibition in our 10'x12′ Project Room. Artists may choose to produce an exhibition of work they produced during their time with us, a site-responsive installation, or alternatively produce a print-on-demand publication, or program series.  Artspace will provide writing around this exhibition and the work will be professionally photographed and archived on our website.  You can view past Project Room exhibitions by Artist-in-Residents here:
Learn about our past Artists-in-Residence, here.
In exchange for our support of your work, we ask that you contribute to the Artspace team by working the equivalent of 30 hours/ month. Duties will reflect the capacities, areas of interest and expertise of each Artist-in-Residence, but may include: assisting with installations, gallery sitting, staffing events, making videos, and/or helping to organize our archives.
We invite and encourage our Artist-in-Residence to get involved in our public programs, special event series and education initiatives. The Artist-in-Residence will also be invited to serve on our Curatorial Advisory Board (CAB), an elected board of ten working artists and arts professionals based in and around New Haven, who will help introduce and integrate the Artist-in-Residence into New Haven's art scene and community.
---