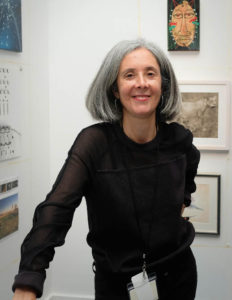 Helen Kauder began her association with Artspace in 1998, as a volunteer, co-founding the City-Wide Open Studios festival with artists Marianne Bernstein and Linn Meyers at a time when Artspace was in crisis, had jettisoned its space on Audubon Street, and was about to close. With the CWOS festival providing a new path forward for the organization, she joined the Board in 1999, initially serving as Treasurer, then as Board Chair, and then left a position at Yale to become Executive Director, helping Artspace reimagine its programs and find its new footing.
Kauder oversaw the construction and development of Ninth Square's Chamberlain Building, the construction and development of a temporary public art program in the Lot at 812 Chapel Street (which ran from 2000-2014), helped start and shape the acclaimed Summer Apprenticeship Program, and launched the annual Artist in Residence program. Among the exhibitions she helped conceive and champion are some of Artspace's most ambitious in scale in terms of their impact on the Greater New Haven community, including: Factory Direct: New Haven, 50,000 Beds (which was a collaboration with the Aldrich Museum and Real Art Ways), Library Science, Connecticut (un)Bound (organized jointly with the Yale University Art Gallery), Arresting Patterns/The Jerome Project, and Paying Homage: Soil + Site.
In partnership with local landlords and developers, Kauder has activated more than 2 million square of vacant space for the benefit of local artists' temporary installations, including the Pirelli Building, Smoothie Building, Olin Building, Science Park Bldg 25, Goffe Street Armory, New Haven Register, Hamden Middle School, and most recently, Yale West Campus's Building 410.
In 2015, she reached out to the more than 3000 artists who've been part of Artspace's exhibitions and open studios to invite them to the first ever alumni reunion, and in the same year, negotiated Yale Haas Arts Library's acquisition of its archive of exhibition materials, so that these can be avail-able for students, artists, and scholars in perpe-tuity. She established an Endowment Fund at the Community Foundation of Greater New Haven that has a $2MM goal. She leaves the organiza-tion in a strong position for the future. Kauder has also served as a Commissioner on the City of New Haven's Cultural Affairs Commission, as a review-er for the National Endowment for the Arts and Institute for Museum and Library Services, and on the Boards of Site Projects and the music organi-zation the Hugo Kauder Society.