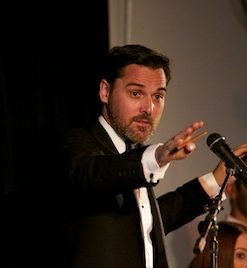 In 1997, Guy Bennett joined Christie's 20th Century Art department, rising swiftly through the ranks, joining the Impressionist and Modern Art department in 2001. In 2004, he was appointed Head of the Impressionist and Modern Art Evening Sales, and in 2006, he became International Head of the department and a Senior Vice President of the company.
As International Head, Guy spearheaded a large-scale restructuring of the department and its internal operations. His innovations have since transformed practises across the auctioneering world and helped secure him numerous world-record sales while at Christie's. Under Guy's direction, the November 2006 Impressionist and Modern Art Evening Sale broke all records to become the highest grossing sale in auction history, reaching just under half a billion U.S. dollars. The sale included four Klimt paintings, a Kirchner and a Gauguin, all of which individually set new world auction records. In 2007, Guy produced the second most valuable sale ever totalling $396 million–figures yet to be surpassed.
Perhaps Guy's most significant advance at Christie's was redesigning a sales mechanism that would cement his legacy in the art market. Guy's third-party financial model allowed him to mitigate the seller's risk, guarantee a sale, and create aggressive bidding in the sale room, thus courting clients who may have previously been reluctant to sell. Guy has remodelled this scheme on a number of occasions to take into account new developments in the market. In 2009, upon his departure from Christie's, The New York Times described Guy as one of the company's "biggest rainmakers."
After leaving Christie's, Guy became Chief of Acquisitions and Collections for the Qatar Museums and Qatar's Al Thani family, where he worked to establish an unrivalled global collection and positioned Doha as a future home of culture and a hub of art.
In 2009, in order to create an anonymous environment that acts as a vehicle with which to transact between Qatar and the rest of the world, Guy established Pelham Holdings LLC (New York) of which he is also the owner and principal. In 2013, he founded Pelham Europe Ltd. in London. Both operate in areas that include international real estate, financial markets, art, antiques and collectibles. Guy is known within the art industry as an pioneer: he has been featured in the annual Art & Auction "Power List" issue three times, and in 2013 The New York Times referred to him as "a master dealmaker."
Philanthropic and Personal Activities
Guy has raised over £200 million for various charities including the National Fish and Wildlife Foundation, New York Collaborates for Autism, Greenwich Hospital, and Artspace. Guy is a Trustee of his the Millfield Foundation, which supports his alma mater, Millfield School, in Somerset, England, where he has established the Bennett Family Art Scholarship for financially underprivileged students. Last year, he made a major financial contribution towards establishing the Business and Entrepreneurship Building which will help foster innovation amongst pupils and provide essential vocational skills. In total, he has personally pledged just under £1 million towards furthering the academic lives of students across England. In addition, he has agreed to help the Millfield Foundation raise £100 million for student scholarships.
One of Guy's personal passions is his family's foundation, Ignota Foundation, which helps financially under privileged students from across Britain's state schools attend university in a unique and creative way that helps foster accountability. The head teacher from selected schools nominates pupils – not necessarily the highest achievers but certainly hardworking and deserving – who have overcome difficulties and who would struggle to otherwise afford higher education. The scheme provides the selected pupils with funds to cover their first and third years of university (the student must show accountability and fund the second year themselves). The administration of each school are then asked to nominate another school for the fund thus continuing a "pay it forward" system.
Guy is a founding investor in Zeus Sports Ltd. An exciting new company led by England Rugby Captain Chris Robshaw, Zeus produces a wide range of special events for companies, charities, clubs and individuals, covering everything from national cycling events to testimonial dinners. The company has unrivalled access to some of the most exciting stars across the sporting world. Guy has stepped into a mentoring role to financially and emotionally support some of England's most promising young entrepreneurs.
Guy is also a major donor to the Stafford Sports and Performance Academy, established in April 2014 in Staffordshire, one of England's poorest regions. The academy provides top class facilities and classes for young people at affordable and highly subsidized prices, with a particular focus on dance and gymnastics. Guy's support has allowed dance class prices to be set at just £2 per hour, enabling nearly three hundred young people to attend the classes on a weekly basis.  The sessions allow students to gain valuable new skills in communication, teamwork, and discipline whilst the teachers provide mentorship and become positive role models for the children. By providing a safe environment for students to express themselves and build self-esteem, the Academy helps keep many young people focused and off the streets.
Guy also sponsors the Malmesbury Football Club, a youth football club in Wiltshire comprised of nearly one hundred children of all ages, where he provides full football uniforms, practise tops, training equipment, and on-field resuscitation equipment.
A native of England, Mr. Bennett earned a Bachelor of Arts degree in the History of Arts with honours at the University of California, Berkeley in 1995 and completed his post-graduate work in the History of Arts from Oxford University, England in 1996. He is an avid art collector, keen yoga enthusiast, passionate horse rider, and vintage car collector.