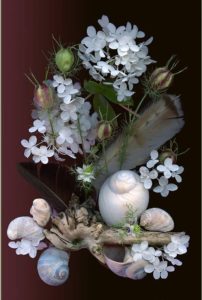 Meet at: Savin Rock Conference Center Parking Lot, 6 Rock Street, West Haven
Parking: Place CWOS Guide in windshield
Join Ellen Hoverkamp to make unique "scanner photographs," inspired by the work of Victorian botanical illustrators, and Dutch and Flemish still-life painters. The day will begin on the West Haven shore, collecting specimens that will become the objects of our still life studies. We will move to a nearby studio space where Hoverkamp will demonstrate how to arrange and scan the objects. The compositions will celebrate the natural bounties of our shared city and nature's ephemeral beauty. This event is free, but but space is limited, registration is required.
---