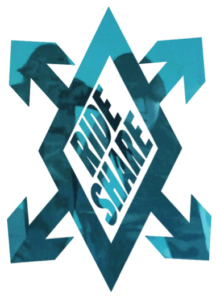 Artspace is excited to launch Rideshare, a new idea-centric workshop for artists and creative thinkers who are open to the challenge of temporarily immersing themselves in another artist's process. Each workshop is designed to facilitate art making at the group level in an incubator setting, and will be led by the direction of the Lead Artist with the support of Artspace Curator, Sarah Fritchey. The workshop may take place in the galleries at Artspace or an external site of the Lead Artist's choosing. Painter and conceptual artist Christopher Mir will pilot the first Rideshare workshop on Wednesday, August 10 from 7-9pm at Artspace (50 Orange St. New Haven). This event is free, but registration is required. Participants should arrive with a sketch pad and tools to draw with and are invited to B.Y.O.B. If you are interested in leading a future Rideshare workshop, please submit your proposal via our online form.
Can't make our first Rideshare event? Save the Date for October 26 for Rideshare with Susan Clinard.
Workshop Details
Christopher Mir will lead participants through a four-stage psychoanalytic exercise based on Jung's theory of active imagination. In very general terms, Jung's method provided a way for individuals to dialogue with an imaginary inner character. The first step typically is to visualize going down a stair case or climbing down a ladder into a basement or cave or underworld. The second is to ask this character a question or start a conversation. The third is to listen and record. The fourth is to review what you have seen and heard and to integrate it into your conscious mind.
Participants will record and share their results, which may vary from the nonsensical to the profound. This exercise is a descendant of Freud's free association and is very open to personal strategies, so participants will be free to make the experience their own. The exercise is not approached with grim determination and there are no wrong answers, rather it seeks to make a space for artists to play and potentially unblock ones' creative potential.
---
About the Lead Artist
Christopher Mir was born in 1970 in Baltimore, Maryland, grew up in Camden, Maine, and now lives and works in Hamden, Connecticut. He received his MFA from Boston University in 1997 and his BA from Marlboro College, VT in 1992. His work has been exhibited in group and solo shows nationally and abroad at the Aldrich Museum of Contemporary Art, CT, the Decordova Museum, Lincoln, MA, Daniel Silverstein Gallery, NY, Bellwether, NY, Space 101, NY, Mark Selwin Gallery, LA, RARE Gallery, NY, Galeria Senda, Barcelona, Schuster Gallery, Berlin, TM Projects, Geneva, and the Montserrat College of Art, Beverly, MA. His work has been reviewed in the New York Times, Artforum, Flash Art, Take Magazine, and CreativeEurope. Major collections include: the Yale University Art Gallery, Susan and Michael Hort, Jeff Bezos, Beth Rudin DeWoody, Simon Watson, Matthew and Iris Strauss, Donna and Jim Bozzuto, and Pamela Auchincloss.