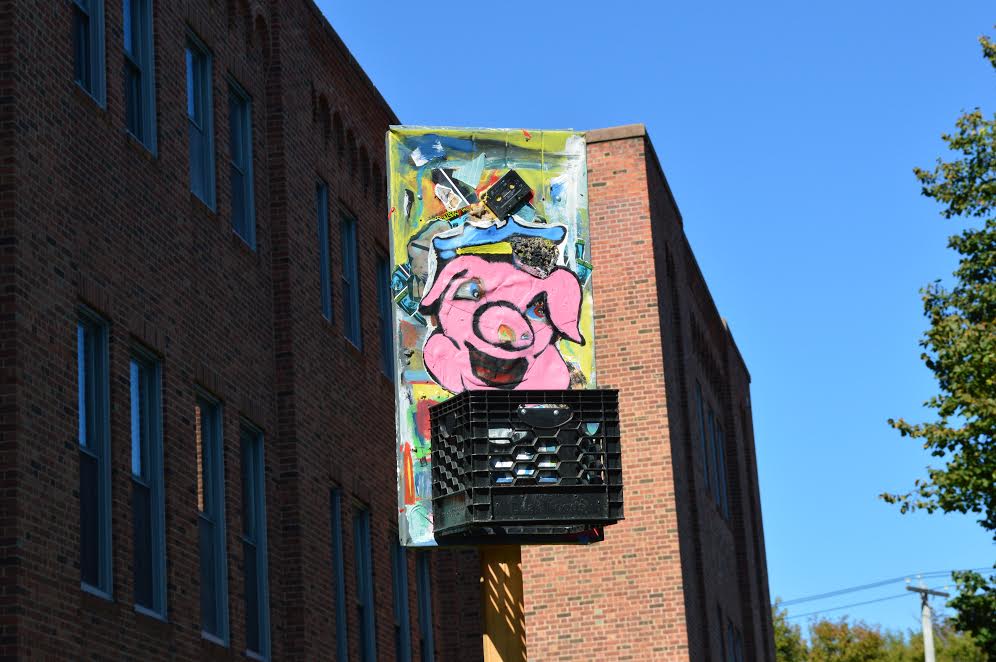 Last Weekend's Events:
On Thursday, October 6, 2016, the Director of New Haven's Department of Parks and Recreation requested that Artspace reposition an artwork created by Gordon Skinner that used to stand in this lawn.  The work was a free standing 6-foot tall milk crate basketball hoop intended for public use during City-Wide Open Studio's Armory Weekend (October 15 + 16).  The sculpture depicted a cartoon painting of a pig wearing a cop hat.  The challenge was to shoot a basket into the hoop over the chain-linked fence.  The installation spoke towards the experience of facing unfair obstacles, and was inspired by the past two years' worth of highly publicized police killings of unarmed black civilians by police officers.
The sculpture under contestation is one of three works in Skinner's Urban Totem Series, which proposes the humble milk crate basketball hoop as a totem for New Haven residents.  The traditional definition of a totem is an object that serves as a spiritual and symbolic focal point for people to find collective meaning in and gather around.
The City asked that the work either be turned away from this street, or to be moved to the Armory's front lawn.  On the front lawn, the work would be explicitly read by passerbys as an artwork, rather than a work of anonymous graffiti.
The City's involvement occurred after a "Citizen's Complaint" was issued by "police officers and correctional officers who had seen the work".  Skinner felt that changing the location of the hoop would undermine its meaning and opted to have it removed.  With Curator, Sarah Fritchey, Skinner decided to rehang the work in the galleries at Artspace and to organize a Public Forum on the varying points of view around this incident.
Next Week's Public Forum:
Artspace will host a Public Forum on Thursday, October 20 at 6pm in their ground floor space at 50 Orange Street in downtown New Haven to discuss the range of perspectives surrounding this case.  The Public Forum will include: Gordon Skinner, Artist; Rebecca Bombero, Director of the New Haven Parks, Recreation and Trees; Michael Carter, Chief Administrative Officer of the City of New Haven, and others.   Artspace has invited the individuals who issued the Citizens Complaint to attend, as well as Chief Anthony Campbell, New Haven Police; Andrew Wolf, Director of Arts, Culture and Tourism, City of New Haven; Dr. Martha Okafore, Community Services Administrator, City of New Haven; Key Jo Lee, Department of African American Studies at Yale University; and Jill Marks, Alderwoman of Ward 28.  This event is free and open to the public.
News coverage concerning this incident: 
WTNH 10/12/16;  Slater, Jacquie. Local artist sparks controversy with painting
New Haven Independent 10/11/16; Bass, Paul. Police "Pig" Moved Indoors