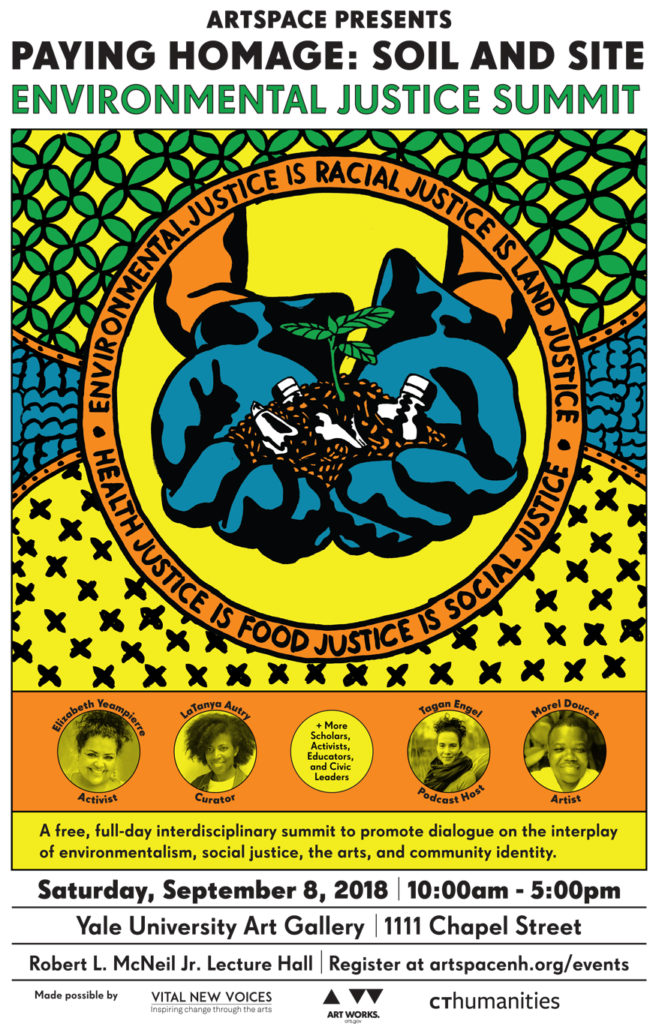 On September 8, 2018, Artspace will present "Paying Homage: Soil and Site," a free, full-day interdisciplinary summit to promote dialogue on the interplay of environmentalism, social justice, the arts, and community identity. It will respond to the companion exhibition Ball Snake Ball and the artwork created by participants in Artspace's 18th annual Summer Apprenticeship Program, a partnership with Vital New Voices, by assembling scholars, activists, educators, and civic leaders working on environmental justice issues to explore the politics of our basic environmental needs and the consequences of historical environmental racism on our local communities, as well as the role of the land itself as a lasting monument to these injustices and others. The day's agenda will place the arts at the center of these conversations, investigating how creative engagement with the land through the artistic medium of ceramics can offer a new understanding of the links between land and justice. Cosponsored by the Yale University Art Gallery, the summit will take place in the Gallery's lecture hall.
This event is free but registration is required.
---
About our Keynote Speaker: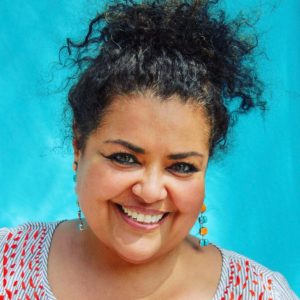 Elizabeth Yeampierre is a internationally recognized Puerto Rican attorney and environmental and climate justice leader of African and Indigenous ancestry born and raised in New York City. A national leader in climate justice movement, Elizabeth is the co-chair of the Climate Justice Alliance. She is Executive Director of UPROSE, Brooklyn's oldest Latino community based organization. Her award winning vision for an inter-generational, multi-cultural and community led organization is the driving force behind UPROSE. She is a long-time advocate and trailblazer for community organizing around just, sustainable development, environmental justice and community-led climate adaptation and community resiliency in Sunset Park. Prior to assuming the Executive Director position at UPROSE, Ms. Yeampierre was the Director of Legal Education and Training at the Puerto Rican Legal Defense Fund, Director of Legal Services for the American Indian law Alliance and Dean of Puerto Rican Student Affairs at Yale University.
---
Speakers and Panelists
Doreen Abubakar
La Tanya Autry
Vinnie Bagwell
Eddie Bautista
Louis Burch
Morel Doucet
Justin Elicker
Tagan Engel
Ken Foote
Don Gathers
Kim Hart
Joyce Klein-Rosenthal
Gina Luster
Ruben Olguin
Juan Camilo Osorio
brontë velez
Karen Washington
Elizabeth Yeampierre
Learn more about our Speakers and Panelists, here.
---
Preliminary schedule:
10:00am-10:15 am: Opening Remarks
10:15am-11:30am: Panel 1: Food, Water, Air: Basic Needs as Political Battleground. Featuring: Morel Doucet, Tagan Engel, Karen Washington, Gina Luster, Louis Burch, Kim Hart
11:45am-12:30pm: Keynote Address. Speaker: Elizabeth Yeampierre
12:30pm-1:30pm: Lunch Break
1:30pm-2:45pm: Panel 2: The Landscape of Inequality: Space, Place, and Injustice. Featuring: Ruben Olguin, Juan Camilo Osorio, Joyce Klein-Rosenthal, Justin Elicker, Eddie Bautista, Doreen Abubakar
3:00pm-3:30pm: Each of Roberto Lugo's Summer Apprentices inhabits their hero's persona for a brief and heart-lifting performance. Listen in as each student shares what prompted them to select their hero or shero in this video.
3:30pm-4:45pm: Panel 3: Hallowed Ground: Honoring History through Soil and Site. Featuring: Vinnie Bagwell, Ken Foote,

brontë velez

, La Tanya Autry, Don Gathers
4:45pm-5:00pm: Closing remarks

5:30-7pm

: Closing Reception at Artspace (50 Orange St., New Haven).  Exhibition Walk Through with Curator Sarah Fritchey at 

6pm.
---
Please join our Facebook Event 
Share your posts about the event using #soilandsite 
Stay on top of the conversation at our Tweetwall.
Can't make the Summit? Watch our Live Stream.
---