Join us for the opening reception for A new job to unwork at, Monique Atherton in the Project Room and Marc Burns in the Crown St. Window.
For the opening reception of A new job to unwork at, local writer, poet, performing artist, and social justice advocate Salwa Abdussabur will read a selection of original poems that explore various lived experiences of labor. This reading offers poetry as an alternative way to navigate the themes broached in the exhibition. The event was organized by Nigerian-American writer/curator Ifeanyi Awachie, who worked at Artspace in the summer of 2016 to ignite an ongoing conversation between the visual and literary arts among the institution's audiences.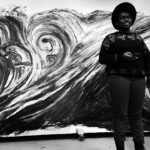 Salwa Abdussabur is a local spoken word artist and activist who identifies as queer or non-binary. In the past year, They where a youth teaching artist and organizer for the Citywide Youth Poetry. When Salwa is not "spitting bars", teaching poetry they, or busting tables they are speaking there truth at rally's and marching for social justice. Salwa is involved in various community works. They dedicate there time fighting for LGBTQ+ on the intersecting needs of safety housing and job for queer and trans youth. Salwa hopes that through there poetry, marching, rallying, and organize that minority youth in not just New Haven but in this country and throughout the world will get the opportunities and resources they deserve to thrive and not survive. Despite all that they knows it starts within yourself and within your community.