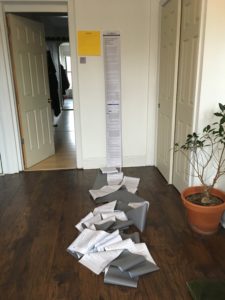 Organized by Artspace in collaboration with Nasty Women Connecticut: Silence Breakers and The Ely Center of Contemporary Art.
Each of us has had a moment of public or semi-public exposure that sticks with us. Perhaps it was a moment when we tried to express an opinion, testify to a personal experience, or stand up on behalf of another. Perhaps this moment was a unique experience of overexposure, or perhaps it was part of a systemic pattern of being at once hyper-visible yet unheard.
In digital culture, these moments have a unique mark: the continuous scroll of comments section, of reposts or retweets, etc. that trace of their circulation within a community, network, or cultural sphere. This workshop will focus on how aesthetic processes can help us see this circulation in a different way. Together, we will discuss how, rather than seeing these moments of viral or micro-viral circulation as banners of shame, we can understand them as banners of commonality: that is, part of a larger feminist negotiation of the stakes and politics of visibility.
This workshop will be with artist Aliza Shvarts who will be the subject of a survey exhibition at Artspace later this spring. Output from the workshop will become part of the exhibition. In her performance-based practice, Shvarts explores everyday acts of biological and social maintenance as well as visual and linguistic generation.
To participate in this workshop, please come prepared to share a moment in your own personal "digital life", in which you have felt overexposed. For example, this could include a Facebook post or tweet that went viral (or got a lot of attention), an email that circulated beyond your intended audience, etc. Send a PDF file, Series of Screen Shots, or URL link of this moment to Artspace when you register via the online form below. All people are welcome as participants or observers. Registration is free, but spaces are limited and available on a first come first serve basis. If you have questions, contact Sarah Fritchey at sarah@artspacenh.org.
---