Enjoy an intimate 3-course dinner hosted by some of New Haven's most esteemed artists in their private studios at 14 Gilbert Street, a former print factory.  Surrounded by artwork in progress, you'll have the unique opportunity to hear the artists discuss their ideas and process.  Choose from one of five studios—several studios will only be open for this experience. After the meal, everyone will convene for dessert and a champagne toast down the hall at the Westmount Group Furniture Workshop, owned and operated by our former Board Member Jeff Carter.
Each dinner features local and seasonal cuisine inspired by bright flavors, colors, and textures prepared by Small Kitchen Big Taste. Preview the menu below.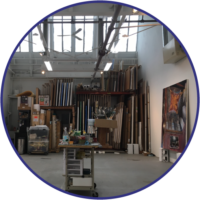 Chris Barnard (BA Yale, 1999, MFA USC, 2005) is a conceptual painter concerned with the aesthetics of privilege, scholarship and the great American myth.  His most recent body of work depicts magnificent interiors of institutions that house fine art and sanctuaries of higher education.  Prior to this, Barnard has used bucolic skies as props for nullifying the horrors of human violence and war. He has had recent shows at Fred Giampietro Gallery, Luis De Jesus Gallery (Los Angeles) and at Connecticut College, where he teaches and is the recipient of the Susan Eckert Lynch Fellowship. His work has been discussed in the LA Times, Hyperallergic and the Chicago Tribune.
---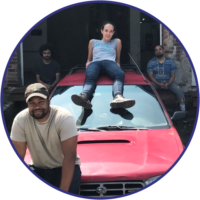 Alex Jackson, Michael Demps and Erica Wessman are 2017 graduates of the Yale School of Art and share a studio. Alex is the recipient of a 2015 Skowhegan School of Painting and Sculpture residency. His work has been featured in a 2017 solo show at Steven Zevitas Gallery and a 2016 group show at the Elmhurst Museum of Art. Through the investigation of narrative painting, historical research, physical being, Afro-diasporic histories and geographies, and mythology, he attempts to create a nuanced understanding of what it means to inhabit a space and time. Michael Demps' work translates breath into wind, water into noise, trespassing along the dangerous edges of caricature to reveal an ongoing repetition of trauma. Never singular, the objects—candles cast from a racist trinket, bottles of chocolate milk, magnetic marbles, Motown refrains—interrogate substance to ask something of subjectivity and the complicity of address. Bound, cast, overturned, these indices of identity and history conjure a trajectory where violence remains intimately urgently present. He is included in Fictions, a group exhibition of emerging artists opening September 2017 at the Studio Museum in Harlem. Before coming to Yale, he received his BFA at CalArts. Erica "Wessy" Wessman has been granted residencies at the Atlantic Center and the Vermont Studio Center, attended Skowhegan School of Painting and Sculpture in 2015 and Cooper Union before coming to Yale for an MFA in Sculpture. This dinner is your unique chance to meet these artists, as their studio will not be open during the day.
---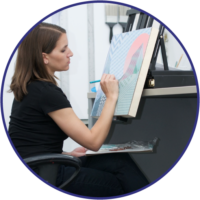 Rachel Hellerich has studied at The School of the Art Institute of Chicago and Southern Connecticut State University, and works as a Museum Preparator and Frame Conservator at the Yale Center for British Art.  She paints abstract landscapes influenced by science fiction films, textile design, modern interiors and Asian art.  She is preparing for a spring solo show at Artspace.
---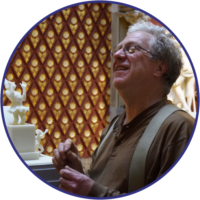 Robert Taplin is a figurative sculptor working in fiberglass, wood, steel, and lighting systems that illuminate his sculptures from within. He has exhibited throughout the United States, and has been recently acclaimed for shows at the Aldrich Museum in Ridgefield, CT and Grounds for Sculpture in New Jersey. The Wall Street Journal calls his work "at once deeply personal and dispassionate… Rooted in contemporary actuality." He is applauded for bringing relevance to images drawn from art history and western culture. The artist has received numerous grants and awards, most notably from the National Endowment for the Arts and the John Simon Guggenheim Memorial Foundation. He writes extensively on sculpture for Art in America, the international magazine concentrating on the contemporary art world and has taught sculpture at the Yale School of Art. This dinner is your unique chance to meet this artist, as their studio will not be open during the day.
---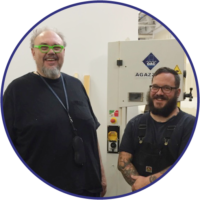 Martin Kersels & Brent Howard have shared a large space over many years. Kersels's work is installation-based and incorporates performance, sculpture, photography and video. He is Associate Professor and Director of Graduate Studies in Sculpture at Yale School of Art. His objects and projects have been exhibited at museums both nationally and internationally, including the 1997 Whitney Biennial, the Centre Pompidou, MOCA Los Angeles, the Museum Tinguely, Kunsthalle Bern, and the J. Paul Getty Museum. A survey of his work, Heavyweight Champion, was organized and exhibited by the Tang Museum in 2007 and the Santa Monica Museum of Art in 2008. Brent Howard is a Critic and Lecturer in the Graduate Sculpture program at Yale and directs the Sculpture, Wood, and Metal shop there. He has recently exhibited at the Seton Gallery, University of New Haven, NoPop (New Haven) and the Gowanus Studio Space.  In addition to his own work, he has served as fabricator for such artists as Michelle Lopez, Nari Ward and Louise Bourgeois. This dinner is your unique chance to meet these artists, as their studio will not be open during the day.

Artspace is marking City-Wide Open Studios 20th year just as the State of Connecticut's grant funds have evaporated and the National Endowment for the Art's immediate future is in peril. We are turning to you, our friends, to help support our festival at a watershed moment.  Please join us!
Libations provided by Stony Creek Brewery, Esperto Wine, and Mionetto Rose & Brut Champagne
Event Co-Chairs: Artspace Board Members Marion Belanger, Cathy DeMeo and Jane Lubin.
Questions: Contact Rachael McNerney, info@artspacenh.org or 203 772-2709.

Patron's Ticket (preferred seating next to artist, printed program listing for tickets purchased prior to September 15): $500
Single Ticket: $ 150
Pair: $250
Dessert with all the artists from 

8:45

 onward, in Westmount Furniture Group's Studio and Workshop.

I can't attend but I want to support Artspace & City-Wide Open Studios!

For this special benefit that helps keep CWOS free and directly supports our artists, please help us cover the costs of the ticketing by absorbing the ticket service charge. Thank you!

Dinner:

Balsamic and Fig Braised Chicken
Wild Rice and Lentil Salad with Pomegranate and Pecans (vegan)
Kale Salad with Crispy Cumin Roasted Chickpeas Oven, Dried Tomatoes and Tahini Dressing (vegan)
Roasted Heirloom Carrots with Mind Almond Pesto (vegan)
Savory Seasonal Tarts (wild mushroom, butternut squash, sweet potato & beet, etc) (vegetarian)

Dessert Buffet:

Pear Tart Tatin
Apple Gallette
Brown Butter Chocolate Chip Cookies
Ginger Molasses Cake