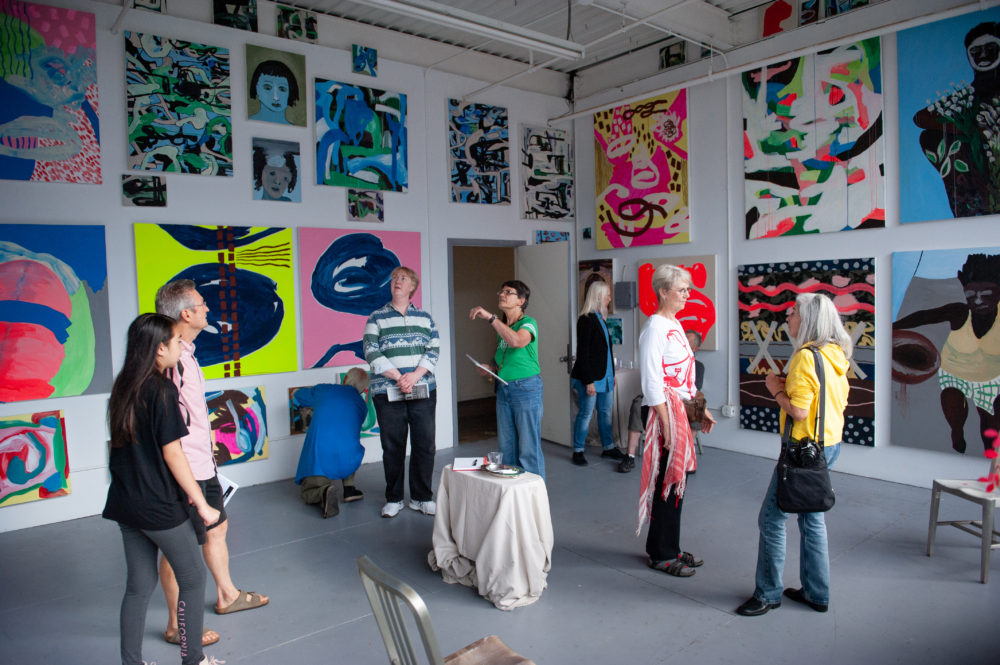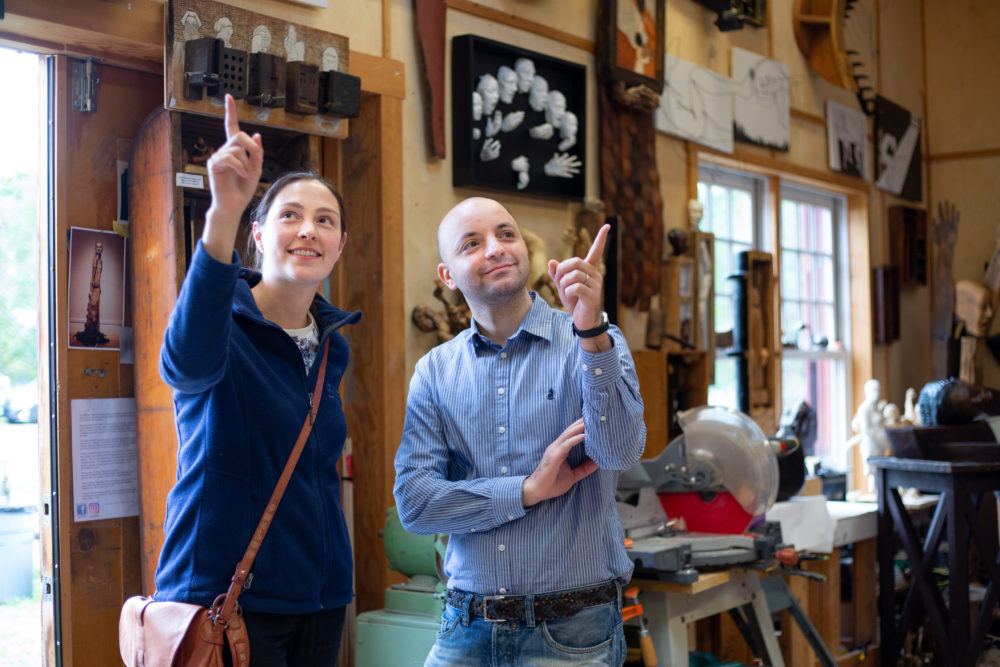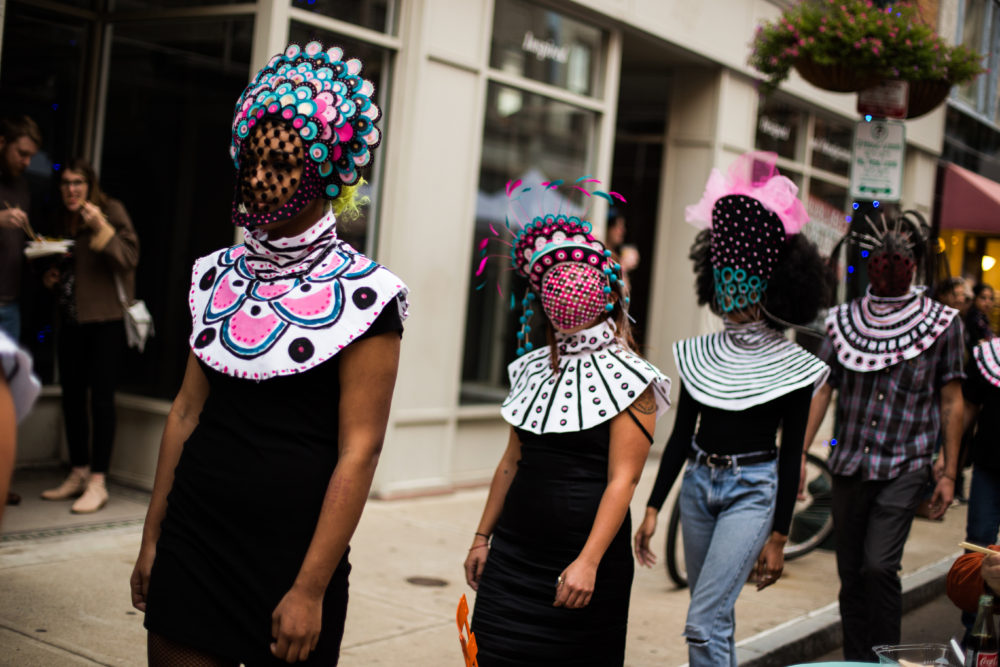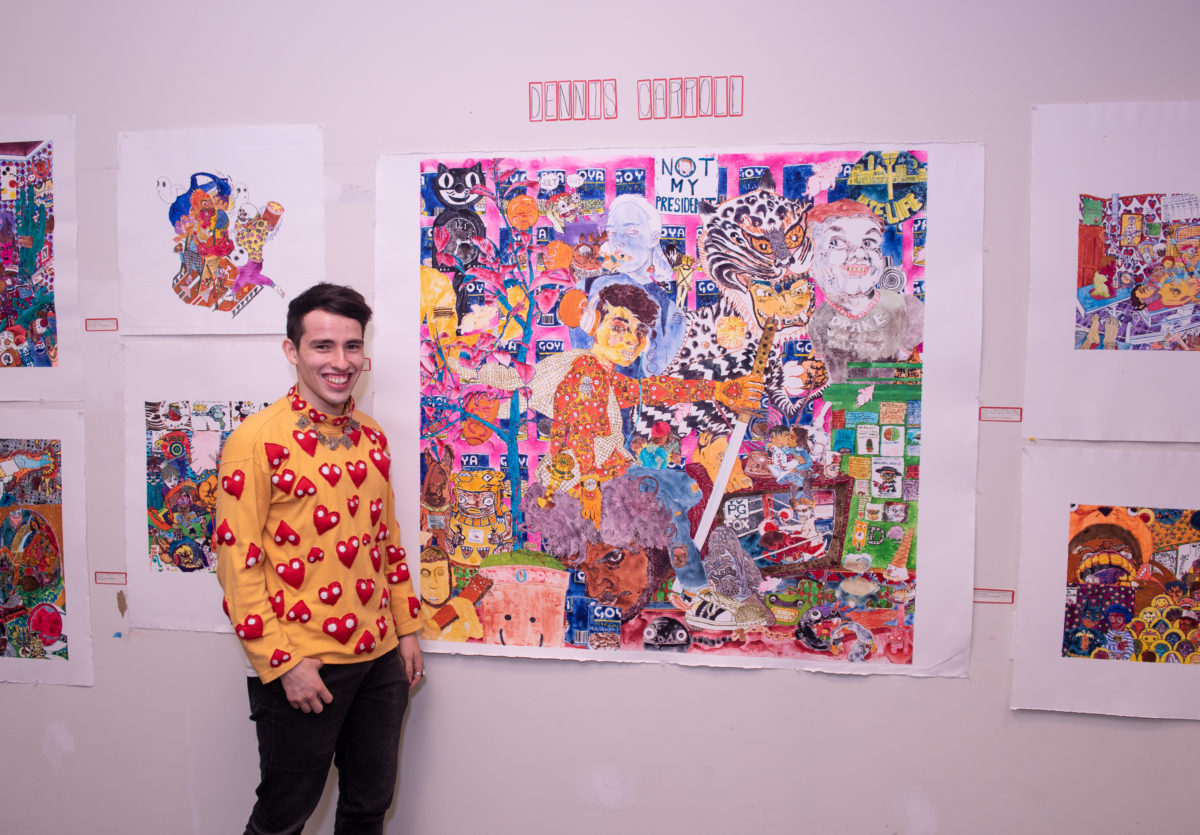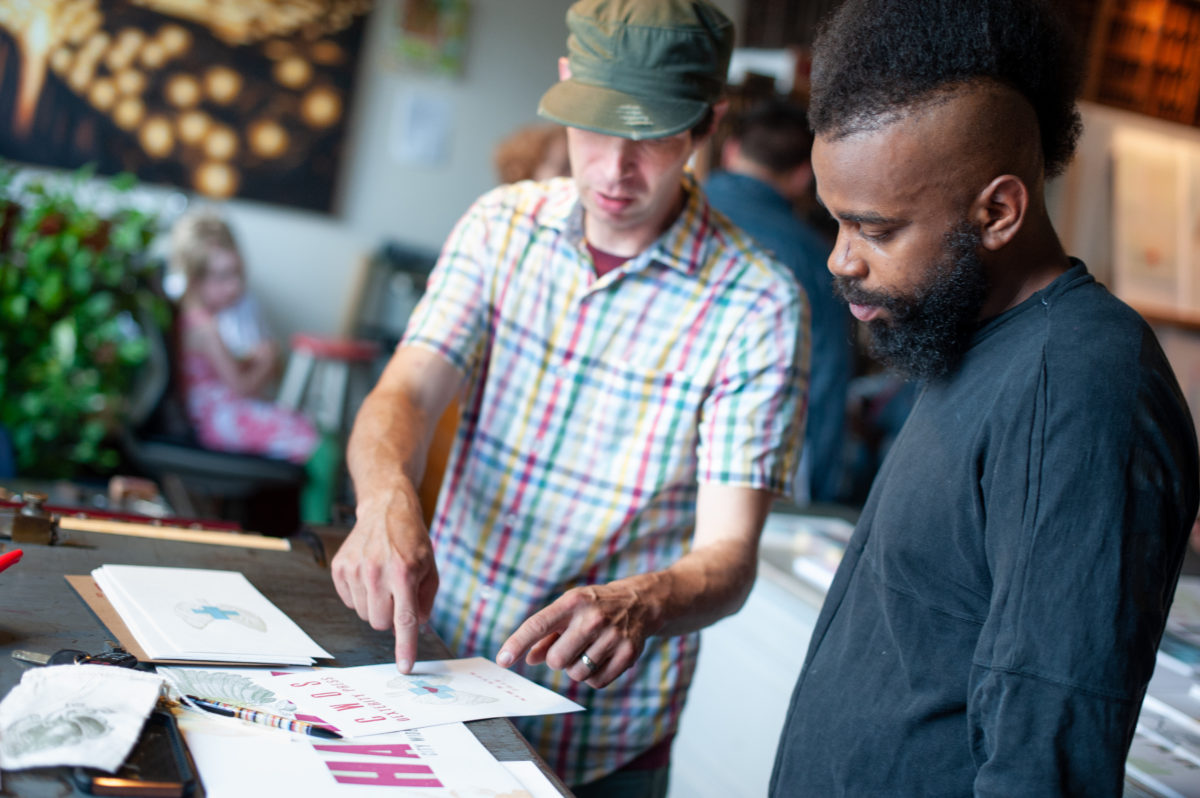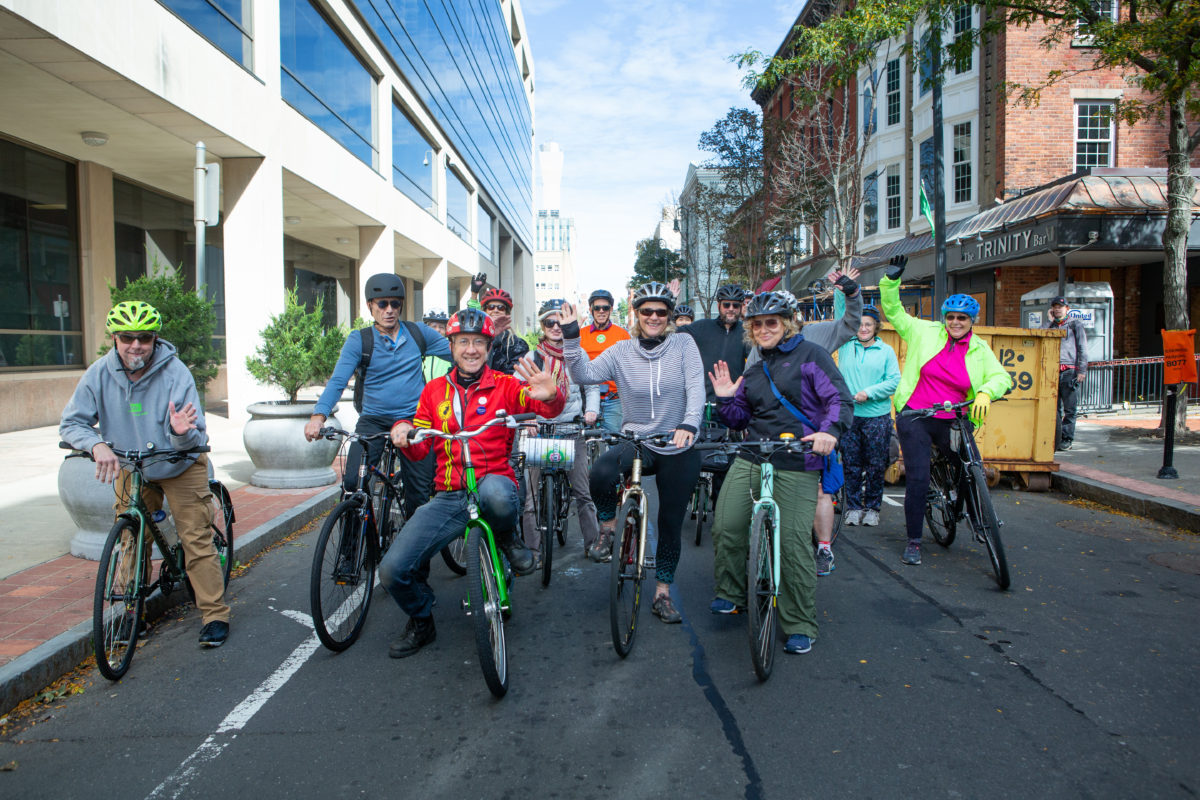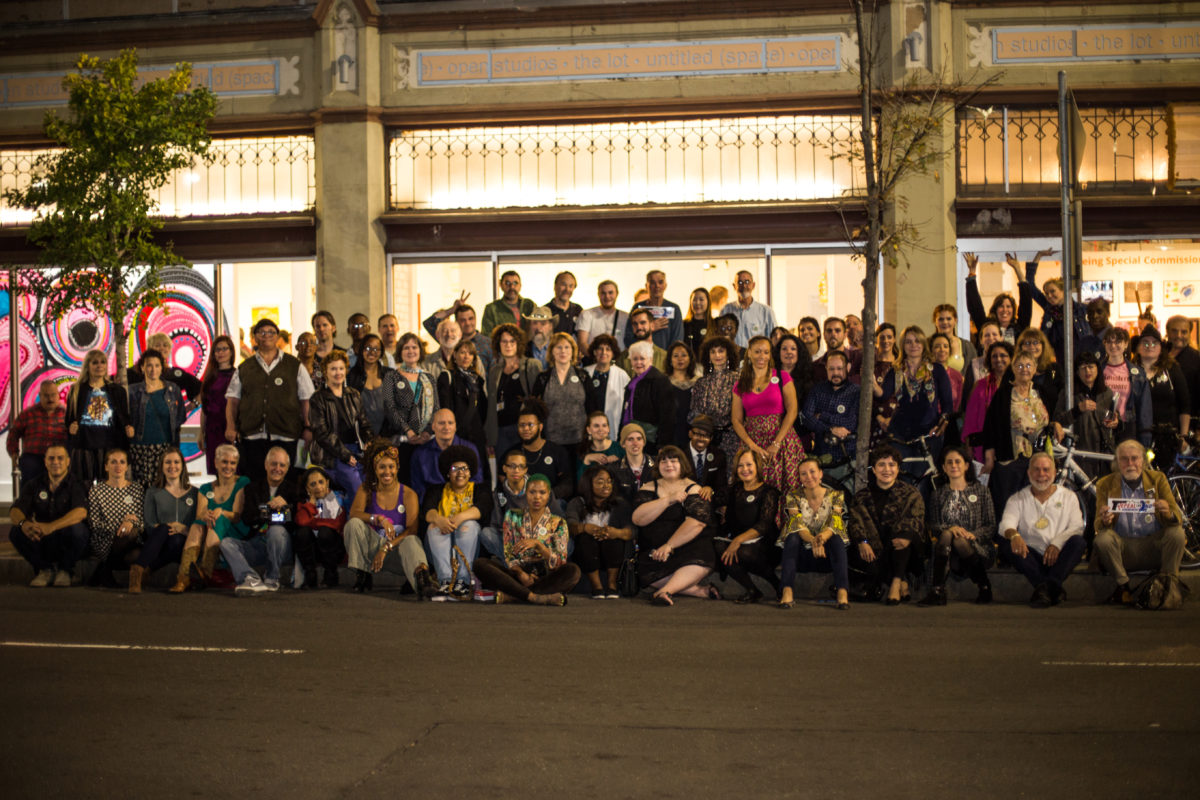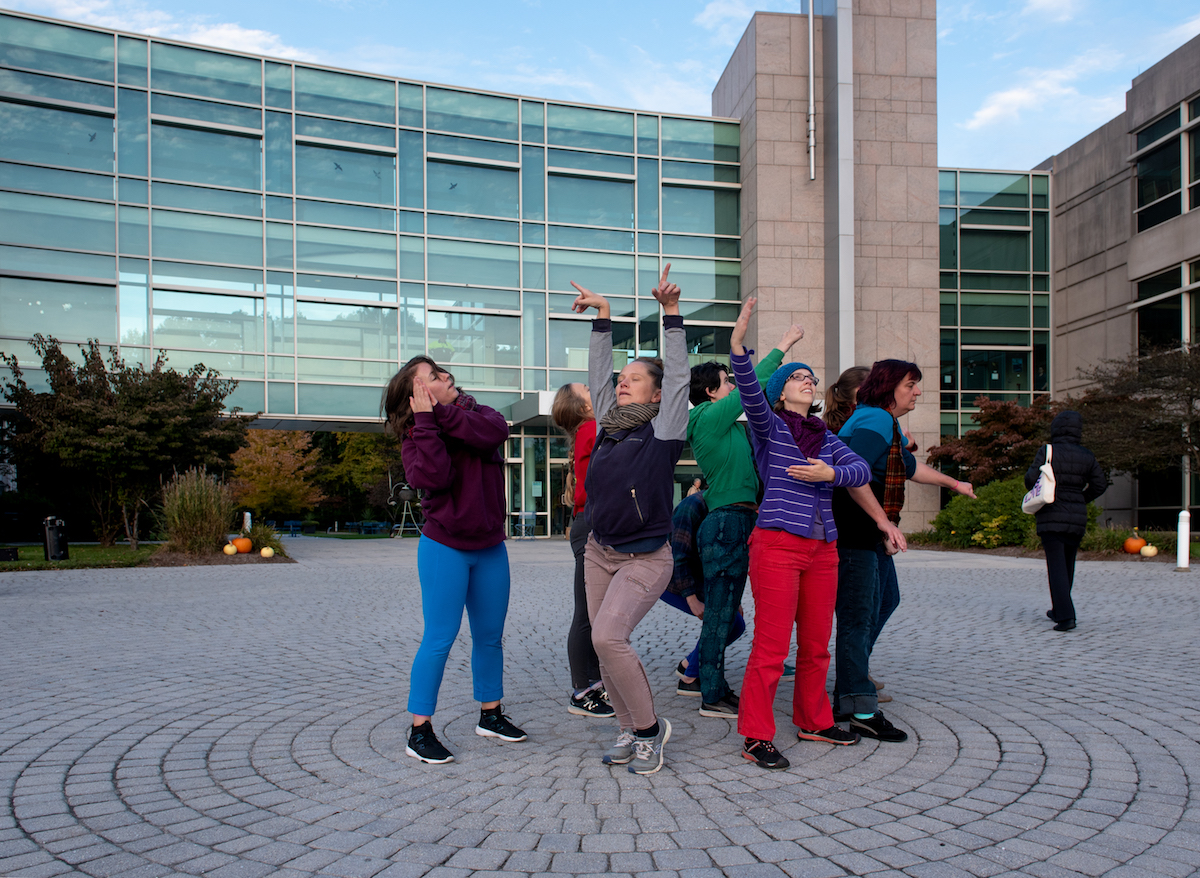 Each year, City-Wide Open Studios adopts a theme that prompts artists and visitors to reflect on and engage around issues that impact our community. This year's theme of Wellbeing has been selected to encourage artists and visitors to explore how we care for each other and for the creative resources in our community, particularly in the face of ongoing struggle, challenges and trauma. Visitors will find responses over three weekends, including:
Erector Square: Oct 6-7 Visit a unique creative ecosystem, where some of New Haven's most established artists work alongside an array of wellness practitioners in what was once the Erector Set toy factory.
Westville in Focus: Oct 13 A place where supporting artists and their creative enterprises has turned into a nourishing set of support structures and village traditions.
Private Studios in Focus: Oct 14 Visit a cluster of studios or trek to some farther-flung points on this day of discovering artists in the intimacy of their own environments. Bike tours (guided and self-guided) are well-suited to the pace of Open Studios.
Alternative Space: Oct 26-28 A record number of 200+ artists, collectives, art departments and more will show their work alongside 12 major commissions on the them of Wellbeing, from visual art, to performance-based work and social practice
Wellbeing Commissions & Special Projects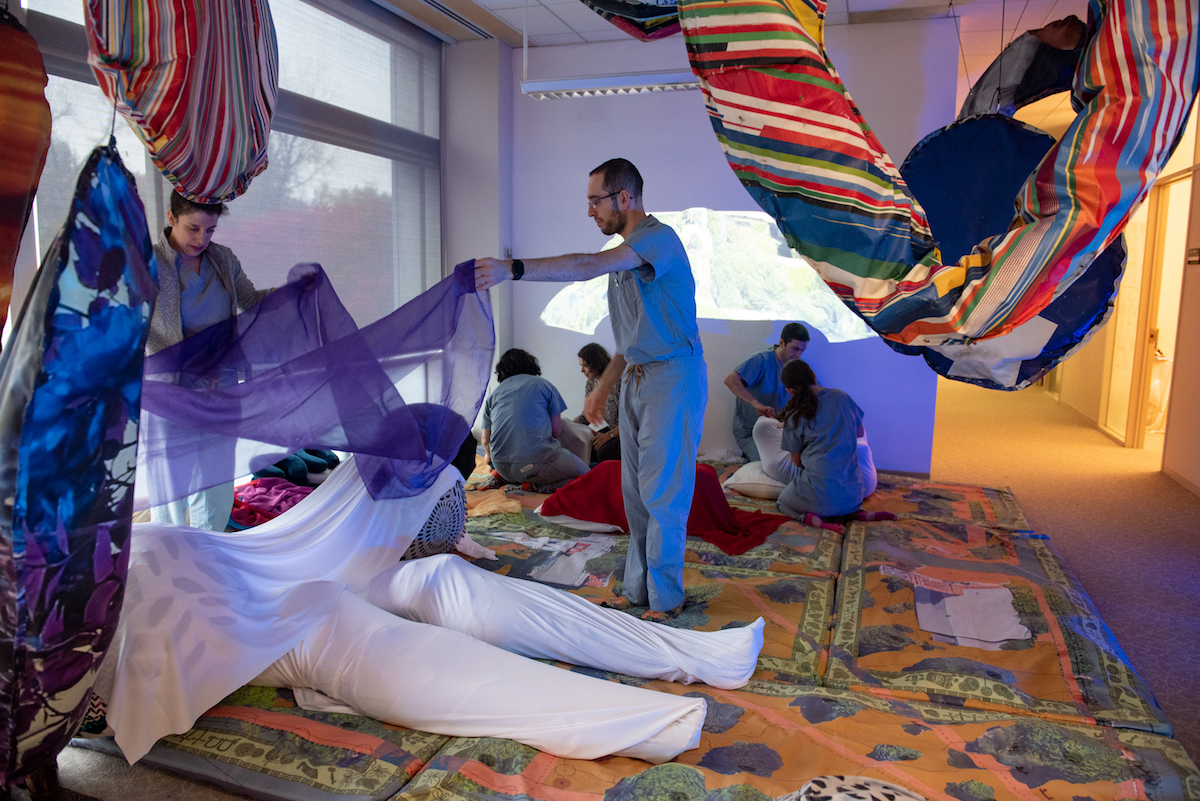 The Center for Adult Swaddling
By: Adam Berkwitt / Aude Jomini / Chen Reichert / Sam Malissa / David B. Smith / Laura Marsh / Alexandra Jomini

Through the experience of a tight swaddle, imitating the structure of the womb, this collaborative and interdisciplinary project invites visitors to return to fetus-like states to experience a comforting bundled environment.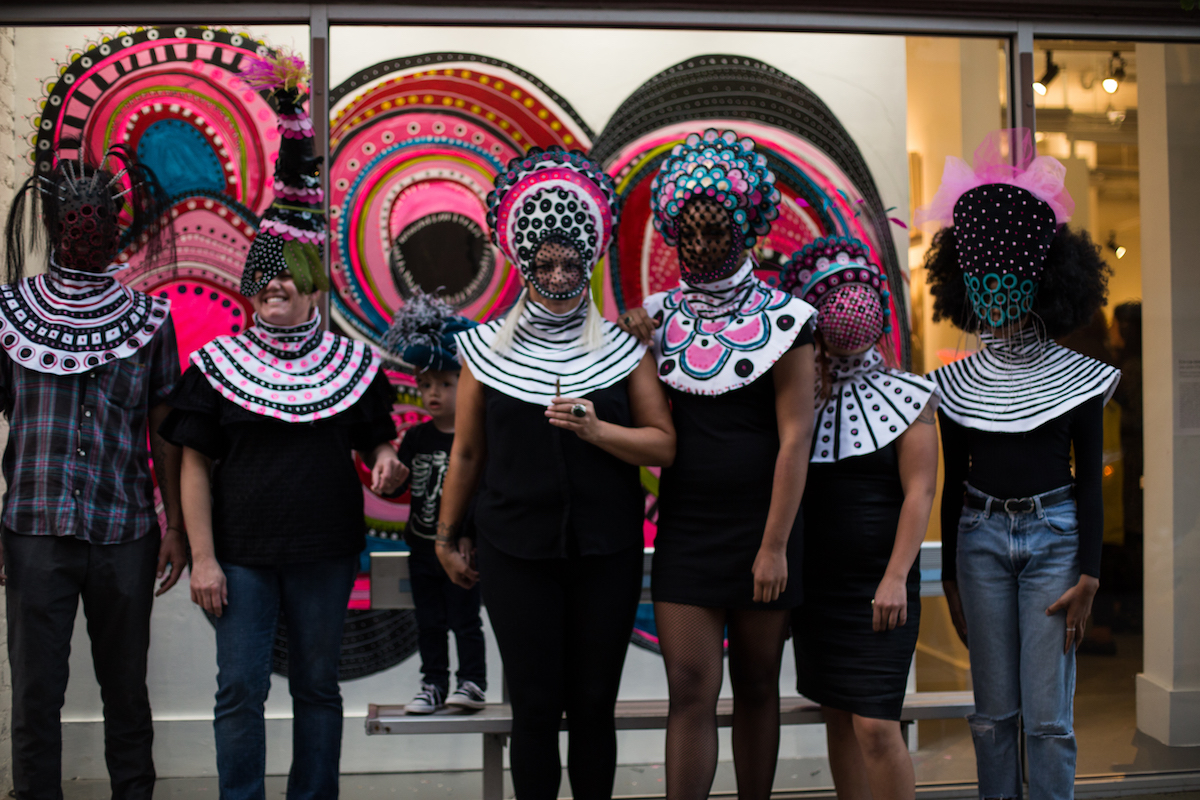 ana alole (The Hats)
Erin Lee Antonak

Referencing a mash up of traditions that intertwine Iroquois crafts, regalia, and ceremonial objects, with millinery techniques and drag culture, Antonak will create six hats intended give restorative strength and prayer to their wearers. Made possible thanks to the generous support of Robert Buckholz and LizAnne Fontaine.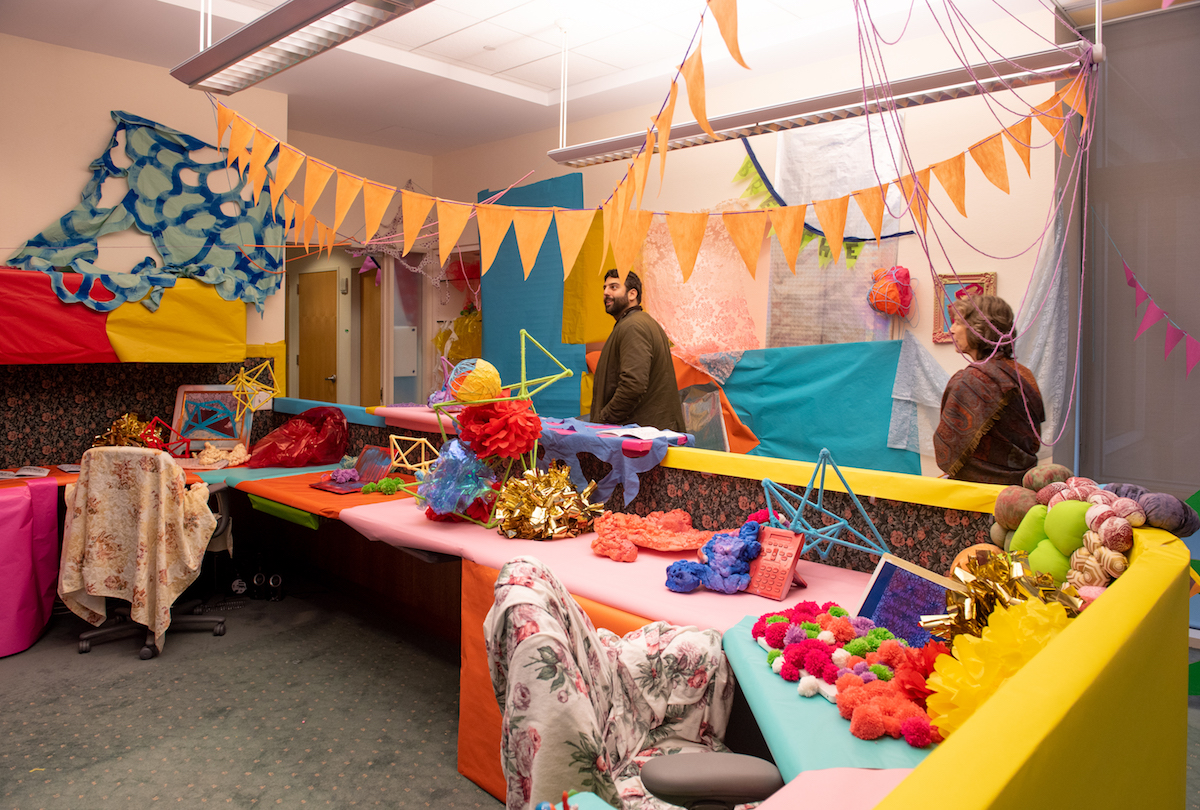 Conversion Therapy
By: Neil Daigle Orians

Dealing with the violence and mistreatment inflicted on queer youth, this immersive installation seeks to reverse that rejection and shame, and instead foster individual acceptance and self-celebration. Made possible thanks to the generous support of Audrey Conrad and Leonardo H. Suzio.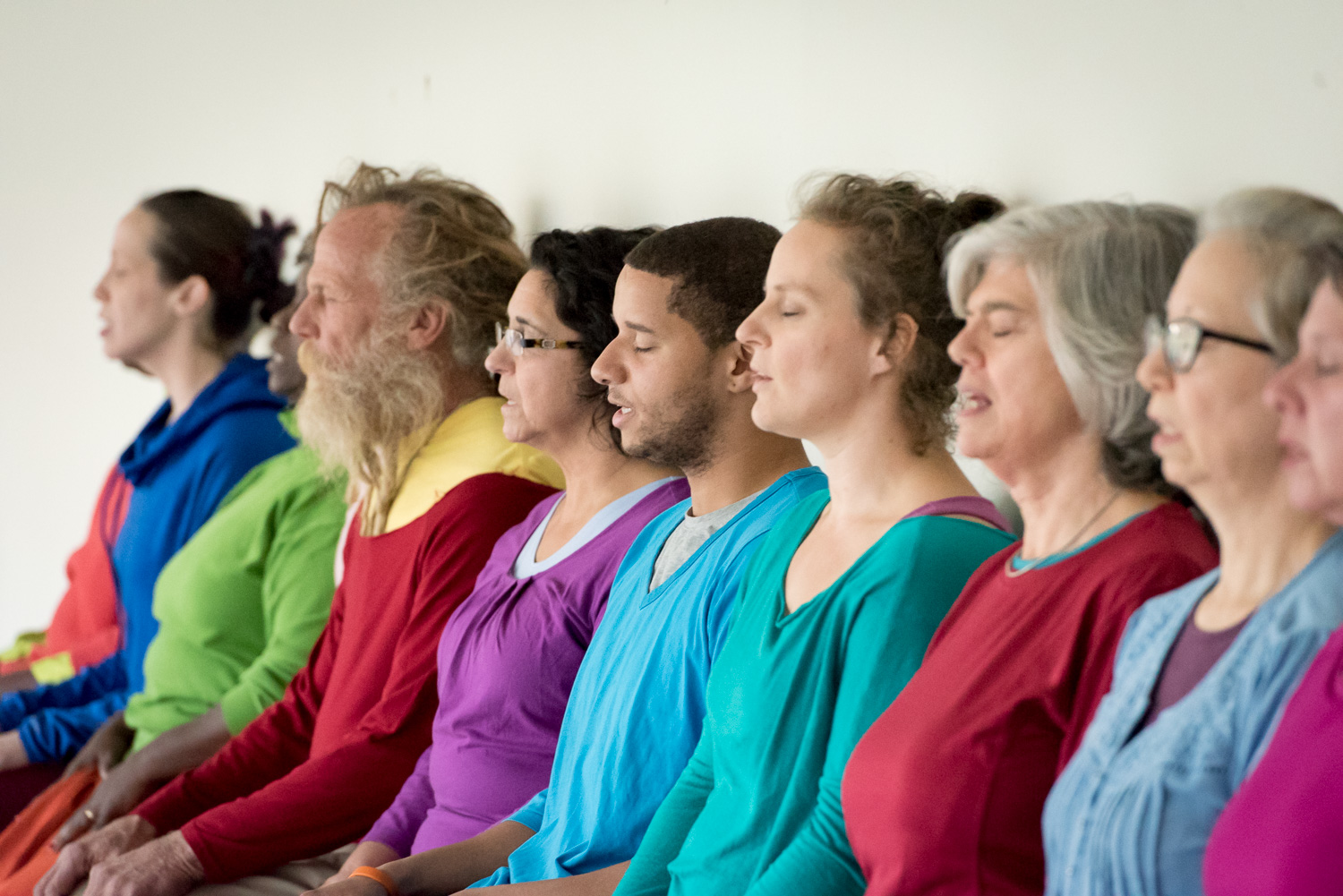 I Know You So Well: A sound and movement choir
By: Rachel Bernsen, Rachel Kauder Nalebuff & Collaborators

Loosely adapted from Plato's symposium, I Know You so Well examines the fracture of an industry. The project's first iteration, commissioned by Artspace for City-Wide Open Studios, brings healthcare workers together who likely never connect in their professional lives to think holistically about what it means to heal. Made possible thanks to an Emergency Grant from the Foundation for Contemporary Art and an Anonymous Donor.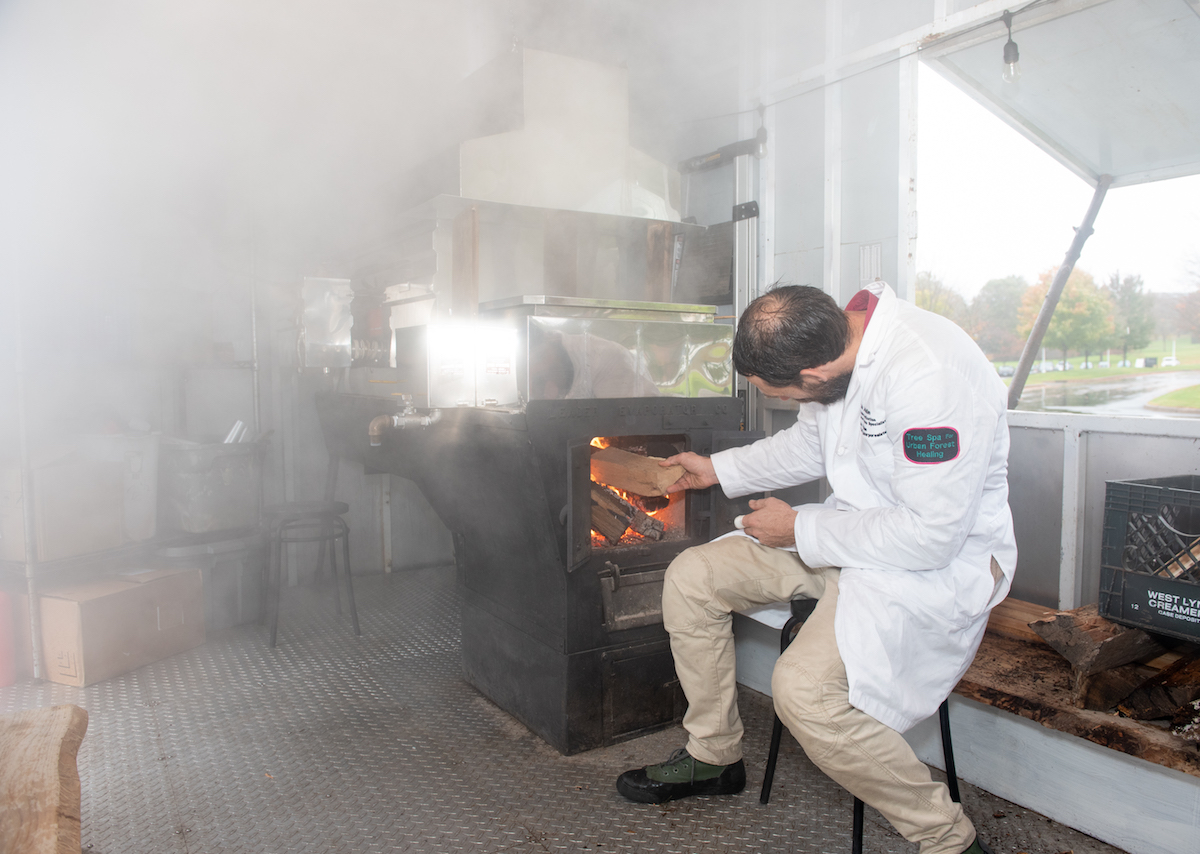 Tree Spa for Urban Forest Healing
By: Colin McMullan

Both a mobile tree syrup processing unit and a tree spa, this relaxing getaway features a steam room of evaporated tree sap, drawing on various traditions of healing from around the world. In honoring these traditions yet moving to a post-modern society, this piece unifies those engaged in a collective healing experience.
Made possible thanks to the Mactez 2018 Summer Stipend.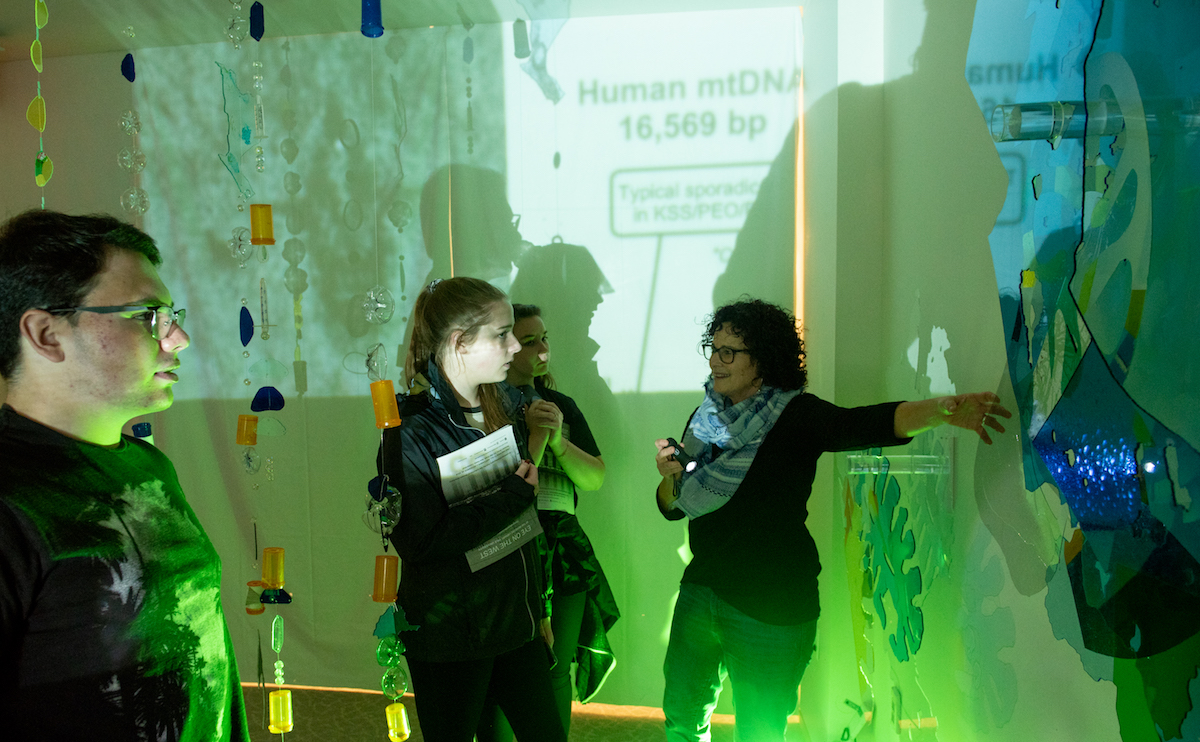 An Experimental Laboratory for Healing
By: Debbie Hesse

Inspired by their daughters' mitochondrial disease, the Hesses create an interactive, mixed-media video installation through the use of found, repurposed, and fabricated forms and materials – such as plexiglass, sculptural forms, medical information, fabric, and video projections – in order to merge art and science and make visible what we cannot comprehend.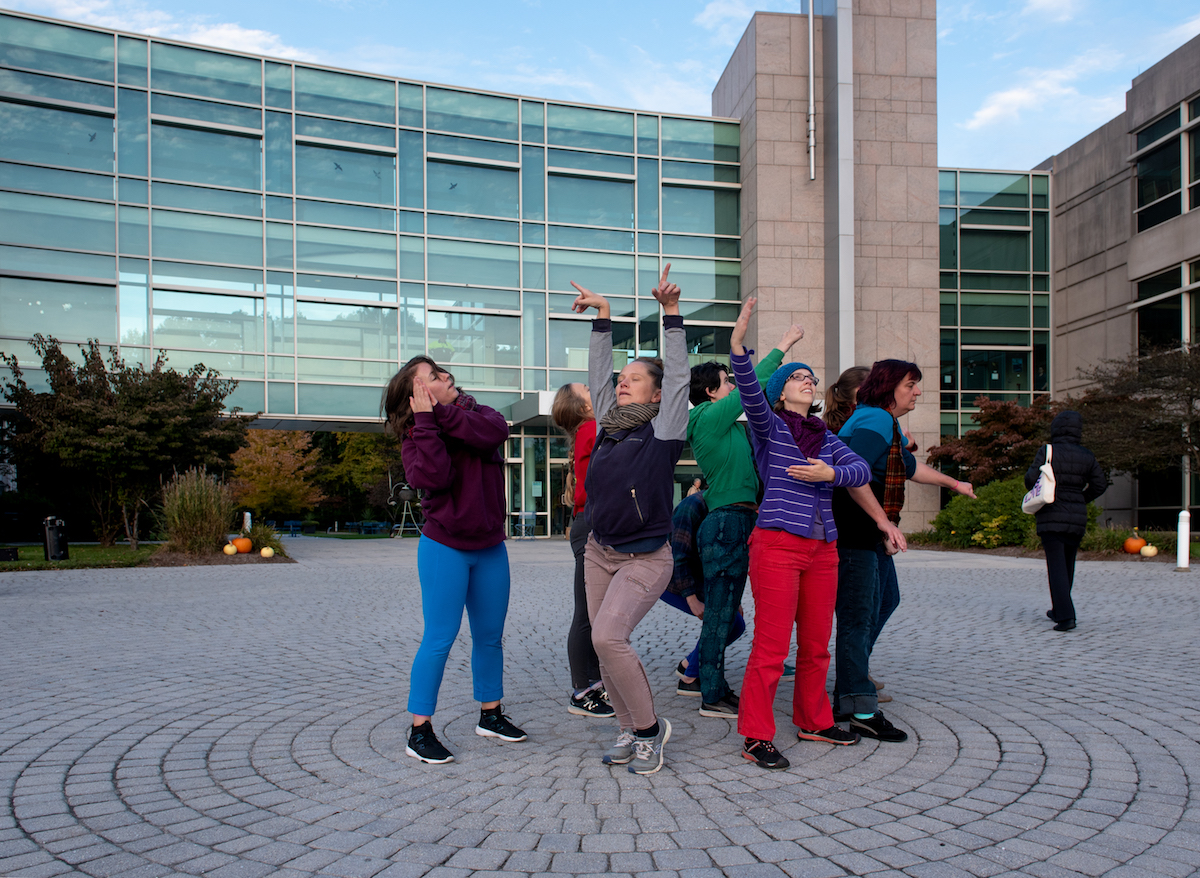 Through the Echoes
Kellie Ann Lynch in collaboration with the performers

Elm City Dance Collective and friends from the community will embrace this years City Wide Open Studios' theme, "Wellbeing" through visually evocative movement that reflects the performers' humanity and pays homage to the site they will be performing at, Yale University's West Campus. The performers will embody the essence of wellbeing through movement that engages the space and physically expresses metaphor inspired by contemplative practices and ritualistic ways of being in community. Seen from the outside, performed inside within the glass walkway connecting the Yale School of Nursing to Building #410.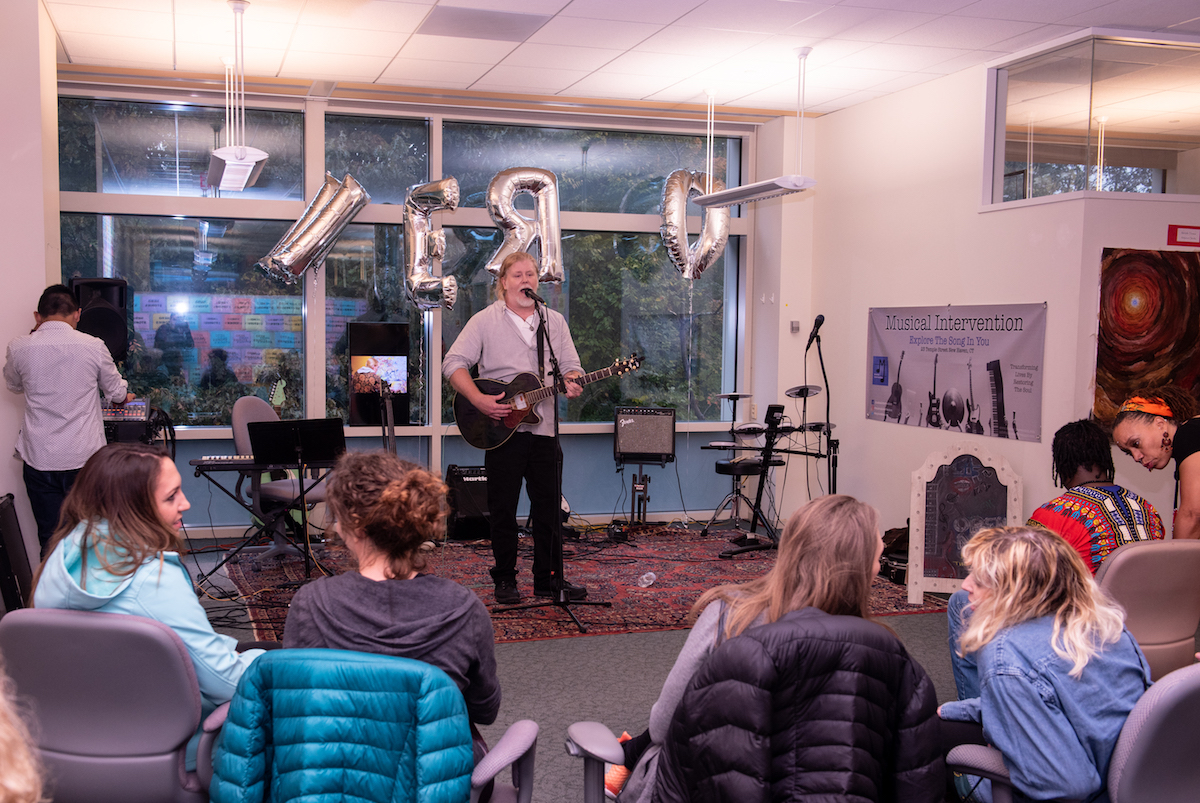 Hero Stories
By: Lilianna Marie Baczeski in collaboration with Adam Christoferson and Douglas Duhaime

Working with Musical Intervention, this installation seeks to create a safe space for recovering addicts to record music and design album art, as well as allowing others to listen to and purchase the recordings produced or share their own struggles with addiction.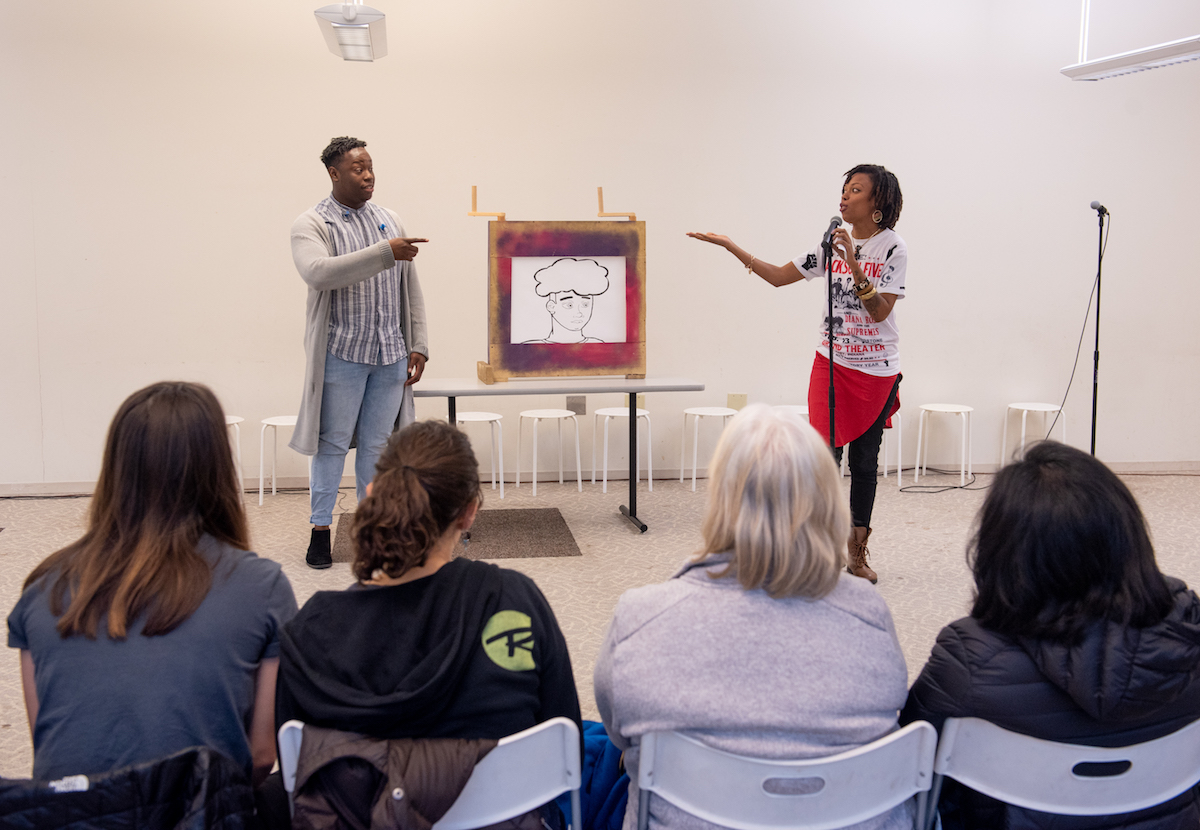 An Urban Perspective: Black Minds Rewired
By: Elizabeth Nearing, Dawnise Traore & Collaborators

This collection of 30 short pieces collected from writers, musicians, and poets from New Haven and beyond explores race, mental health, and the stigma surrounding mental illness in poor black communities. Wellbeing cannot be achieved without a well mind, and this project seeks to address that fact and its interaction with urban communities.
Made possible by the generous support of the CT Health Foundation and an Anonymous Donor.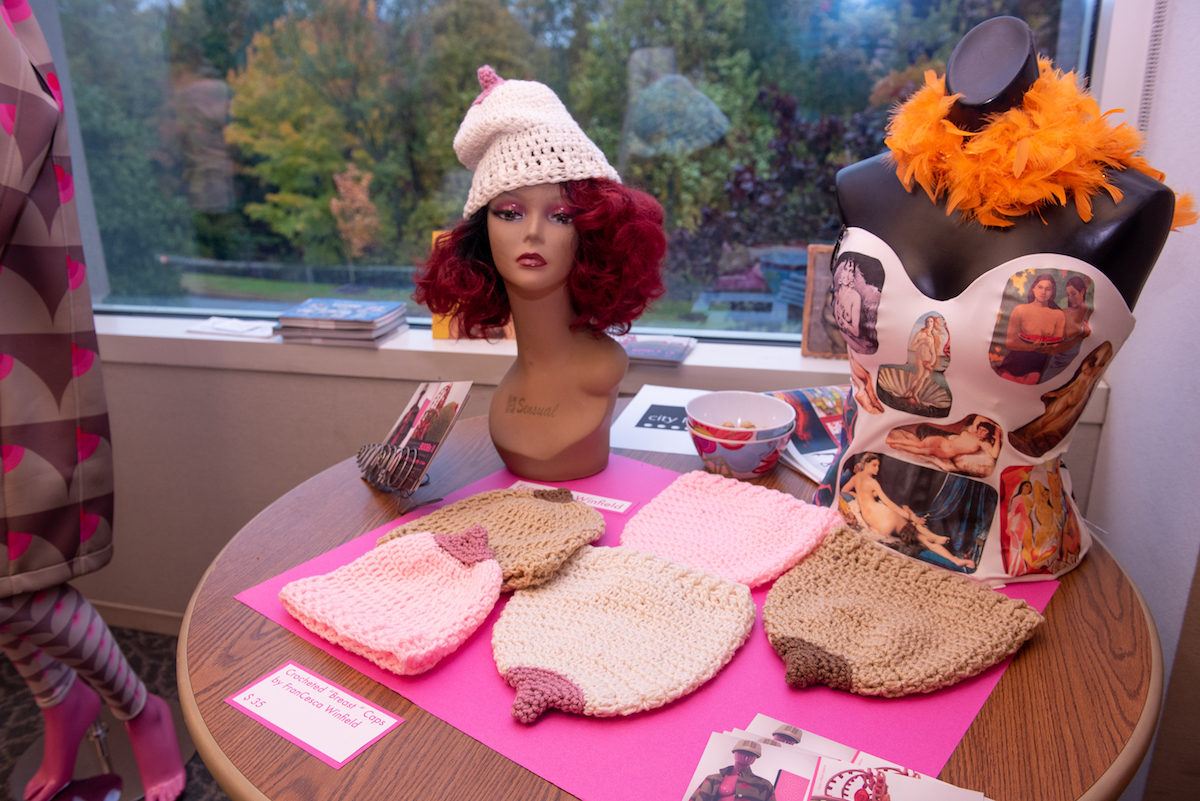 BOOBs
By: Suzanne Kachmar

A travelling exhibit including local artists, BOOBs addresses Breast Cancer Awareness Month and responds to a variety of feminist issues and protests against racial and social injustice. The works seek to examine the breast in many contexts, such as age, gender, body image, race, and healthcare.
Made possible by the generous support of Suzio York Hill.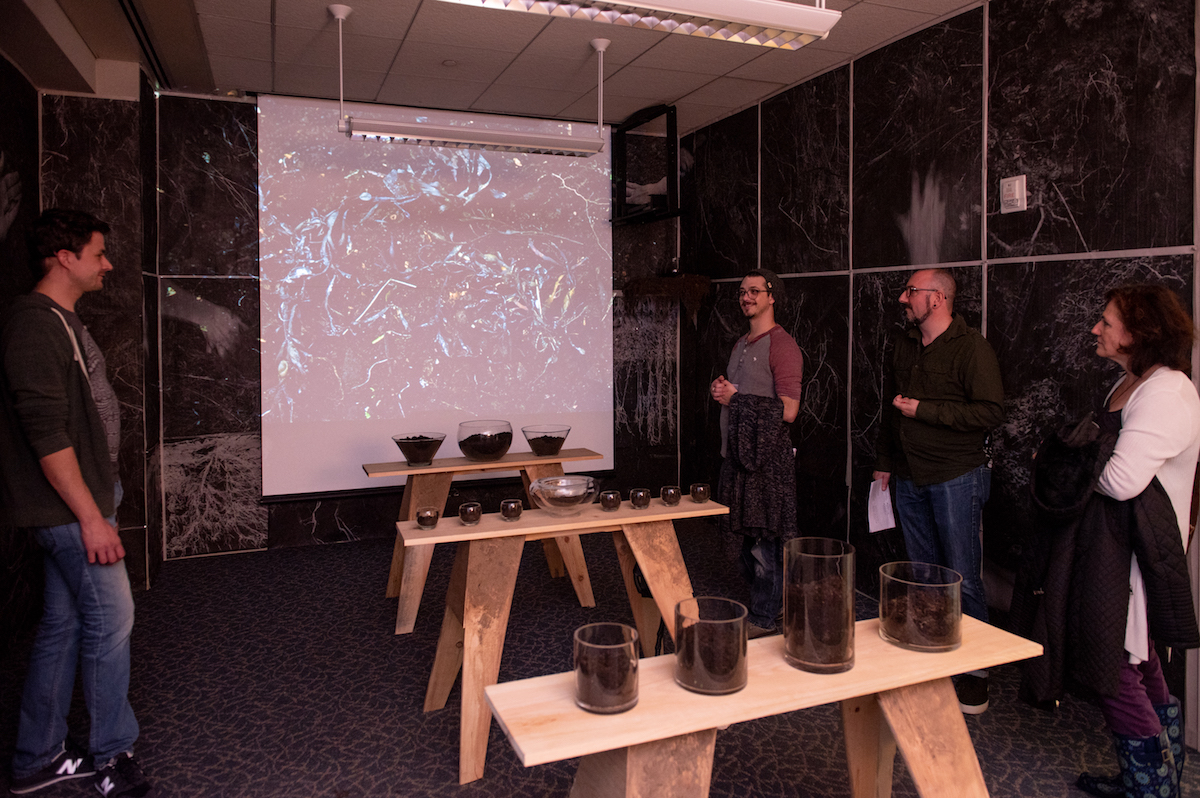 The Underneath
By: Martha Lewis & Marion Belanger

This site-specific installation examines our place in the greater ecosystem by creating a womb-like environment of roots, dirt, insects, and both filtered and natural light. Working with soil and the growth of plants is vital to survival and the cultivation of food, as well as to mental wellbeing and healing, and by invoking the varied meanings of "roots," this project explores what nourishes us and how we interact with "the underneath."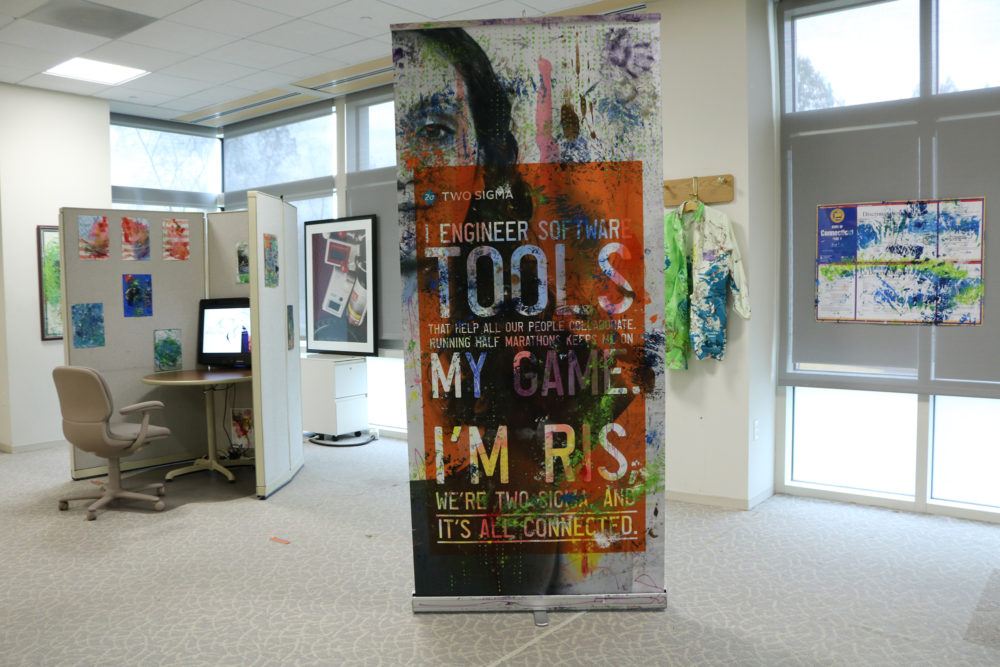 Science for a Better Life
By: Jeff Ostergren

Investigating the site's history, this series of paintings is created with Bayer- and Monsanto-based chemicals as well as traditional paints in order to depict images related to the project's space and explore the multiple meanings behind "wellbeing."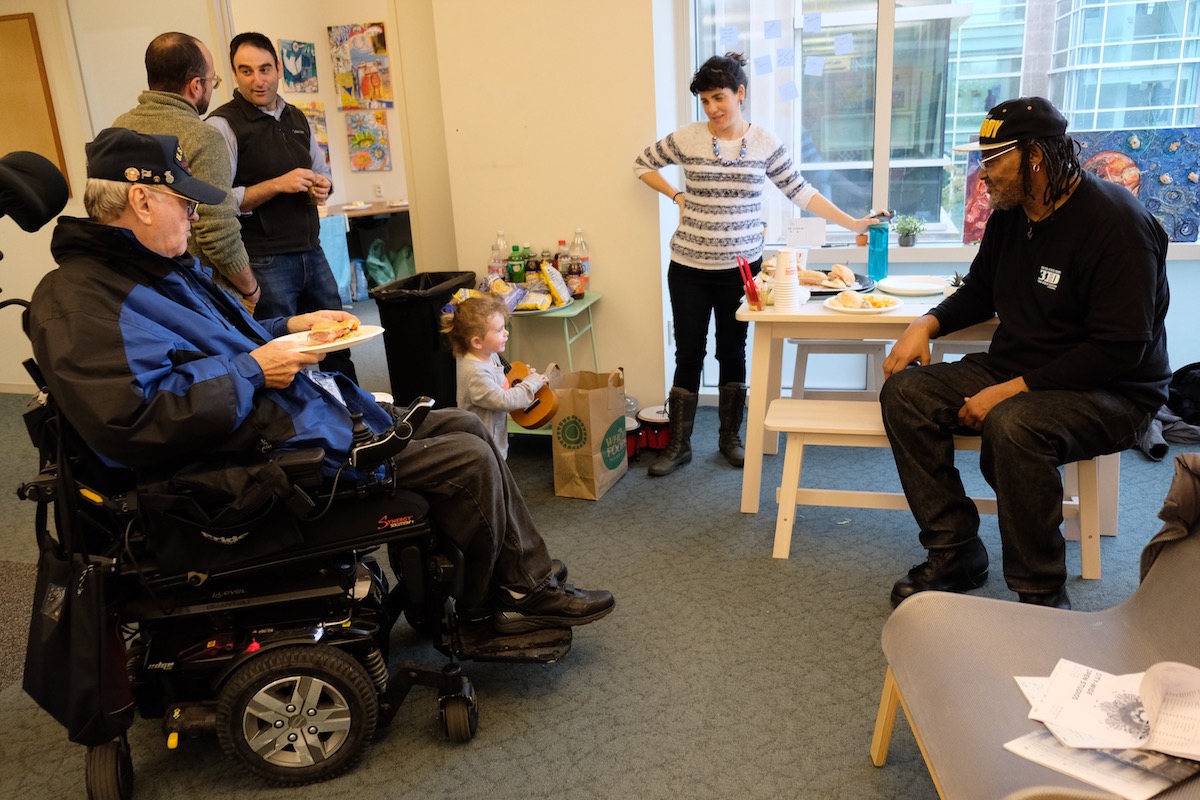 Veterans Art Fellowship
By: Deborah Lehman di Capua

In an exploration of social isolation, this collaborative effort between cultural organizer Deborah Lehman di Capua and Yale Internist Dr. Dave Rosenthal consists of a two-month residency at the West Haven VA in order to better understand the veterans there and their relationships with loneliness and art. Veterans will take part in guided close looking sessions with organized group visits to artist studios and meet artists who are vets themselves.
Kwadwo Adae
Faustin Adeniran
AGORA Collaborative
Greg Aimé
Camille Altay
Jonathan Amici
Christian Ammon
Bek Andersen
Joseph Vincent Annino
Aspasia Anos
Liz Antle-O'Donnell
Erin Antonak
John Arabolos
Bayla Arietta
Stephanie Arrell
Manuela Artia
ACWH ArtsWest CT
Monique Atherton
Caryn Azoff
Ebony B
Chris Barnard
Cate Barry
Amanda Bartel
Wyatt Baum
Hayne Bayless
Kraig Binkowski
Binwanka
Miles Birch
Andy Bishop
Blackunicorn Studios
Joan Bombalicki
Olivia Bonilla
Joan Bosson Heenan
Maria Bracale
Michelle Bradford
Sarah Bratchell
Johanna Bresnick
Rita Brieger
Jay Bright
Janet Brodie
Jay Brodsky
Anna Broell Bresnick
Bethany Brooke
Constance Brown
Amira Brown
Connie Brown
Alexis Brown
Jennifer Brubacher
Colin Burke
Eóin Burke
Claudine Burns Smith
Cristina Cammarota
Travis Carbonella
Eileen Carey
William Carpenter
Dennis Carroll
Kaitlyn Casso
Catherine Cazes-Wiley
Taylor Chamberlain
Najila Chambers
Karen Chance
The Chapel Street Collective
McKenzie Chapman
Tracie Cheng
Jennifer Cherrington
Annie Chittenden
David Chorney
Adam Christoferson
Sheri Cifaldi-Morrill
City Gallery
Susan Clinard
Julia Coash
Milton Coburn
Cohen Dunne Hermosilla
PenRod Cook
Dave Coon
Michael Corey
George Corsillo
Rosemary Cotnoir
KC Councilor
Kevin Cox
Nicole Croce
Ron Crowcroft
Atelier Cue
Jan Cunningham
Megan Czekaj
Terry Dagradi
Marina Daneva
Robert Datum
Bridget Daunais
Erich J Davis
Leila Daw
Francisco Del Carpio
Kathleen DeMeo
Geoffrey Detrani
Duo Dickinson
Dooley-O
Pete Doty
Karen Dow
Ileana Dumitriu
EcoworksCT
Eileen Eder
Kayla Ek
Howard el-Yasin
Eric Epstein
Daniel Eugene
Evād
John T. Fallon
Robert Faucher
Joe Fekieta
Jim Felice
Fellowship Place
Jamie Ficker
Joan Fitzsimmons
Jane Gilman Fleischner
Brian Flinn
M Flower
Robert Fort
Xavier Fortes
Oi Fortin
Matthew Fowler
Julie Fraenkel
Jennifer Fremd
Kathryn Frund
Howard Fussiner
Alexis Gage
Anatar Gagne
David Gagne
Maura Galante
Eric Gallant
Molly Gambardella
Peter Gardner
Gerardo Garduno
Greg Garvey
Liam Geleneau
Sergei Gerasimenko
Maddie Gerig Shelly
Craig Gilbert
Jacquelyn Gleisner
Rob Goldman
Mike Golschneider
Ruby Gonzalez Hernandez
Yvonne Gordon-Moser
Joseph R. Gorneault Jr.
Amber Gratta
Deborah Greco
Amir Green
Robert S. Greenberg
Eliška Mörsel Greenspoon
Robert Gregson
Dan Gries
Mohamad Hafez
Regine Hahn-Selzer
Colleen Rose Hains
Larissa Hall
Sonia Hansman
Barbara Harder
Violet Harlow
Nina Harold
Sidney Harris
Clymenza Hawkins
Holly Hawthorn
Kate Henderson
Stephen Henderson
Colectivo Dunne Hermosilla
Sara Hope Hill
Shaunda Holloway
Marianne Holtermann
Maggie Hotchkiss
Ellen Hoverkamp
David Howley
Lisa Hunihan
Eric Iannucci
Indigx
Aileen Ishmael
Mary Janacek
Noe Jimenez
Sophy Johnston
Brian Jones
Jilaine Jones
Richmond Jones
James Jones
Katie Jurkiewicz
Christina Kane
Nancy Karpel
Nikki Katz
Kyle Kearson
Bob Keating
John Keefer
Kehler Liddell Gallery
Luanne Kemp
Afaf Khalil
Esthea Kim
Emily Kirchner
Merry Kismet
Beth Klingher
Karen Klugman
Jenny Krauss
Sheldon Krevit
Gary Kriksciun
Briana Krzeminski
David Kuehler
Abbie Kundishora
Judith Lambertson
Dana LaMontagne
Daniel Lanzilotta
Constance LaPalombara
Gaetano LaRoche
Hannah Leckman
Derek Leka
Nate Lerner
Mary Lesser
Wendy Lewis
Martha W. Lewis
Evie Lindemann
Linda Lindroth
David Livingston
Carlos Lopez
Christa Lorusso
Karleen Loughran
Karleen Loughran
Beth Lovell
Briah Luckey
Lunch Money Print
David Lyman
Thomas Mahoney
Dan Makara
Barbara Mansilla
Eric March
Daneva Marina
Melinda Marquez
David Marshall
Milagros Martinez
Kiara Matos
Zoe Matthiessen
Mary Anne McCarthy
Susan McCaslin
J Patrick McDonough
Sara McGrimley
Amy McNamara
Brian McSherry
William Meddick
Fethi Meghelli
Barbra Meleshkewich
Eliana Mesa
Mablo Micasso
Lori Michels
Miggy
Christian Miller
Denise Miller
Irene K. Miller
Lori Miller
Andrea Miller
Jane Miller
Christopher Mir
Carole Monahan
Carolyn Monastra
Kayla Mone't
Roy Money
Maria Morabito
Aidan Moran
Lindsay Morgan
Amber Morris
Tyler Morris
Magda Mraz
Jeff Mueller
Musical Intervention
Eliza Myers
Alan Neider
Raheem Nelson
Margot Nimiroski
Evan Nork
Sean O'Brien
Beatriz Olson, MD
Jeff Ostergren
David Ottenstein
Liz Pagano
Liz Pagano
Elida Paiz Pineda
Felice Panagrosso
Jay Petrow
Mr. PJC
Caleb Portfolio
Mark W. Potter, Jr.
Alice Sara Prael
snffbx press
Marion Pritchard
Tina Puckett
Michael Quirk
Gabriella Radujko
Jennifer Rae
Betsy Ratner
Shilo Ratner
Zohra H. Rawling
Tyler Reid
Tom Reilly
Tim Reimer
Winfred Rembert
Claudia Renfro
Avé Rivera
Nick Robinson
Steve Rodgers
Amanda Rodriguez
Rafael Rodriguez
Robert David Rogers
Susan Sara Rogol
Michael Roman
Dariush Rose
Judy Sirota Rosenthal
Cynthia Beth Rubin
Gina Rubin
Philip Rubin
Anna Russell
Mary Russell
Jackie Ryan
Ronnie Rysz
Joseph Saccio
Sacred Heart University Students
Annie Sailer
Steve Sangapore
Robert Santin
Martha Savage
Sarah Schneiderman
Scott Schuldt
Suzan Scott
Bimshwel Scridgemfridge
John David Scully
Shayna Segal
Semi Semi-Dikoko
Edgar Serrano
Megan Shaughnessy
Sideways & Askew
Ricky Silverspoon
Anna Sincavage
Jeff Slomba
Sol for Art
Southern Connecticut State University Art Department
Southern CT Polymer Clay Guild
Deborah Speese-Linehan
Hilda Speicher
Christina Spiesel
Sydney Spiesel
Jeremy Sporbeck
Sujata Srinivasan
Mark K. St. Mary
Joe Standart
Jeffrey Starkes
Thomas Stavovy
Alice Steinhardt
Kate Stephen
Kevin Stevens
Matt Stevens
Sarah Stewart
Willie Stewart
Jade Streater
Stephanie Strosahl
Lotta Studio
Marcus Surrealius
John Sweeney
Rashmi Talpade
Jordan Taylor
Paul Theriault
Michele Thomas
Nathan Thomas
Robert Thomas
Lisa Toto
Kelly Triolo
Ninh Truong
UARTS Chapel Haven
University of New Haven Art & Design Department
Sandra Valabregue
Eliza Shaw Valk
Rita Valley
Albert Vasseur
Adriane Vawter
Joe Velardi
Caleb Vinson
Maya Vulinovic
Cindy Wagner
Amanda Walker
Sara Walsh
Olivia Walton
Amanda Ward
Gar Waterman
Brian Wendler
West River Arts
Kim Weston
Kim Weston
Karen Wheeler
E. White
Holly Whiting
Christa Whitten
JoAnne Wilcox
M. Wilk
Marian Wittink
Mary Wolff
Working Together
Haley Wulfman
Don Wunderlee
Helen Wyland-Malchow
Trevor Youngberg
Jessica Zamachaj
Dganit Zauberman
Sara Zunda