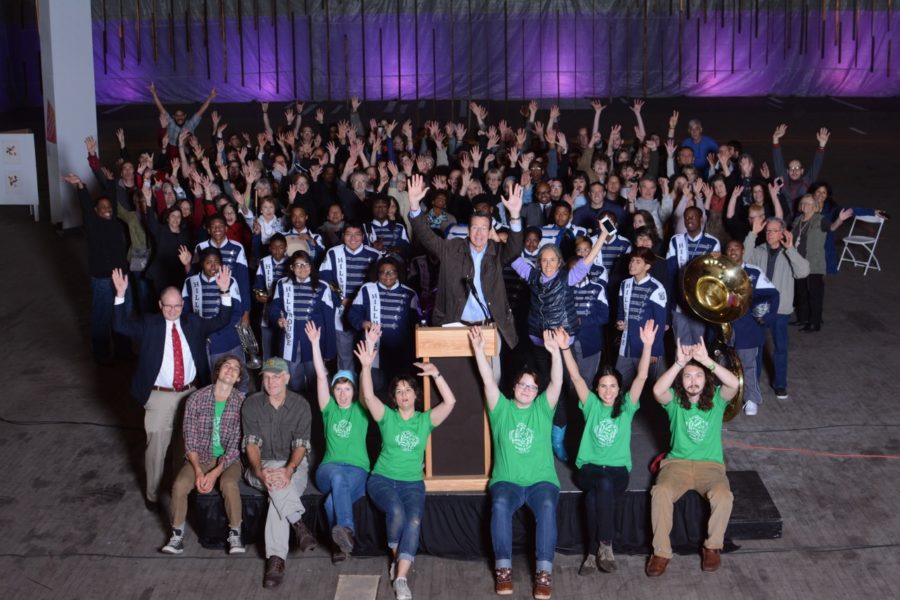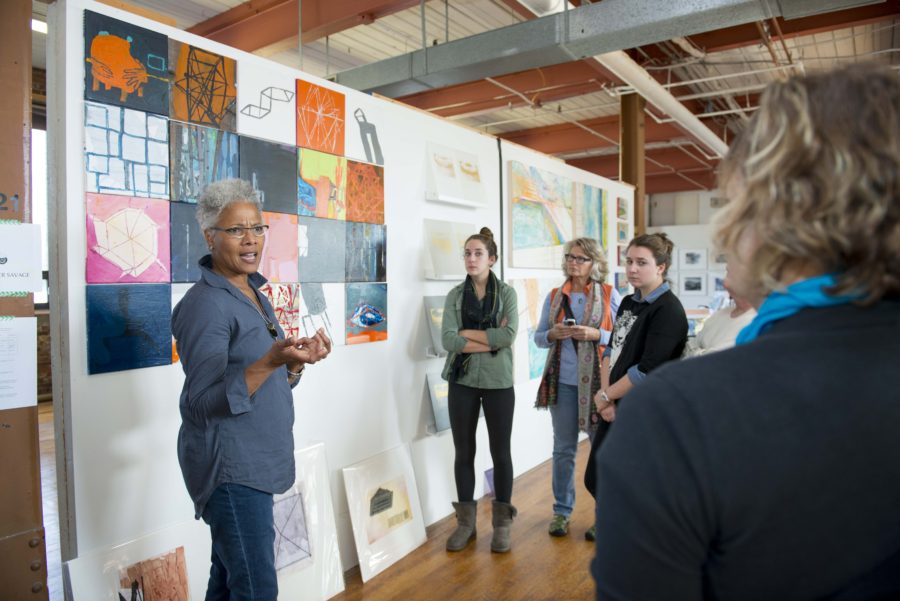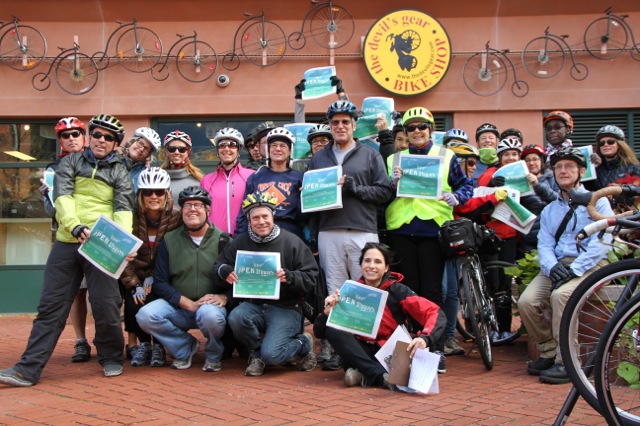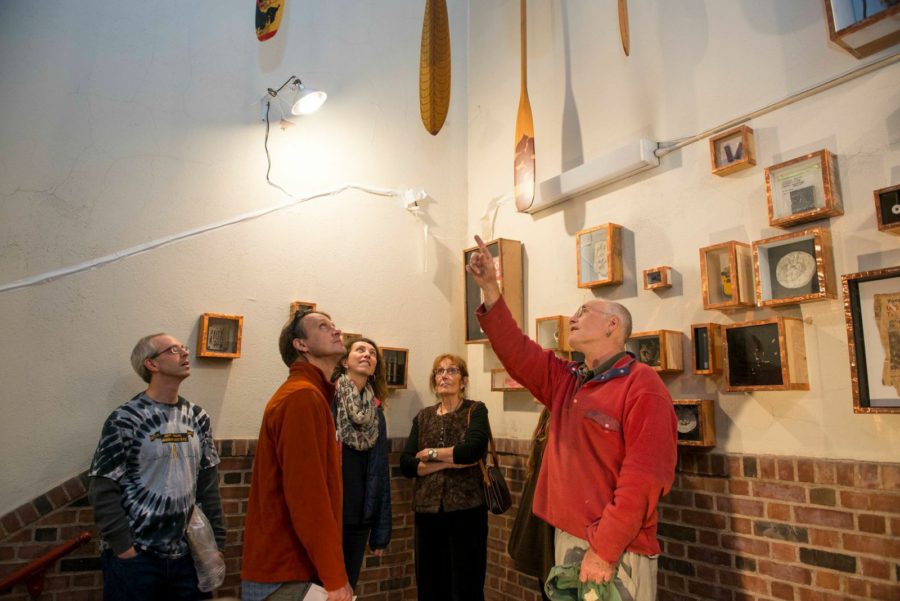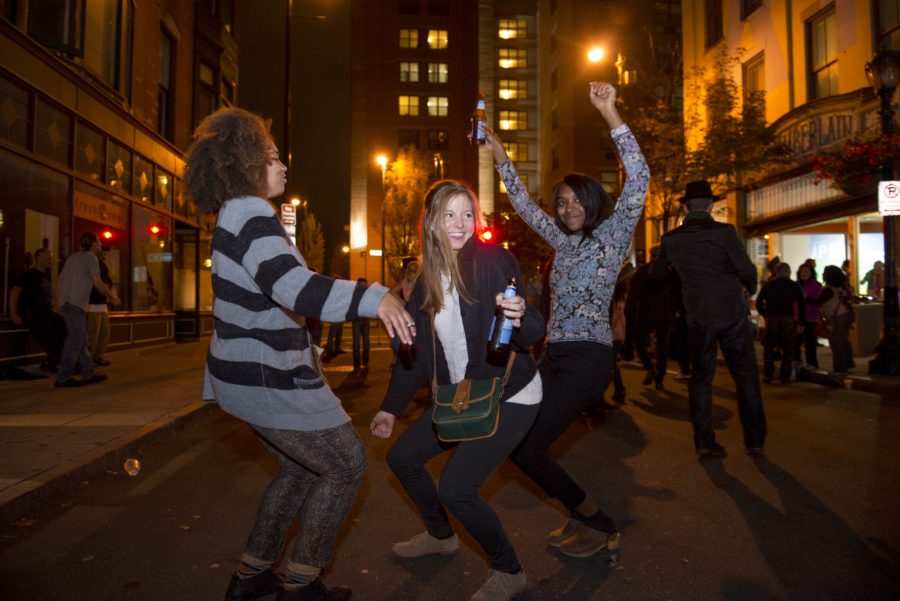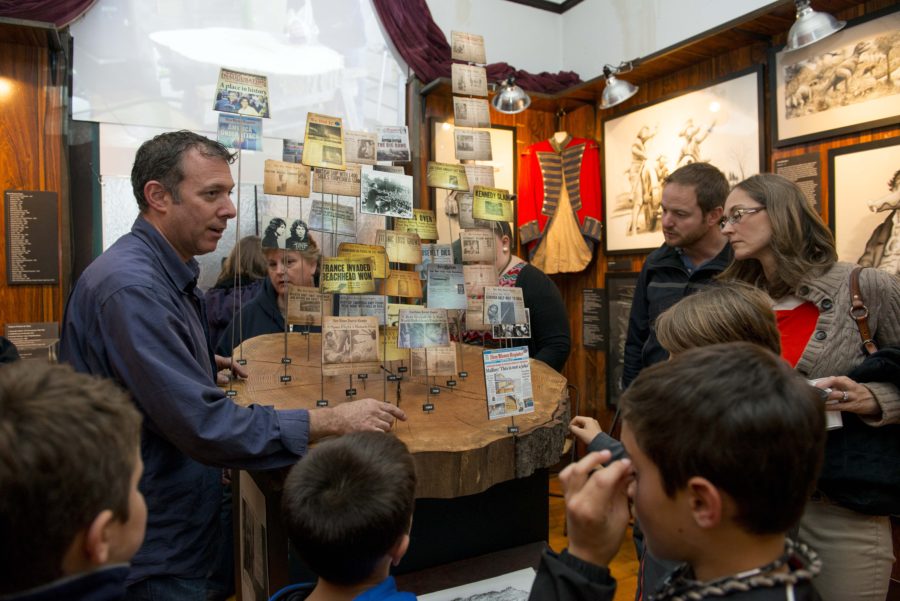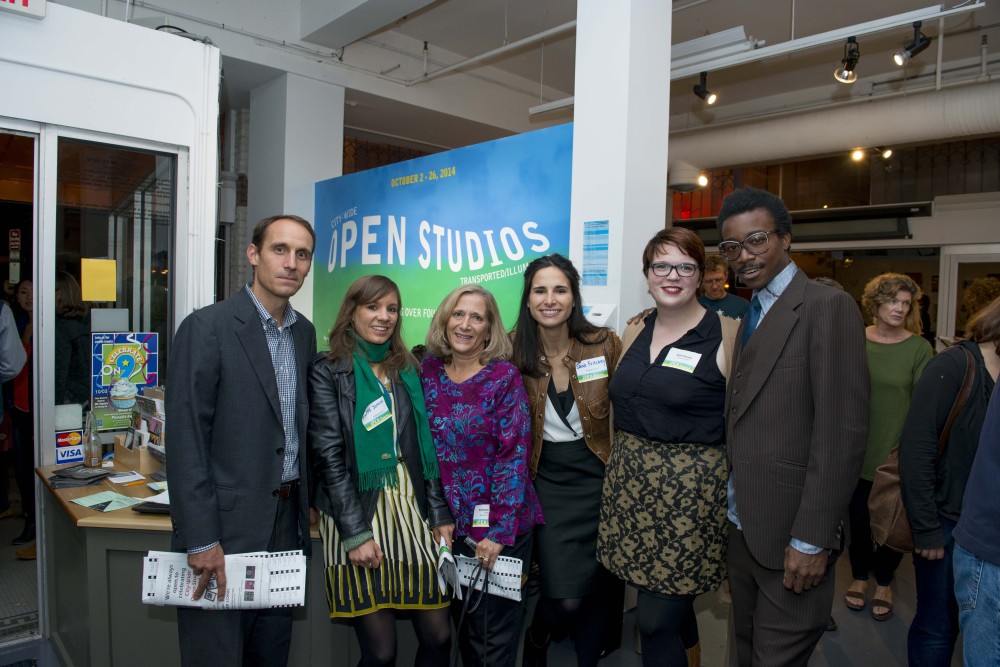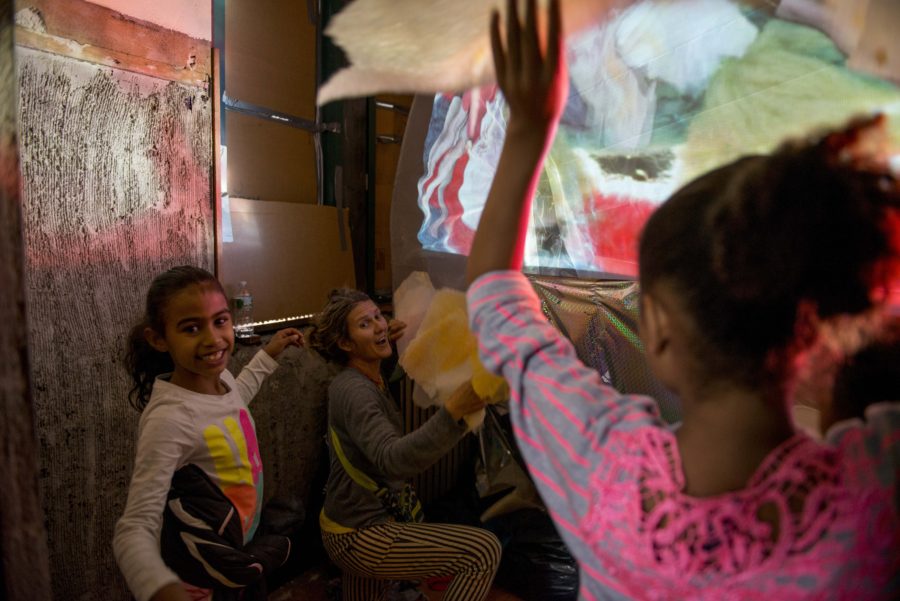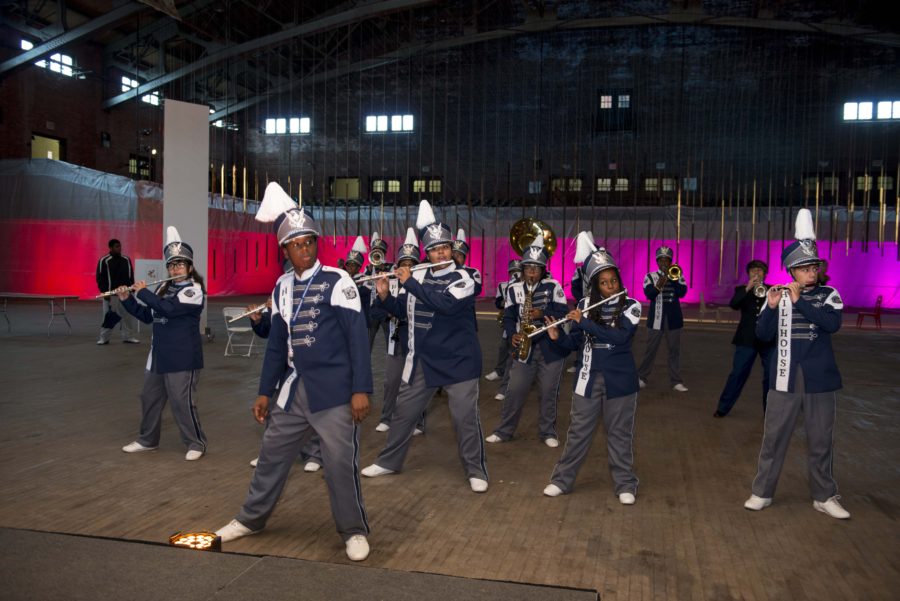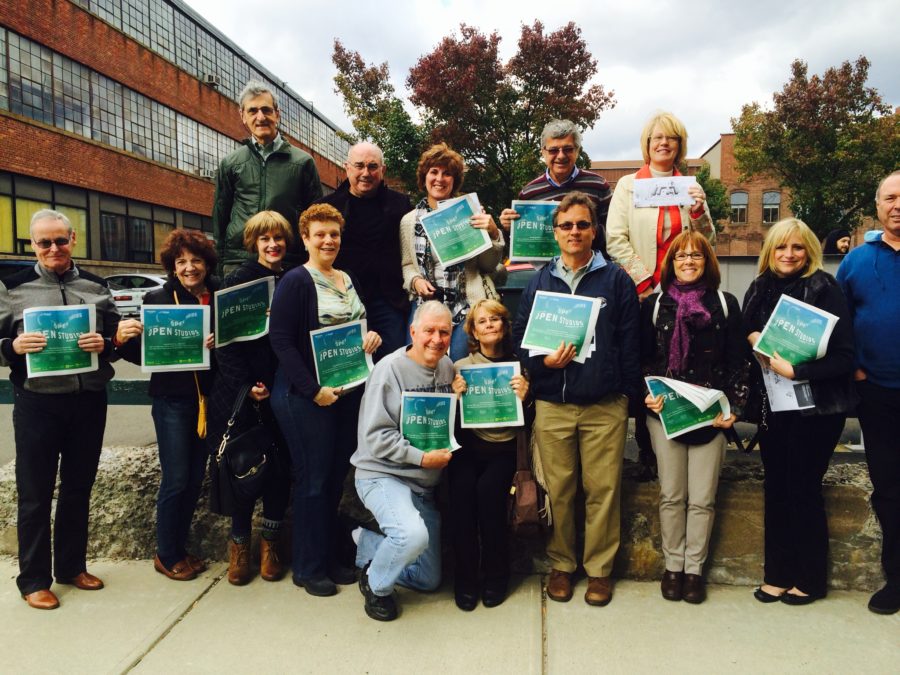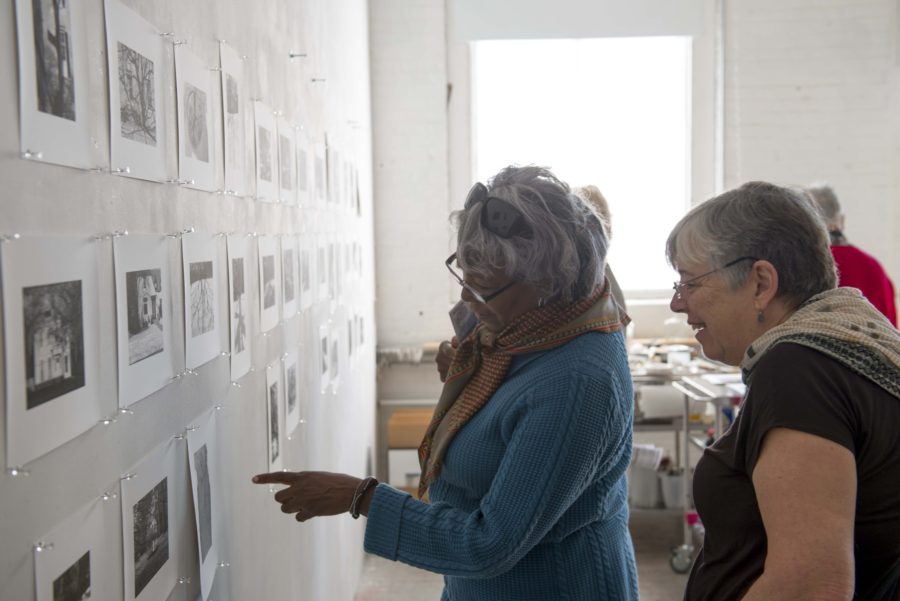 Connecticut's leading forum for visual artists returns to New Haven  October 2-26, 2014. City-Wide Open Studios invites the public to meet hundreds of visual artists in studio and spaces across New Haven and learn about the creative process. Nearly 300 artists will take part over three consecutive weekends. Each weekend features different workspaces in New Haven; in all, more than 60 sites will be open. An opening reception, free and open to the public, takes place at Artspace, Friday October 3, 5-8 pm, followed by late night Illuminations throughout Ninth Square.
To mark the 17th year, Artspace will feature new tours (walking, biking, and van) for small groups, guided by artists, urbanists, civic activists, scholars and noted art world professionals. Artspace is also excited unveil a new curatorial initiative to support the realization of eighteen large-scale site-responsive works in the historic Goffe Street Armory, a massive vacant building that is the site of this year's Alternative Space, October 10-12. These commissions were selected through an Open Call by CWOS Curator Sarah Fritchey, designed to give artists, architects and performers the opportunity to create unconventional work that responds to the history of the Armory and also transcends the scope and capacity of more traditional exhibition settings.
During the first October 11/12 weekend, visitors are invited to explore the Alternative Space at the Goffe Street Armory, 290 Goffe St. New Haven.
The middle "Transported" weekend, features private studios across New Haven, Hamden, and West Haven. Special tours will be offered allowing visitors to discover the area's hidden artistic hives including guided bike, van, and walking tours
The final weekend, October 25/26 features 100+ artists and demonstrations at Erector Square, 315 Peck Street, New Haven. This is New Haven's largest concentration of studios, in a series of buildings that once housed the factory making Erector Sets; today over 100 artists maintain studios there.
Throughout the festival, viewers can visit the central festival exhibition at Artspace featuring a representative work by each participant, along with maps and information.
Site Responsive Commissions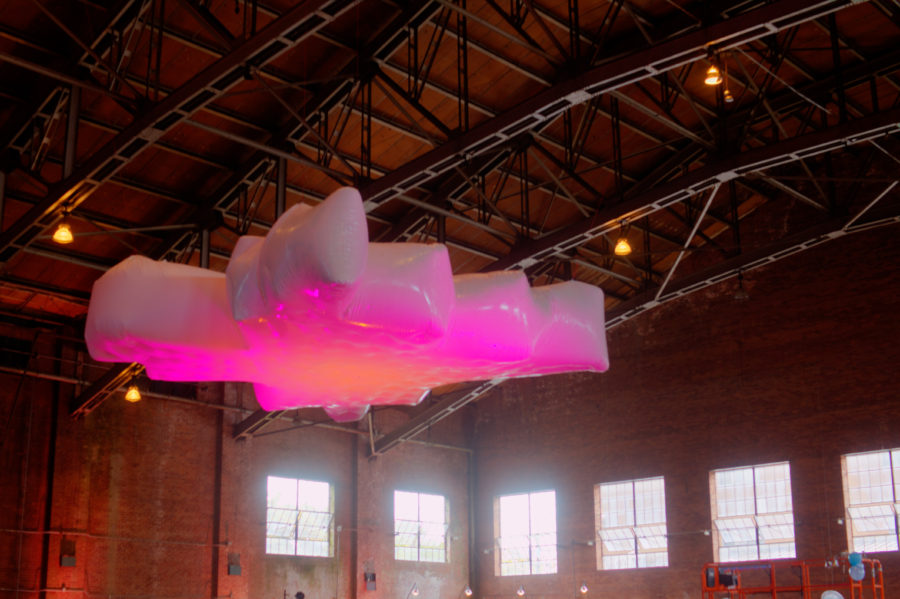 Mahdi Alibakhshian, QASTIC Lab, Floatastic
Medium: balloon and fabric veils, 23' x 23'
Site: Main Drill Hall
Designed to mark the center of the gaping 200,000 square foot drill hall, this deployable structure will serve as the proscenium arch and backdrop to the opening Keynote Address and Musical Performances.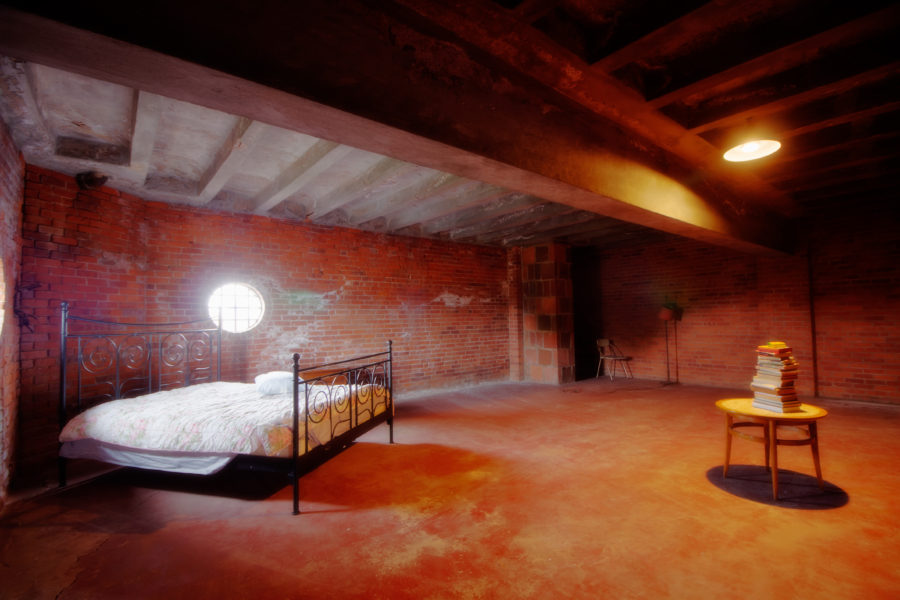 Monique Atherton, A Brief Encounter
Medium: furniture, props, camera
Site: The Attic
Atherton invites visitors to enter the dimly lit attic of the Armory, one at a time, to pose for a portrait. They may choose one of two arranged backdrops- a bedroom or living room setting. Each session is silent and will last no more than 5 minutes.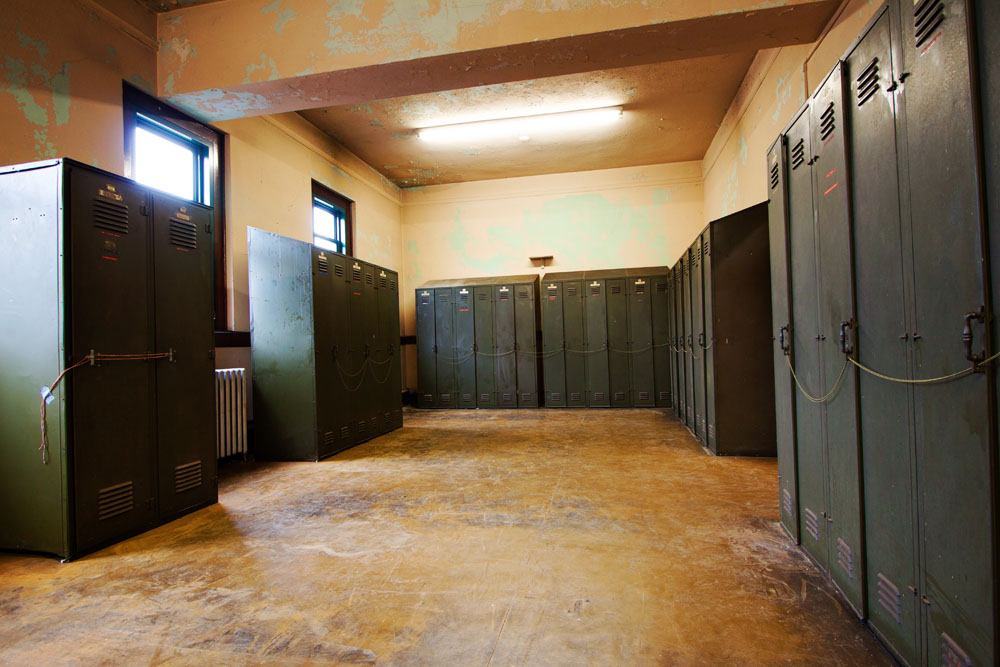 Regan Avery, War Stories
Medium: sound
Site: The Locker Room – Room 319
Ten audio recordings of five-year old American boys will spill from ten lockers, still labeled with the names of their past owners, members of the Second Company Governor's Foot Guard of Connecticut. When opened, visitors can listen to each child describe a fantastical war underpinned with personal aggression and imagination. The work questions the militarization of American culture.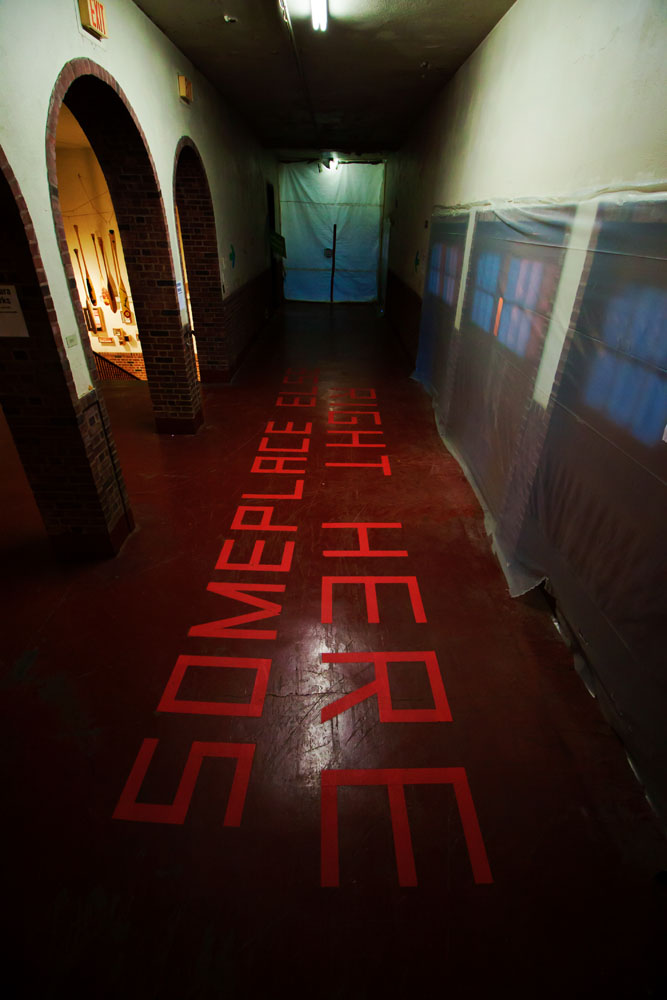 David Borawski, Here Today Gone
Medium: Gaffer's tape
Site: Armory Main Entrance (floor)
Two lines of floor text simultaneously insist and deny the urgency of being in ones body in the present moment. Visitors may walk over the installation, which reads RIGHT HERE RIGHT NOW and SOMEWHERE ELSE SOMETIME LATER. An homage to Lawrence Weiner's consideration of marginalized space, the work confronts the relationship between "value" and site.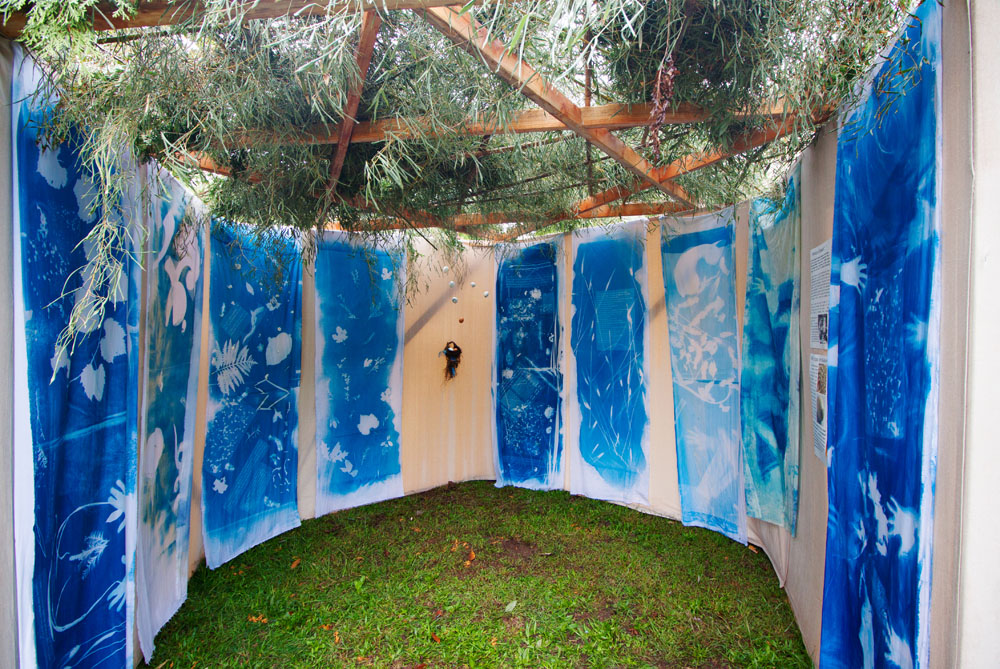 Leah Caroline, Nature Transported / Sukkah
Medium: wood frame, fabric, plant based roof
Site: East Lawn
The Armory Weekend of City-Wide Open Studios falls on the Jewish holiday of Sukkot. With a community of artists, Caroline will build a Sukkah, a traditional temporary structure that serves place of gathering, rest and eating during the holiday. The design will integrate her cyanotype prints and plants from her home
garden.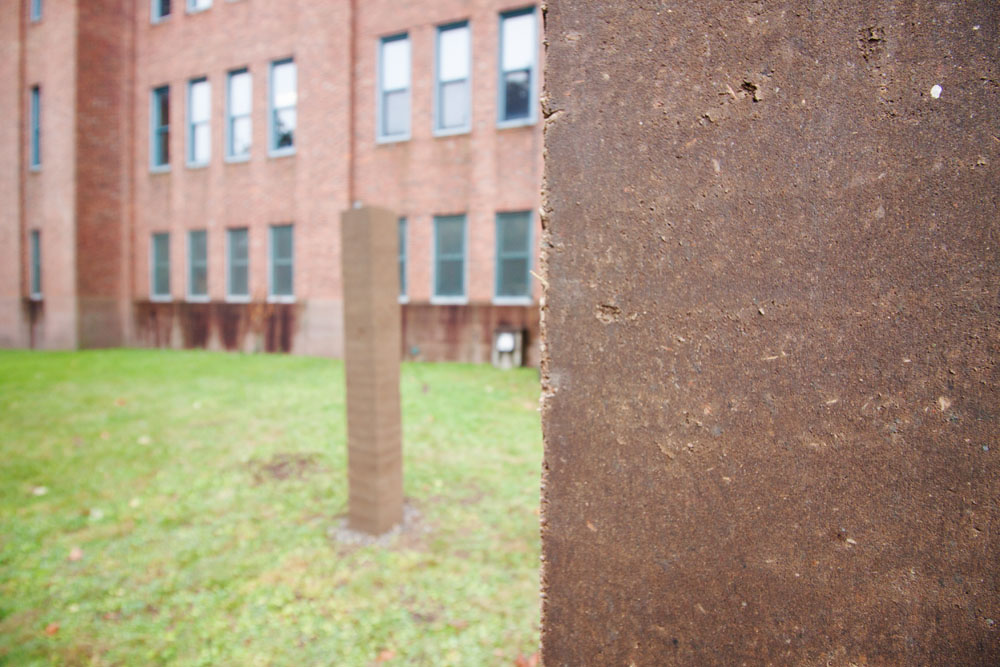 Michael Robinson Cohen, Earth Cylinders
Medium: rammed earth
Site: North Lawn (outside main entrance)
For the fifth piece in a series of rammed earth sculptures started in 2010, Cohen presents three eight-foot tall columns on the Armory's front lawn. The ancient building technique, pisé, explores the relationship between architecture, material, light and form, which will be amplified by their proximity to the Armory's 1929 brick and mortar façade.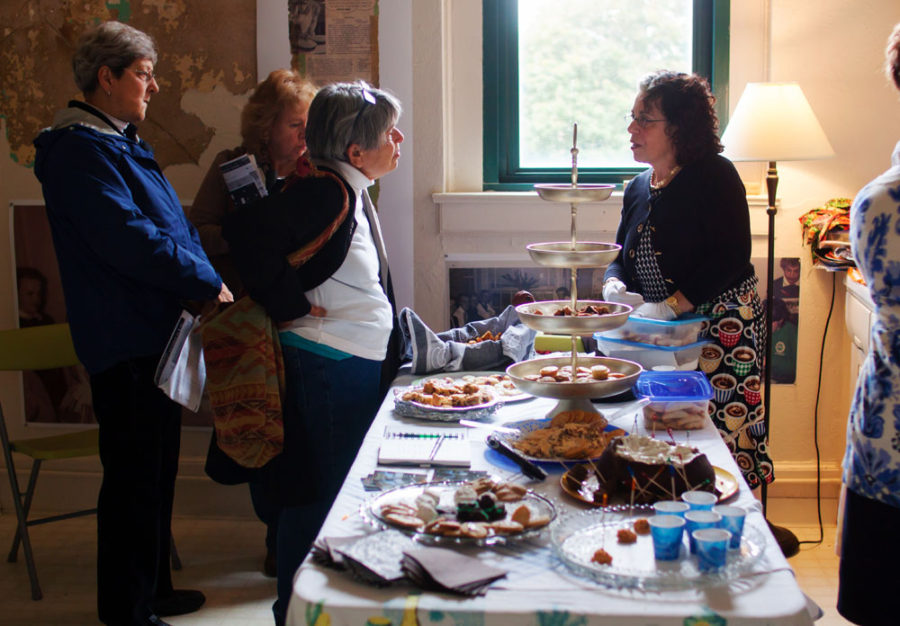 Jeanne Criscola & Joan Fitzsimmons, Oral History: A Recipe for Memory
Medium: food, video, online database
Site: Second Floor Kitchen – Room 322
Jeanne Criscola and Joan Fitzsimmons activate the site, smells and sounds of the small Armory kitchen by serving food and sharing secret family recipes. Their recipes will be connected via QR code with an online database of images and their provenances. Visitors are invited to add their own recipes.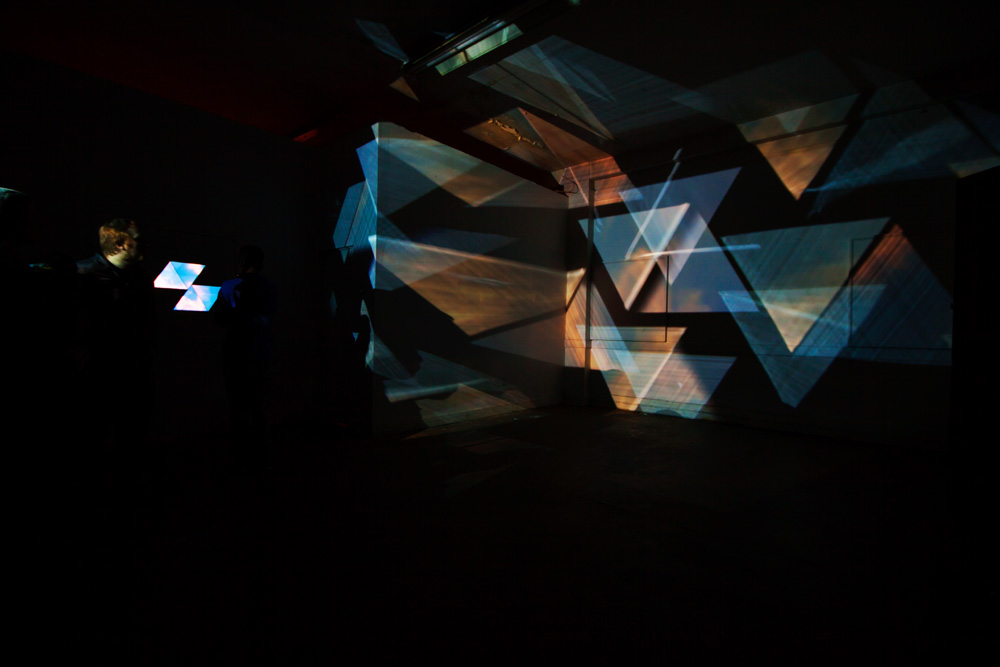 Megan Czekaj and Mark Geist, Observation of Beautiful Forms
Medium: projection, kaleidoscopes
Site: First Floor - Room 210
Two kaleidoscopes visually demonstrate the major scientific theories of the subatomic world: "Supersymmetry" and the "Multiverse" theory of chaos. The installation articulates a shared interest in technical installation and physics that underscores the core requirements of mounting site-responsive installations and displays.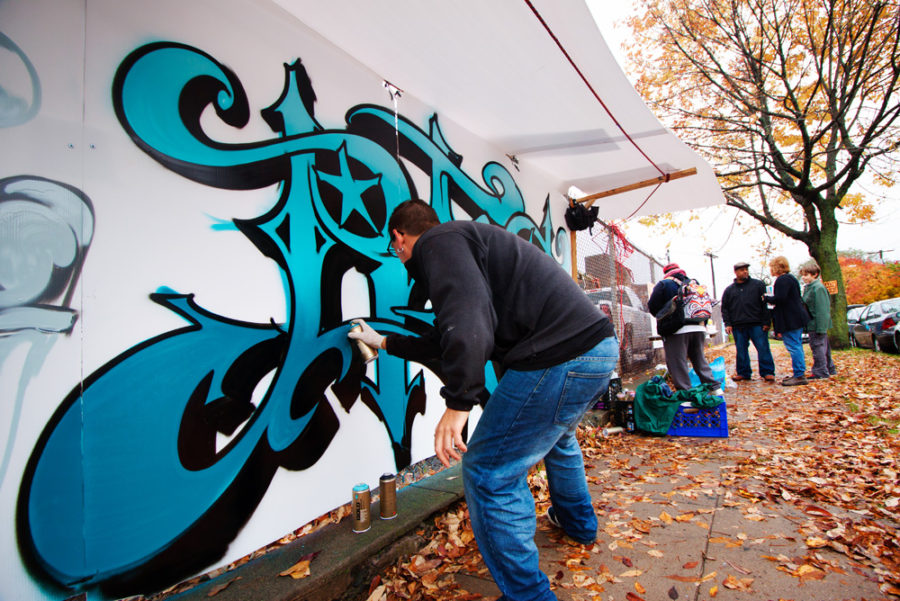 Dooley-O and Hi-Crew, Haywire
Medium: public mural
Site: Hudson Street Lawn (west side)
Artspace invites visitors to join Dooley-O and a collaborating group of local New Haven graffiti artists to decorate a blank 120 foot mural lining the West side of the Armory. The mural responds to CWOS's and Dooley-O's shared goals of breaking down traditional art hierarchies and mechanisms of censorship.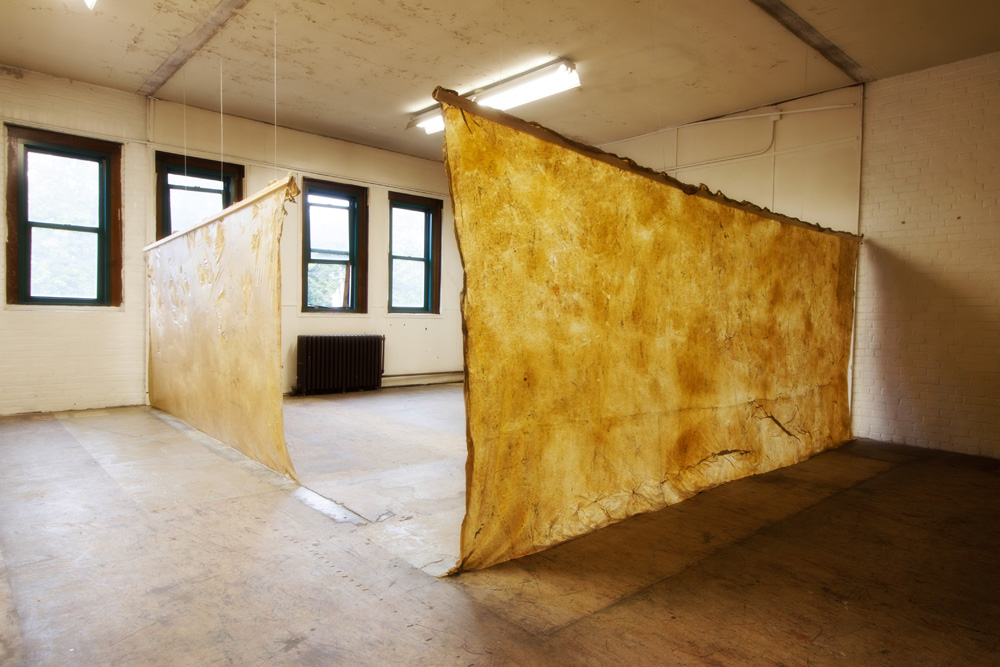 Michael Galvin and Kyle Skar, Archived
Medium: wood, light, sound, plastic wrap
Site: Second Floor - Room 313
Upon first glance, viewers may be unsure whether they can enter the room. Galvin and Skar's room-sized installation creates a second skin to one of the medium sized rooms on the third floor, recognizing the idiosyncratic design of the 100+ interior rooms—no two are exactly alike.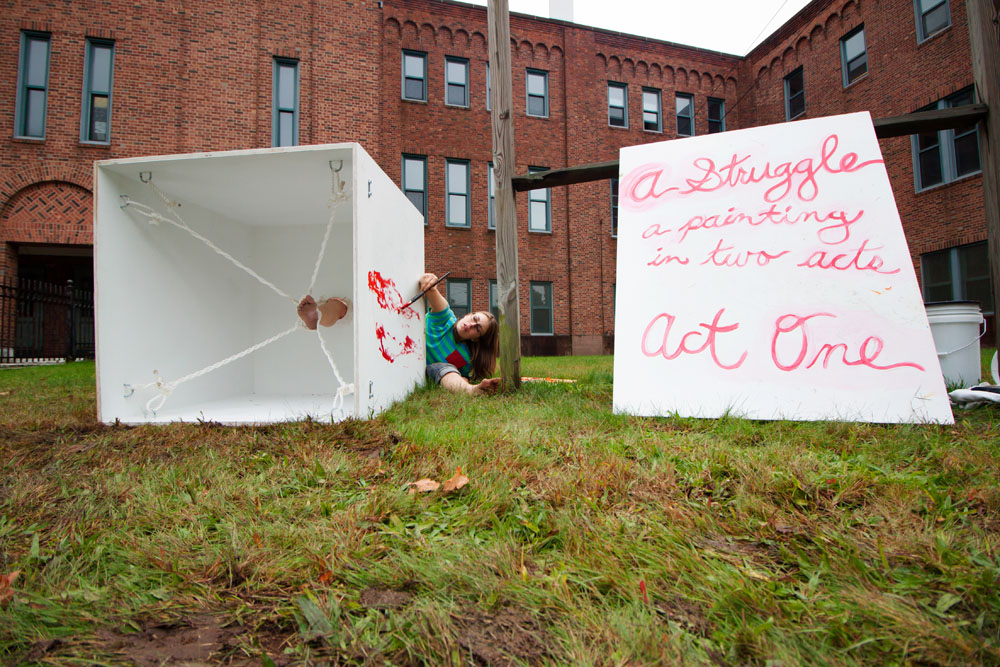 Allison Hornak, A Struggle, A Painting in Two Acts
Medium: 2 Day Performance
Site: North Lawn and Roof (just outside main entrance)
A Struggle will reimagine Albertine Sarrazin's 1965 story, Astragal, in a contemporary context. Hornak will place one leg in a hole carved into a four-foot wide box and attempt to paint the missing limb during the entirety of the festival. A menacing board leaning from the roof of the Armory above will increase the sense of danger and risk.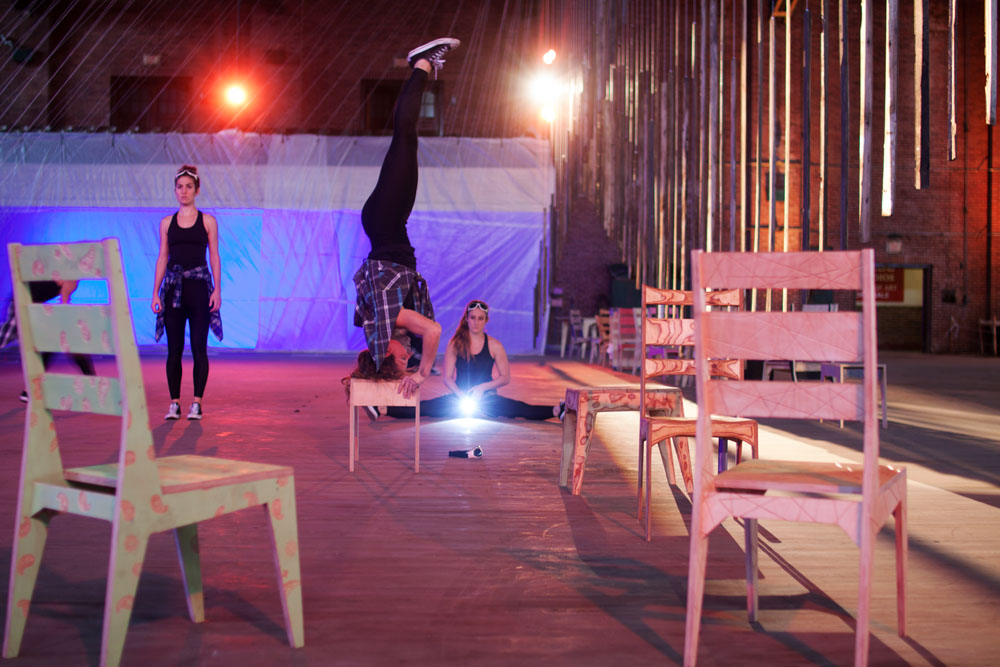 Willie Hoffman of Playable Studio, Assembly Lines
Medium: 10 chairs, 5 benches, 1 rolling bin, 1 table, 1 sign
Site: Main Drill Hall
Throughout the day, the Elm City Dance Collective will move Hoffman's furniture installation into 3 arrangements, alluding to time based military positions. At 12pm a "getting ready" long line, at 4:45pm, a "ready to fire" zigzag, and at 6pm (the armory's closing time), "taps", returning to a standard square at rest.

Aude Jomini, STACK
Medium: metal, MDF, wheels
Site: Main Drill Hall (roving)
Recognizing the 45-foot ceilings of the Armory and this year's CWOS theme of Transported, Jomini's mobile display allows for a flexible arrangement and display of objects in space. Each pyramid is designed to break down into three lightweight sections (8-4 feet each) that accommodate works on paper or sculpture.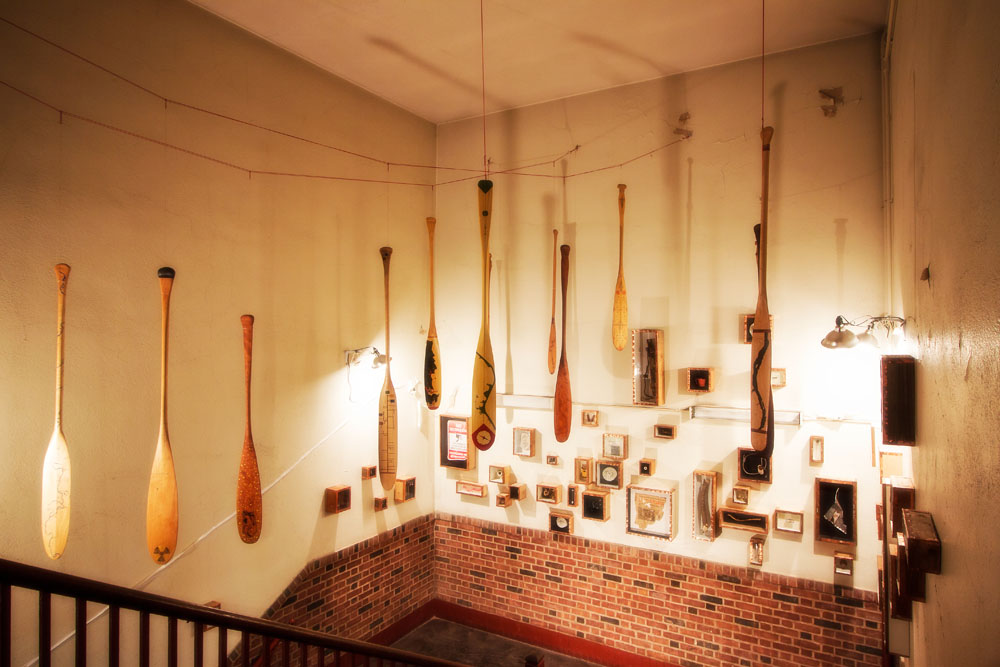 Scott Schuldt, Received from Parts Unknown
Medium: canoe paddles & collected boxed specimens
Site: Double Stairwell at Main Entrance
100 hand-carved canoe paddles used while exploring and collecting wildlife specimens hang from the ceiling of main double stairwell. Displayed in copper rimmed and named boxes below, the hang at random intervals to allow viewers to re-encounter and closely observe Schuldt's original findings. The hang encourages visitors to go up one staircase and return down the other.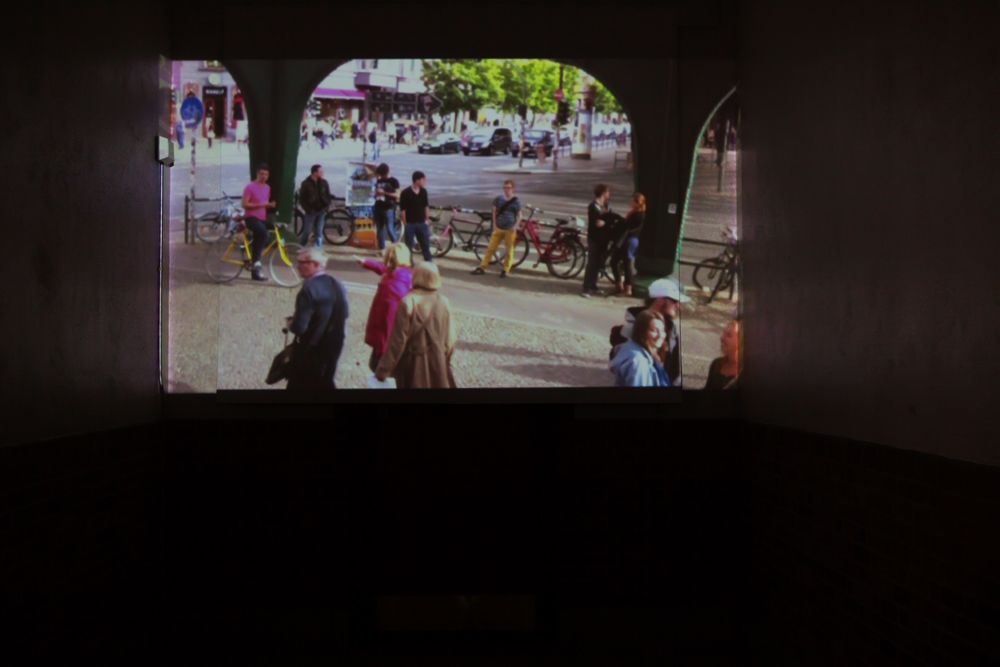 Lisa Seidenberg , Eberswalder Strasse: Comings and Goings in Syncopated Time
Medium: video projection/installation
Site: Armory Hallway
Looped video of a busy intersection in Berlin,Germany recorded in multiple speeds and angles will echo the rhythms of the viewers moving through the Armory Show. The piece reflect issues of surveillance and public and private personas. Adjacent room exhibits related photos of the the artist's impressions of Berlin.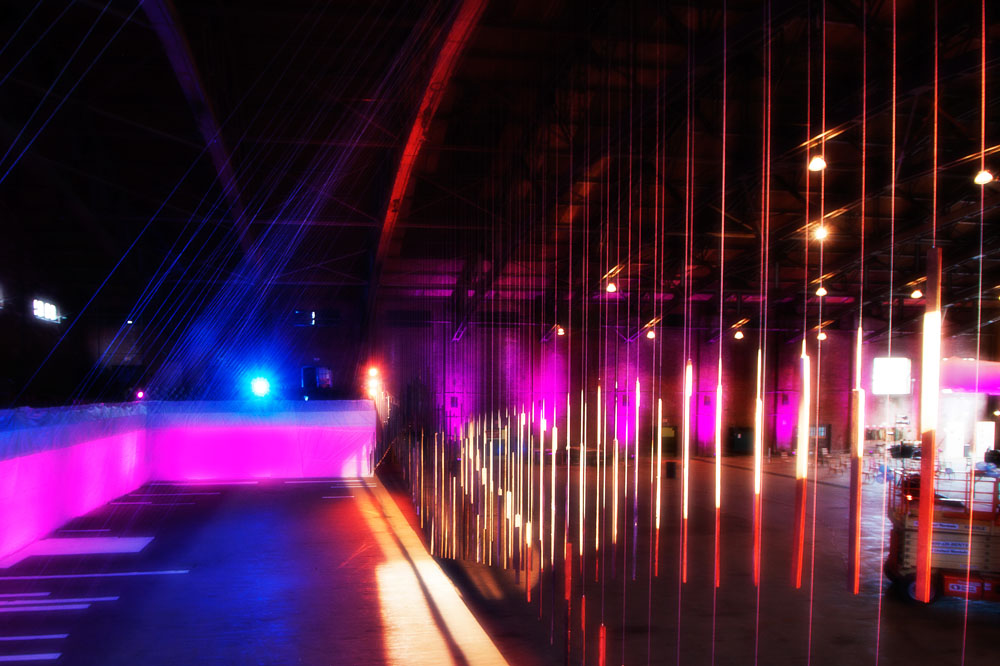 Shallow Studio (John Kleinschmidt & Andrew Sternad), Against the Grain
Medium: mason's string and scrap lumber
Site: Main Drill Hall (ceiling)
Responding to the grain and linearity of the Drill Hall's quiet wooden floorboards, this ceiling hung matrix of string and particleboard pieces will create an organic environment. A sound and lightscape with motion-activated recordings of the installation's making, which will involve cherry pickers, ropes and saws, will loom in the drill hall nearby.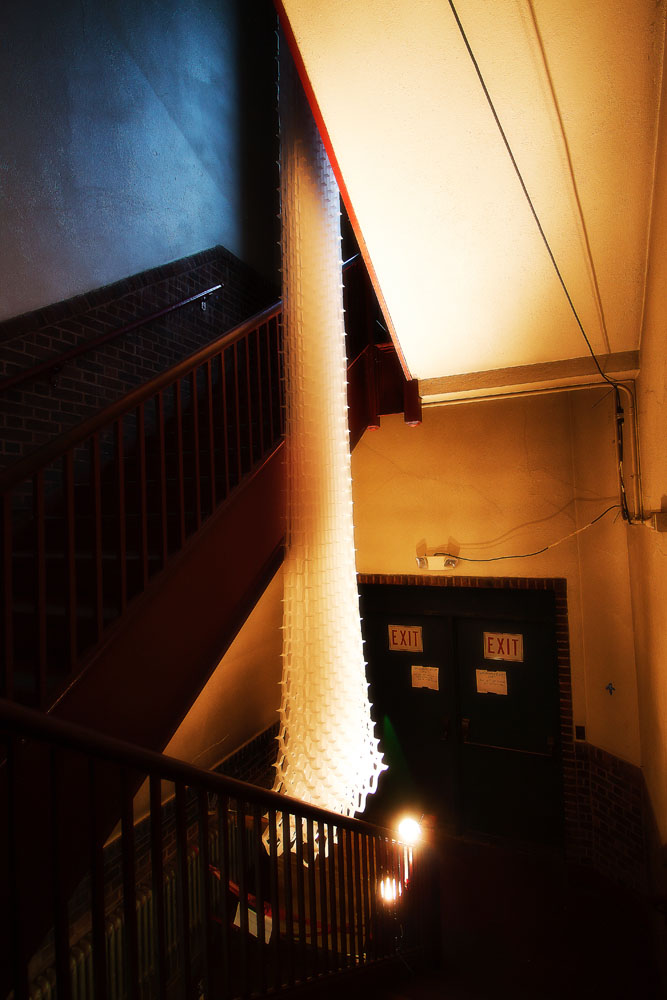 Jonathan Sun, Light Column
Medium: tracing paper
Site: First Floor Stairwell (northwest corner)
A column composed entirely of tracing paper passes through the central space of the first floor staircase. The column relies on tension to create a lattice-like structure that captures and reflects light. Its fragility is a counterpoint to the militant architecture.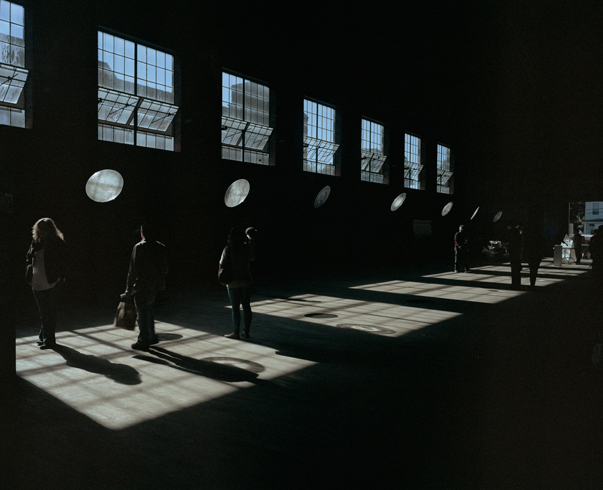 Jo Yarrington, Accendo: Day to Night
Medium: glass rondels, mirrors, water
Site: Main Drill Hall
Responding to the Armory's military history of surveillance, Yarrington will install seven hand-blown glass rondels in the Southeast and Northwest facing windows of the Armory's drill hall. As light moves through during the day, iris patterns will bounce across the wooden floor, amplified by circular mirrors and pools of water. At night, a single spotlight will illuminate a large rondel positioned on the fourth floor balcony of the Armory.
Camilo Alvarez
Camilo Alvarez is the owner (and director, curator and preparator) at Samsøn (founded as Samson Projects in 2004) in Boston, Massachusetts. He has worked at, among other places, Exit Art, Socrates Sculpture Park, the Whitney Museum of American Art, the Museum of Modern Art, MIT's List Visual Art Center and the Skowhegan School of Painting & Sculpture. Samsøn's programs and exhibitions have been reviewed by, among others, ArtForum, the Boston Globe and Flash Art. See www.samsonprojects.com f or more information.
Courtney Baker
Courtney Baker is Associate Professor of English at Connecticut College. Her teaching and research interests are wide-ranging and include African-American literature, documentary film, photography, and death studies. She has authored four children's book and contributed to the blog New Black MAN (in Exile). Her first book-length academic work, Humane Insight: Looking at Images of African-American Suffering and Death, is scheduled to be published in the fall of 2015 as part of the New Black Studies series from University of Illinois Press.
Daniel Belasco
Daniel Belasco is Curator of Exhibitions and Programs at The Samuel Dorsky Museum of Art at SUNY New Paltz and has organized Dick Polich: Transforming Metal into Art, currently on view there. A former Associate Curator of The Jewish Museum with a PhD in the History of Art and Architecture from the Institute of Fine Arts, New York University, Belasco has strong experience with the full range of demanding curatorial responsibilities in the exhibition and care of objects in all media. Working with Jewish Museum collections and new research, he organized two critically acclaimed exhibitions, "Reinventing Ritual" (2009) and "Shifting the Gaze: Painting and Feminism" (2010), and commissioned new works and installations. In his role managing the Jewish Museum's contemporary design program, Belasco spearheaded the Italian design company Alessi's first collaboration on new products with an American museum.
Nova Benway
Nova Benway is a curator and writer. Since 2011, she has been on the curatorial team at The Drawing Center in New York, where she recently launched Open Sessions, a two-year program of experimental exhibitions and public programs co-organized with more than fifty local, national and international artists. She hosts Between Who, a series of events exploring the intersections between pedagogy and artistic research and artists' communities, at the free education platform The Public School, New York.
Jennifer Burbank
Jennifer Burbank is a working artist and independent curator. For eight years Ms. Burbank was the Head Registrar at Sperone Westwater Gallery, New York. Prior to this, she worked in various positions for Sotheby's and Hammer Galleries in midtown Manhattan. Ms. Burbank has a B.F.A. from Vanderbilt University and received an M.F.A. in Painting and Drawing from Pratt Institute in 2000.
Rosalyn Cama
Rosalyn Cama is a New Haven Interior Designer, Principal at CAMA, Inc. located in the Audubon Art's District. She has been an instigator for the evidence-based design methodology authoring the book Evidence-Based Healthcare Design, Wiley, 2009. To that end her firm has spearheaded many healing arts programs at healthcare facilities throughout the United States and has written and lectured extensively on the topic.
Theresa Choi
Theresa Choi is an up and coming curator who currently serves as the Curatorial Assistant at Storm King Art Center. In 2013 she received the Ramapo Prize to curate the exhibition "Resurrecting A Mechanical Medium," featuring a stereoscopic slide, film, sound performance with Zoe Beloff and Gen Ken Montgomery. In 2012 she organized a historical and spiritual exhibition titled "Summerland" that considered a constellation of artworks by Olivia Plender, Tony Oursler, Peter Hutton, and Kiki Smith.
Deborah Dancy
Deborah Dancy has been on the faculty in the Department of Art and Art History at the University of Connecticut since 1981. Her professional career has been marked by a number of significant honors and awards, including a Guggenheim Foundation Fellowship, New England Foundation for the Arts/NEA Individual Artist Grant, YADDO Fellow, Women's Studio Workshop Residency Grant, a Connecticut Commission of the Arts Artist Grant, as well as a Connecticut Book Award Illustration Nominee.
Cathy Edwards
Cathy Edwards is a curator of live performance in multiple disciplines. She is the Director of Programming at the International Festival of Arts and Ideas in New Haven, CT. Previously, she served as the Artistic Director of the Time-Based Art Festival at the Portland Institute for Contemporary Art in Portland, OR and as the Artistic Director of Dance Theater Workshop in New York City.
Daniel Fuller
Daniel Fuller is the director of Maine College of Art's Institute of Contemporary Art in Portland. He was previously the senior program specialist for the Philadelphia Exhibitions Initiative, a program of the Pew Charitable Trusts, and the curator of new media at the Hudson Valley Center for Contemporary Art in Peekskill, New York.
John Hatfield
John Hatfield is the Executive Director of Socrates Sculpture Park, a unique outdoor arts organization on the waterfront of Long Island City, Queens. Previous to Socrates Sculpture Park, he worked for seventeen years at the internationally acclaimed New Museum of Contemporary Art, New York as Deputy Director. Hatfield served as Assistant Vice President for Memorial, Cultural and Civic Programs at the Lower Manhattan Development Corporation managing the 9/11 memorial design competition, selection process and cultural site planning.
Susan Inglett
Susan Inglett is the founder and director of the Susan Inglett Gallery in Chelsea. The gallery provides representation for a range of artists, emerging to established, working across media. Susan Inglett represents Benjamin Degen, Eric Fertman, Hope Gangloff, George Herms, Marcia Kure, Allison Miller, Shaun O'Dell, Robyn O'Neil, Eli Ping, Beverly Semmes, Greg Smith, William Villalongo and Ryan Wallace. Gallery artists have appeared recently in the Hammer Biennial, Paris Triennale, Whitney Biennial, the Venice Biennale, the Carnegie International and Greater New York at P.S. 1 among many international venues. Susan Inglett Gallery is a member of the Art Dealers Association of America.
Emily Larned
Emily Larned is an artist, writer, designer, and letterpress printer. For 21 years she has been self-publishing zines and artists' books that are collected by 70 institutions around the world including the Tate, the Getty, and the Walker. She holds an MFA in graphic design from Yale School of Art and is Chair of graphic design at SASD, University of Bridgeport. Recent work includes the membership organization Impractical Labor in Service of the Speculative Arts and the public park reclamation project Pleasure Beach Lives.
Julius LaVaughn Stone Jr.
Julius LaVaughn Stone Jr. was born and raised in New Haven. He holds a Bachelors of Arts in Theater and a Masters of Science in Recreation and Leisure from Southern Connecticut State University. He has served on the Cultural Affairs Commissioners Board for several years and is currently the Program Coordinator for Project Store Fronts, and also works for numerous other arts organizations across New Haven.
Marta Elisa Moret
Yale's new first lady Marta Elisa Moret is president of Urban Policy Strategies, a New Haven-based consulting firm that conducts research and assessment in public health. UPS uses evidence-based approaches to enhance the capacity of African-American, Latino, and Native American community organizations to implement successful disease prevention programs. This work has served as a model for community-academic partnerships in addressing public health issues facing underserved families and children. Previously, Ms. Moret was the deputy commissioner for the Connecticut Department of Social Services, vice-president for program at the Community Foundation for Greater New Haven, and program director at Manpower Demonstration Research Corporation. Ms. Moret is on the board of Women's Health Research at Yale and a member of Hispanics in Philanthropy.
Selby Nimrod
Selby Nimrod is an independent curator based in New Haven, Connecticut. Currently, she is Curator & Project Manager for ArtSites:NewHaven, an interactive digital catalogue of outdoor artwork in New Haven—a presentation of Site Projects and the nexus for this walking tour. Forthcoming projects include Post-Net. Pre Cyborg?, an exhibition at the Seton Gallery. Selby holds an MA in the History of Art from the University of St Andrews, Scotland.
Muffy Pendergast
Muffy Pendergast orchestrates BIG and bold art happenings; Kid-powered spin art, neighborhood chalk walls, and 3 weekends of giant puppet construction sessions which lead up to the "Giant Puppets and People Making Mayhem Parade" in Westville Village every Halloween. She also teaches toddlers preschool at Neighborhood Music School and has her own After School Art with Muffy, art sessions for elementary school students. "We all need to create, it's just a matter of having the materials, plus a bit of inspiration.
Terri C. Smith
Over the last twenty years, Terri C. Smith has curated more than 100 contemporary art exhibitions for museums and other not-for-profit arts organizations in Connecticut, Florida, New York, Oregon, and Tennessee. Her work has received numerous awards, including two multi-year grants from The Andy Warhol Foundation for the Visual Arts. Smith's exhibitions have been met with positive reviews and features in international art publications such as Art Papers, ArtForum online, Bomb Blog, Afterimage, and This is Tomorrow. Other projects have included commissioned essays and journalistic projects for print and radio, including Nashville Public Radio and Voice of America. She currently lives in Bridgeport, Connecticut, and works in Stamford where she is the founding Creative Director of the not-for-profit contemporary art space Franklin Street Works.
Rena Tobey
As an Americanist, Rena Tobey gives talks and leads interactive public tours for museums, as well as writes about American art. Her particular interest centers on the development of and challenges to American identity as read through painting. In addition to researching historical works, she also conducts interviews and collects oral histories with contemporary artists. Rena is also concerned with resuscitating awareness of nearly-forgotten American women artists.
Andres Verzosa
Andres Verzosa has been the director of Aucocisco Galleries in Portland, Maine, one of the leading commercial art galleries in the state that, in its fifteen-year history, gained widespread recognition for having represented some of the most respected contemporary artists in New England. He started Portland's First Friday Art Walk and serves on the boards of the Maine College of Art, Maine Historical Society, Ogunquit Museum of American Art, and Tides Institute & Museum of Art. Verzosa is co-editor of the forthcoming Art in Maine: Contemporary Perspectives (The University of Maine Press, 2014).
Kwadwo Adae
Eduardo Alvarez
Corina S. Alvarezdelugo
Jonathan Amici
Christian Ammon
Hil Anderson
Mark Anderson
Aspasia Anos
Liz Antle-O'Donnell
John Arabolos
Amy Arledge
Benjamin Asbell
Lani Asuncion
Monique Atherton
Judy Atlas
Anna Held Audette
Stephen Auslender
Laurie Auth
Caryn Azoff
Stella Maria Baer
Kaitlyn Balot
Lori Barker
Chris Barnard
Michael Barton-Sweeney
Hayne Bayless
Dan Bernier
Greg Bianchini
Janice Bielawa
Robert Bienstock
Binnie Birstein
Meg Bloom
Joan Bombalicki
Vito Bonanno
Rita Brieger
Jay Bright
Alexis Brown
Connie Brown
Jiman Brown
Frank Bruckmann
Colin Burke
Eoin Burke and Tracie Cheng
Claudine Burns Smith
Eileen Carey
Leslie Carmin
Leah Caroline
Jeff Carter
Jeremy Chandler
Christine Chiocchio
David Chorney
Paul Christoferson
Susan Clinard
Julia Coash
Dan Cogan
Jaclyn Conley
George Corsillo
Ellen Corso
Claudia Cron
Janet Croog
Ron Crowcroft
Phyllis Crowley
Judy Cuddihee
Robert Cuddihee
Ciara Cumiskey
Jan Cunningham
Jessica David
Jennifer Davies
Leila Daw
Kathleen DeMeo
Geoffrey Detrani
Tony Donovan
Anne Doris-Eisner
Karen Dow
Linda Drazen
Thomas Drew
Allan Dudek
Maja Duszkiewicz
Nancy Eisenfeld
Howard el-Yasin
Pam Erickson
Chad Etting
Daniel Eugene
Roxanne Faber Savage
John Fallon
Matthew J. Feiner
Joe Fekieta
Fellowship Place
Tisha Ferguson
Mark Fillion
Silas Finch
Joan Fitzsimmons
Brian Flinn
Yeny Flores
Oi Fortin
Julie Fraenkel
Jason Friedes
Dave Friedland
Roberta Friedman
Kathryn Frund
Francine Funke
Saul Fussiner
Maura Galante
Jean Galli
Melanie George
Craig Gilbert
Jane Gilman
Richard Goldman
Courtney Gordon
SML Graphic Design
Robert Greenberg
Bob Gregson
Dan Gries
Stephen Grossman
Sarah Gustafson
Mohamad Hafez
Luke Hanscom
Mistina Hanscom
Barbara Harder
Louise Harter
Clymenza Hawkins
Rachel Hellerich
Lisa Hess Hesselgrave
Susan Higgins
Andrew Hogan
Karen Hogan
Graham Honaker
Allison Hornak
Ellen Hoverkamp
David Howley
Brian Huff
Michael Huff
Susan Huff
Eric Iannucci
Robert Jacoby
Jaguar
Tiffany Johnson
Aude Jomini
Jacqueline Jones
Jilaine Jones
Katie Jurkiewicz
Richard Kallweit
Jean Alexandre Kandalaft
Beth Klingher
Nikki Korth
Tony Kosloski
Michael Kozlowski
William Kurtz
Janet Lage
Andi Landsbach
Constance LaPalombara
Maria Lara-Whelpley
Harriett Lattanzi
Hannah Leckman
Jennifer Leniart
Mary Lesser
Martha Lewis
Wendy Lewis
Linda Lindroth
Robert Lisak
David Livingston
Cayla Lockwood
Beth Lovell
Jane Lubin
Will Lustenader
George MacDonald
Barbara Marks
John Massimino
Kiara Matos
Janice Mauro
Mary Anne McCarthy
Susan McCaslin
Keith McDonald
J Patrick McDonough
Sara McGrimley
Bill Meddick
Craig Medeiros
Fethi Meghelli
Kim Mikenis
Christian Miller
Denise Miller
Irene K. Miller
Jane Miller
Christopher Mir
Roy Money
Michael Moore
Maria Morabito
Aidan Moran
Lawrence Morelli
Doug Morrill
Mary Murphy-Taylor
Susan Nally
Alan Neider
Raheem Nelson
Steve Nicholson
Evan Nork
Jason Noushin
Douglas Nygren
Ann Oberkirch
Sean O'Brien
Christopher O'Flaherty
Ryan Olsen
Beatriz Olson
Liz Pagano
Paier College of Art
Paier College of Art
Ellen Papciak (Rose)
Jean Perkins
Lori Petchers
Sophia Peters
St James Poetry
Mark Previtt
Irene Prieto
Sheila Prieto
Tim Reimer
Valerie Richardson
Ave Rivera
Nick Robinson
Rick Rodriguez
Stephen Rodriguez
Judy Sirota Rosenthal
Juliana Roy
Marissa Rozanski
Anna Russell
Tom Ryan
Ronnie Rysz
Ruth Sack
Annie Sailer
Gerald Saladyga
Steve Sangapore
Darren Sargent
Martha Savage
Daniel Scheffer
Ann Louise Schnepf
Scott Schuldt
Rebecca Schwartz
Jean Scott
John Scully
Jon Seals
Meghan Shah
Michael Shaheen
Lisa Shoglow
Sideways & Askew
Lindsay Skedgell
Gordon Skinner
Holly Spencer
Christina Spiesel
Jeffrey Starkes
Thomas Stavovy
Kevin Stevens
Olivia St. John
Mark St. Mary
John Sweeney
Petra Szilagyi
Rashmi Talpade
Paul Taylor
Dave Thomas
Regina Thomas
Robert Thomas
Abigail Tischler
Cindy Tower
Loren Trimachi
Margaret Ulecka-Wilson
University of New Haven Department of Art and Design
Jaime Ursic
Eliza Valk
Kevin Van Aelst
Karissa Van Tassel
Amy Vensel
Katya Vetrov
Nicki Vitali
Karen Vogel
Thuan Vu
Amanda Walker
Brian C. Walters II
Norbert Waysberg
Jonathan Weinberg
Brian Wendler
Ben Westbrock
Westport Art Collective
Brittany Whiteman
Christa Whitten
Glenn Williams
Mark Williams
Kyle Wilmoth
Marian Wittink
Stephen Woods
Don Wunderlee
Gerald York
Guimi You
Sarahi Zacatelco
Kristina Zallinger
Kiran Zaman
Amie Ziner