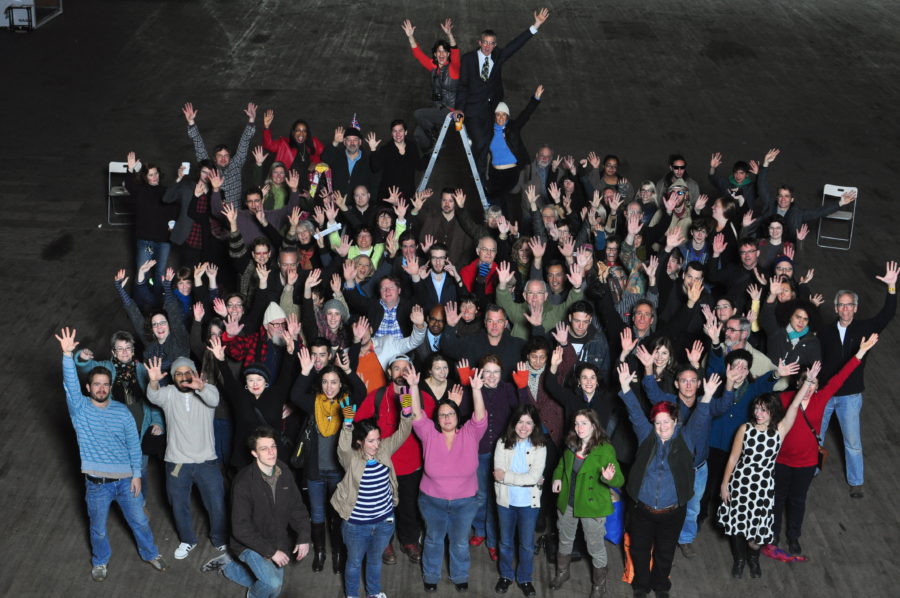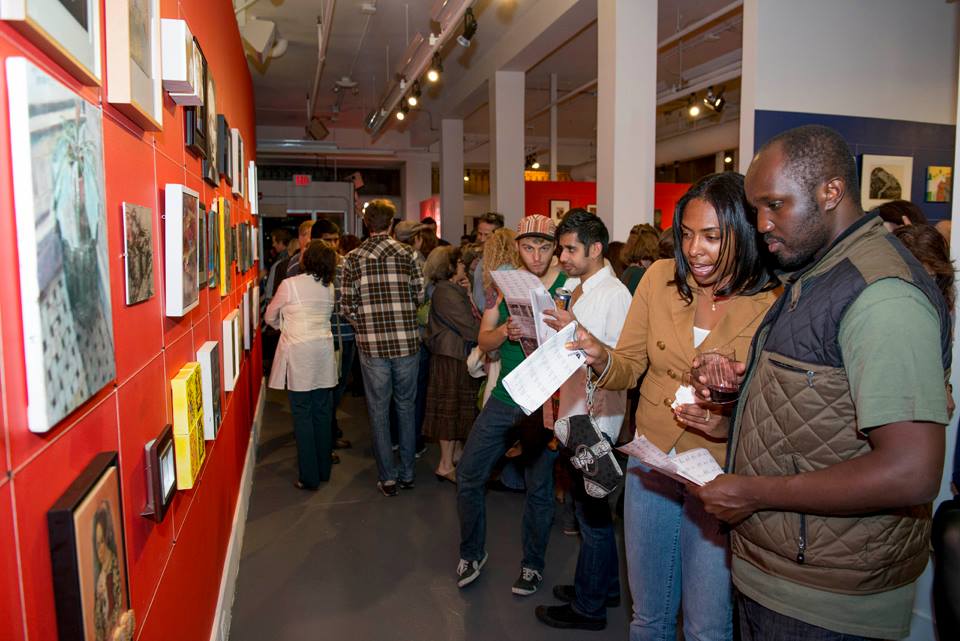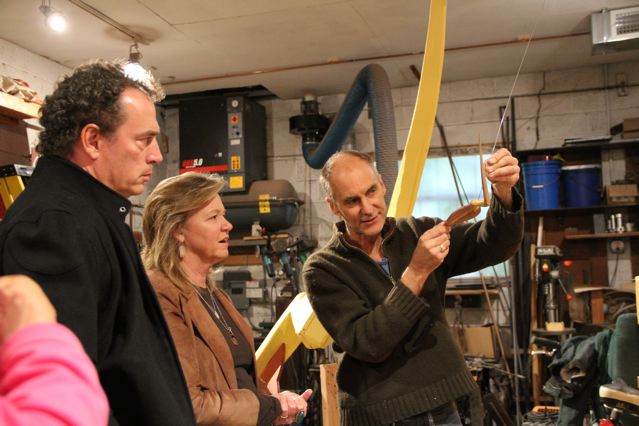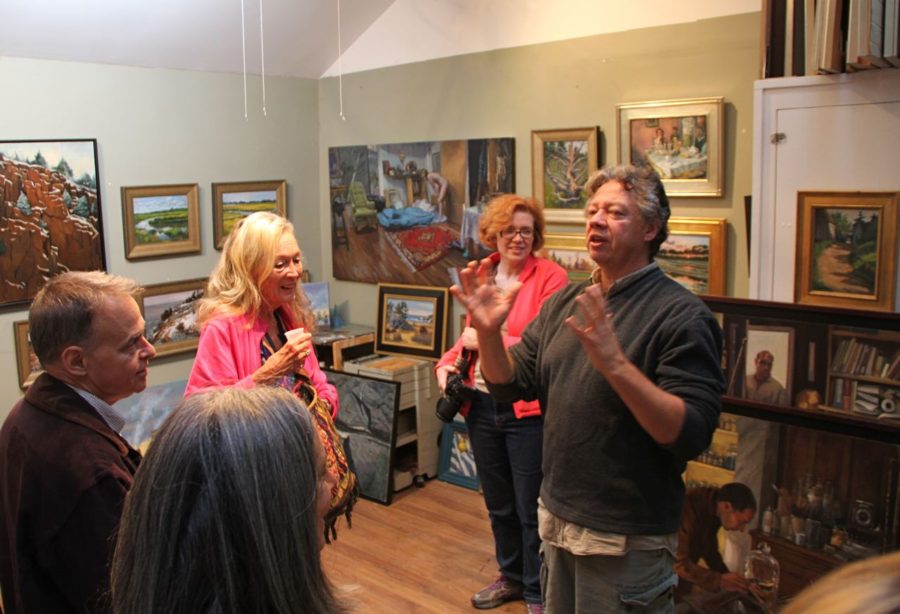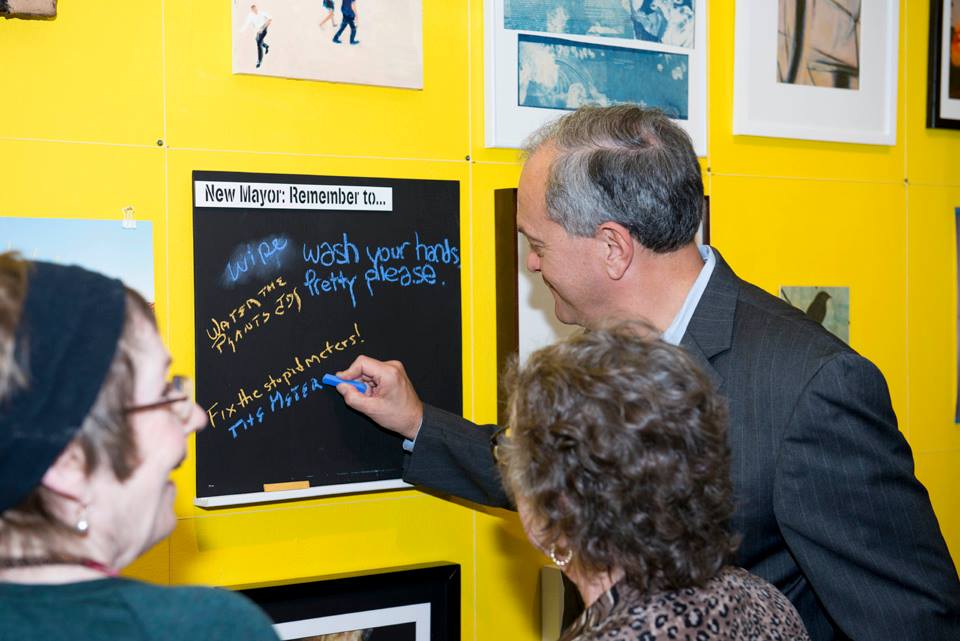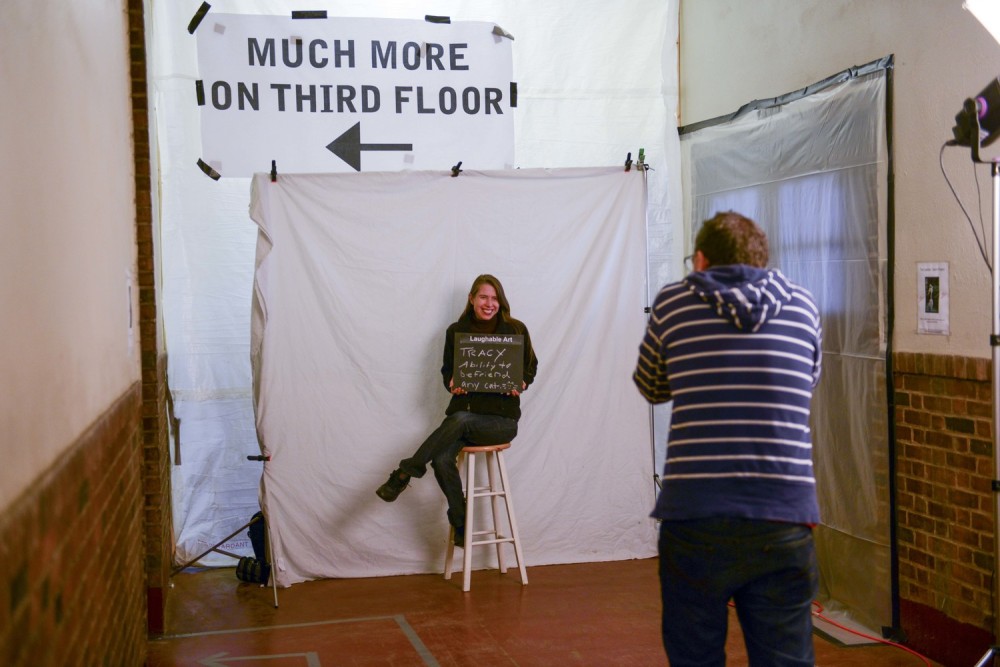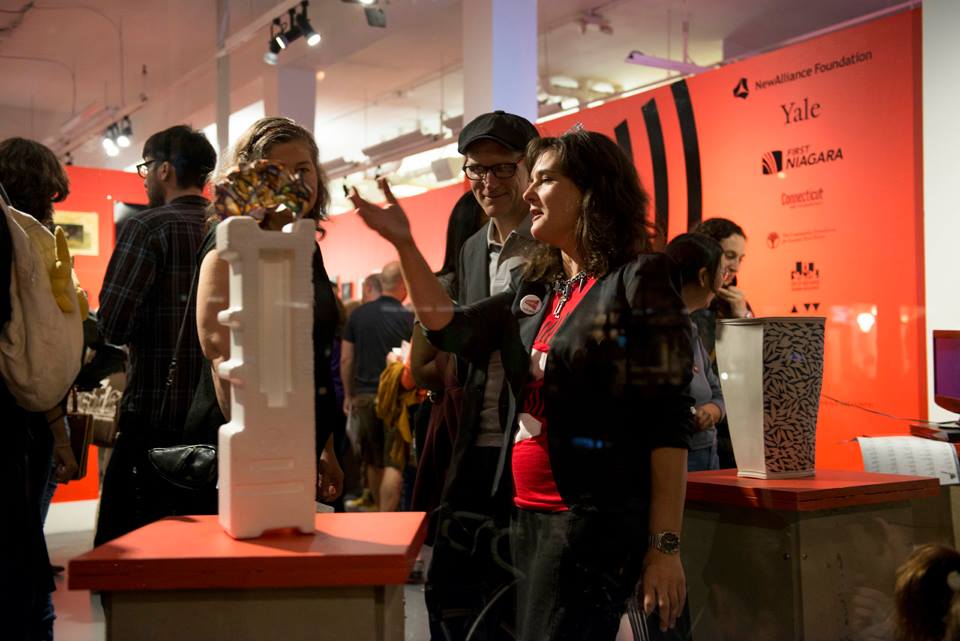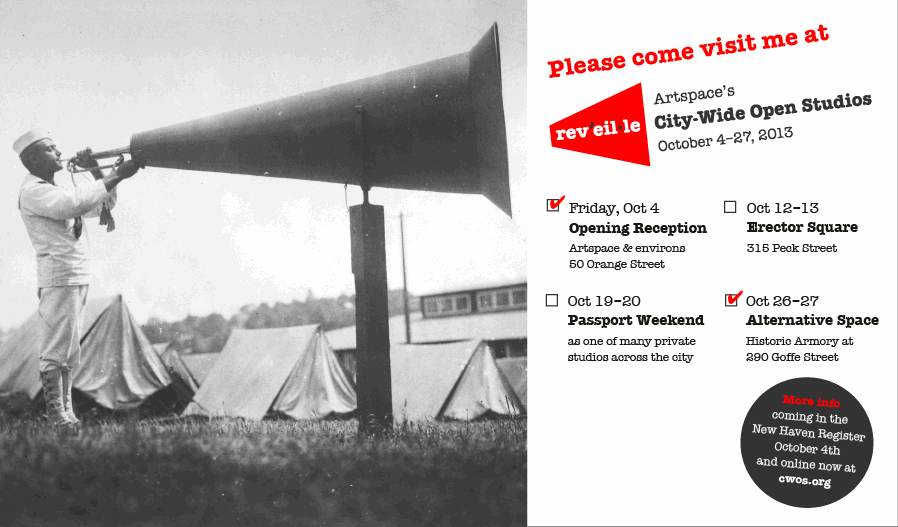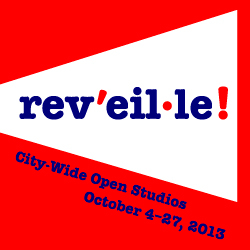 Welcome and arise!
Its my great pleasure to invite you to be part of the City-Wide Open Studios experience, a unique way to immerse yourself into the cultural riches of our community. This year's theme alludes to the awakening and burst of energy that occurs during the festival, for artists and festival-goers alike. And acknowledges that the Goffe Street Armory was once a site for all the music and pageantry that Second Company Footguard played as it welcomed the Governor to his New Haven office.
As the oldest and largest not-for-profit alternative art space in Greater New Haven, Artspace seeks to be the region's premiere cultural magnet for artists, through unsurpassed quality, range and diversity of exhibitions and educational programs, and through its sustained commitment to improving the quality of life in our community.
October is one of the best times to experience our efforts. During CWOS, New Haven hums with the creative energy of a community fully engaged in the production of, and the enjoyment of art.
This year, a network of curators from different communities will bring a national perspective to the work being produced here, via professional development workshops and the special educational tours that punctuate the festival. Whether you are an exhibiting artist or an art explorer, I hope you'll take advantage of their perspective.
There are so many more ways to enjoy the festival: Browse the hub exhibition at Artspace where every single artist has selected one work to whet your appetite; join a guided bike tour to see the neighborhoods where artists live and work; drop in to a demonstration and learn an artist's techniques; or just wander the halls of the vast Armory to stumble upon installations made in response to our theme of Reveille. Or get involved by volunteering at any one of the dozens of distinct studio locations open for discovery.
Thank you for being part of the celebration!
Helen Kauder, Executive Director
Kwadwo Adae
Michael Angelis
Sophie Aston
Caryn Azoff
Rosa Alfaro-Carozzi
Liz Antle-O'Donnell
Lani Asuncion
Old Bags
Hil Anderson
Mildred Antonelli
Monique Atherton
Mark Andreas
John Arabolos
Laurie S. Auth
Chris Barnard
Jeff Becker
Amy Bock
Cristina Bonilla
Catalina Barroso-Luque
Marion Belanger
Ethan Boisvert
Michelle Bradford
David Bassine
Meg Bloom
Joan Bombalicki
Johanna Bresnick
Hayne Bayless
Vito Bonanno
Rita Brieger
Jay Bright
Alexis Brown
Frank Bruckmann
Colin Burke
Eóin Burke & Tracie Cheng
Claudine Burns Smith
John Caesar
Eileen Carey
Leslie Carmin
Leah Caroline
Jeff Carter
Catherine Cazes-Wiley
Jeremy Chandler
Christine Chiocchio
Jeanne Ciravolo
Susan Clindard
Julia Coash
Dan Cogan
Penrhyn Cook
Michael Cooper
George Corsillo
Roxanne Crane
Giada Crispiels
Claudia Cron
Ron Crowcroft
Phyllis Crowley
Ciara Cumiskey
Jan Cunningham
Megan Czekaj
Terry Dagradi
Jessica David
Jennifer Davies
Erich Davis
Isabelle Day
Gabriela De Jesus
Jalmar Dedios
Kathleen Demeo
Geoffrey Detrani
Anne Doris-Eisner
Karen Dow
Linda Drazen
Thomas Drew
Maja Duszkiewicz
Eileen Eder
Nancy Eisenfeld
Mindi Englart
Eric Epstein
Susan Ernst
Thomas Ernst
Camille Eskell
Daniel Eugene
John Fallon
Cathy Farrell
Matthew J. Feiner
Joe Fekieta
Jim Felice
Adam Figiola
Silas Finch
Joan Fitzsimmons
Robert Fort
Oi Fortin
Jason Friedes
Dave Friedland
Roberta Friedman
Kathryn Frund
Joseph Fucigna
Francine Funke
Maura Galante
Jean Galli
Michael Galvin & Kyle Skar
Laura Gardner
Peter Gardner
Martin Gent
The Geomorphic Tank
Kayla Gibbons
Craig Gilbert
Julian Gilbert-Davis
Jane Gilman Fleischner
Robin Gilmore Jopp
Nancy Gladwell
Richard Goldman
Courtney Gordon
Joyce Greenfield
Bob Gregson
Sy Gresser
Stephen Grossman
Sarah Gustafson
Ellen Hackl Fagan
Mohamad Hafez
George Hale
Larissa Hall
Luke & Mistina Hanscom
Barbara Harder
Sidney Harris
Louise Harter
Kevin Harty
Music Haven
Clymenza Hawkins
Kate Henderson
Cham Hendon
Susan Higgins
Michael Horseman
Ellen Hoverkamp
Brent Howard
Brian Huff
Danny Huff
Michael Huff
Susan Huff
Siovhan Hutcherson
Sharlene Hyland
Tony J.
Robert Jacoby
Erin Jenkins
Christine Jewell
Katie Jurkiewicz
Jean Kandalaft
Nancy Karpel
John Keefer
Zachary Keeting
Martin Kersels
Katie Kindilien
Tony Kosloski
Kristina Kuester-Witt
William Kurtz
Janet Lage
Andrea Landsbach
Constance Lapalombara
Maria Lara-Whelpley
Marny Lawton
Hannah Leckman
Xéna Lee
Pamela Leitman
Derek Leka
Mary Lesser
Martha Lewis
Wendy Lewis
Charlotte Lichtblau
Leza Lin
Linda Lindroth
Robert Lisak
Bogus Lives!
David Livingston
Rebecca looney
Karleen loughran
Judy Louie
Beth Lovell
Ken Lovell
Rebecca Lowry
Nomi Lubin
Will Lustenader
George MacDonald
William MaCmullen
Andres Madariaga
Barbara Marks
Kiara Matos
Mary Mayer
Susan McCaslin
William Meddick
Fethi Meghelli
Christian Miller
Denise Miller
Irene Miller
Christpher Mir
Carole Monahan
Roy Money
Maria Morabito
Aidan Moran
Larry Morelli
Lenny Moskowitz
Jeff Mueller
Sigrun Müller
Susan Nally
Alan Neider
Raheem Nelson
University of New Haven
Susan Nichols
Steve Nicholson
Margot Nimiroski
Jordan Nodelman
Jason Noushin
Douglas Nygren
Frank O'Cain
Perry Obee
Suzanna Obert
Ryan Olsen
Nicholas Orsini
Liz Pagano
Daniel Paier
Curtis Pardee
Jean Perkins
Fellowship Place
St. James Poetry
Mark Potter
Mark Previtt
Derrick Quevedo
Peter Radosta
Peter Ramon
Zohra Rawling
Michelle Reynard Georgevich
Rob Rocke
Cynthia B Rubin
Jeseph Saccio
Ruth Sack
Annie Sailer
Gerald Saladyga
Rebekah Samkuel
Katie Samuelson
Steven Sangapore
Martha Savage
Joanna Schiff
Scott Schuldt
Dana Scinto
Jean Scott
Sara Scranton
John Scully
Jon Seals
Sam Shevelkin
Lisa Shoglow
Sideways & Askew
Debra Simon
Kyle Skar
Michael Galvin & Kyle Skar
Gordon Skinner
Sigrid Smith
Kathleen Smits
Joe Sorge
Mark St. Mary
Jeffrey Starkes
Thomas Stavovy
Kate Stephen
Kevin Stevens
Bryan Stryeski
Marcus Surrealius
John Sweeney
David Taylor
Paul Theriault
Dave Thomas
Regina Thomas
Robert Thomas
Sara Thomas
David K Thompson
John Dough Thoroughbread
Cole Tucker-Walton
Eliza Valk
Kevin Van Aelst
Karissa Van Tassel
Katya Vetrov
Jessica Villar
Thuan Vu
Joseph Vumbaco
Alison Walsh
Gar Waterman
Susan Weinreich
Miryam Welbourne
Brian Wendler
Ben Westbrock
Christa Whitten
Johanne Wilcox
Mark Williams
Linda Wingerter
Marian Wittink
Marjorie Wolfe
Aicha Woods
Don Wunderlee
Gerald York
Kristina Zallinger
Kathleen Zimmerman
Amie Ziner
Gonzalo Zuniga-Vergara