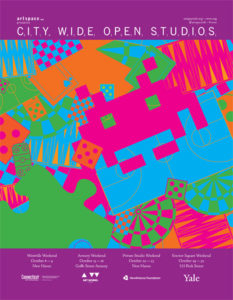 Download a digital version of the guide
HERE.
---
The FREE 2016  
Guide
will be available at the following distribution sites—the list is growing weekly—check back to see where in your town.
Blackstone Branford Public Library, Branford
The Housatonic Museum of Art, Bridgeport
Greenwich Historical Society/Bush-Holley Historic Site, Cos Cob
Guilford Art Center, Guilford
Whitneyville Cultural Commons, Hamden
Real Art Ways, Hartford
RJ Julia Booksellers, Madison
The Buttonwood Tree Performing Arts Center/Coffee Shop, Middletown
New Britain Museum of American Art, New Britain
Silvermine Arts Center, New Canaan
The Arts Council of Greater New Haven, New Haven
Elm City YMCA, New Haven
Fashionista, New Haven
Giampietro Gallery, New Haven
The Grove, New Haven
Info New Haven, New Haven
New Haven Free Public Library, New Haven
Quinnipiac Club, New Haven
The Range @ Lotta Studios, New Haven
Yale Peabody Museum, New Haven
Yale Visitor's Center/Graduate Club, New Haven
Garde Arts Center, New London
Hygienic Art, New London
Center for Contemporary Printmaking, Norwalk
The Aldrich Contemporary Art Museum, Ridgefield
Design Within Reach, Stamford
The William Benton Museum of Art, University of CT, Storrs
Mattatuck Museum, Waterbury
Eugene O'Neill Theater Center, Waterford
Westport Arts Center, Westport
 Retailers: If you wish to be a distribution site for this year's Official Map &
Guide
, please contact
helen@artspacenh.org
---
Download a digital version of the guide HERE.